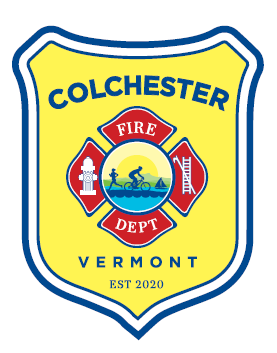 One month ahead of schedule, the new, unified Colchester Fire Department has begun many aspects of its operations. 
The department's three full-time firefighters began work June 1, and since then, have responded to 10 calls during the day, which is when they are on duty.  
"It's history making," Fire Chief Stephen Bourgeois said. "Fifty years from now people will be talking about this."
CFD will be led by Chief Bougeois and two assistant chiefs. Although these men are new to these positions, they are not strangers to Colchester or to emergency services. 
They are faces you've probably already seen around town, but let's get to know them a little bit better. 
The department's leadership team will officially be sworn into their new roles July 1, during a ceremony at the Colchester town offices.
Fire Chief Stephen Bourgeois
Bourgeois worked in Colchester from 1980 to 1987 before moving to the Burlington Fire Department. He has been back in Colchester now for eight years, he said. 
Before becoming chief of the combined fire department earlier this year, Bourgeois had been chief of the Malletts Bay station for five years. 
As fire chief, Bourgeois will oversee the operations of the entire department and work closely with his two assistant chiefs, David Weissenstein and Seth Lasker.
He is looking forward to making maintenance, training and procedures consistent across all of the stations, he said. 
"Both departments are great departments, but when you have two organizations they do some things different," Bourgeois said. "It's a lot safer, and more efficient on the fire ground if you're all doing it the same." 
Even though the department has been able to get some aspects of operations off the ground early, Bourgeois said others have been slowed down by the pandemic. 
"Not being able to get together as a group has been the most difficult thing for me," he said. "Keeping up with the conference calls and meetings over Zoom has been a challenge."
When Bourgeois isn't working, which he said is rare, he likes to camp, hunt and spend time with his family. 
"My life is fire," he said, laughing. "You can ask my wife. It becomes a passion." 
David Weissenstein, Assistant Chief of Administration
Weissenstein, assistant chief of administration, will be overseeing the department's medical first response operations. While he was an elementary teacher in town, he was also a firefighter in Colchester for 43 years.
He is currently serving as the interim chief of Mallett's Bay Station until July 1 when he will be sworn in as an assistant chief. 
Weissenstein said he is looking forward to the boost in morale the unified department will now give to the stations. 
"We are now one, so that helps build community," he said. 
Weissenstein raised all of his children in Colchester, but they have since moved out of state, he said. He keeps himself busy outside of the station by substitute teaching and working on local theatre sets. 
Seth Lasker, Assistant Chief of Operations
Seth Lasker, assistant chief operations, started with Colchester Rescue in 1984. After working in Burlington for 27 years, he came back to Colchester to be the town's emergency management coordinator.
"The fire service is something you never really leave, honestly," Lasker said. "I had a big role in putting the new department together; I did some of the research and leg work for the town." 
As assistant chief of operations, Lasker will be checking in on the condition of equipment and staff. Over the past few months, he has been taking stock of the equipment at each station, making lists of inventory and making sure the stations have everything that is needed. 
"There's been a lot of behind the scenes stuff, and so my biggest challenge has been getting all of that organized," Lasker said. 
Lasker spends a lot of time on the lake on his boat when he's not at work. 
What's the future of CFD going to look like?
All three leaders discussed their goals for the new, unified department and what they are working on next. 
"My goal by the end of the first year is to have everything working as one," Bourgeois said. "We are going to be evaluating things as they go."
The department is undergoing a redistricting process which will be completed by July 1. Currently, Colchester is divided into two districts, but it will soon become three. 
This will allow the department to utilize its resources more efficiently, Bourgeois said. 
All three leaders said the department is in need of more volunteers and plan to work on recruitment. In the last three months, the Malletts Bay station has lost five volunteers, Bourgeois said. 
It's been especially hard to recruit during the pandemic, Bourgeois said, because many people are home with their children and can't leave. 
Weissenstein said many people have been unable to complete the training required because tests have been cancelled or results delayed. 
The department has applied to host a state-level certified Firefighter 1 class in Colchester this fall. Bourgeois is still waiting to hear if their application has been accepted, but hopes the class, if approved, will inspire more people to join. 
"This is a very unique thing for a community to blend fire departments together, and there's no playbook for this so my goal is to make sure this goes the way the Chief wants it, and to make sure all of the needs are met," Lasker said.
Bourgeois said there will undoubtedly be some bumps in the road as the new department progresses, but he is committed to fixing mistakes and making changes. 
"The future of the new department is really going to hinge on the growth of the town," he said. "Since I've been here, call volume has gone up every year and it will continue to go up, so we will reevaluate every year and see if there's anything we need to do differently."