Despite an uncertain and ever-changing fall, Colchester School District had something to celebrate Thursday when one of its own was selected as the 2021 Vermont Teacher of the Year.
After completing a multi-step application process, Susan Rosato, an English Learner (EL) teacher at Colchester High School (CHS), was selected by Dan French, Vermont Secretary of Education, for the honor.
"As we know, this school year is like no other," French said during a virtual event for the media Thursday. "All Vermont educators have had to innovate, problem-solve and persevere under extraordinarily challenging circumstances. And Sue [Rosato] stands out as a role model. She's been a leader in her district throughout the response to COVID-19 and to other EL teachers."
The district celebrated on Thursday by announcing Rosato's award over the intercom of CHS around noon. She was applauded and cheered out of the building by students and colleagues.
Outside, in the whipping and wild wind, Superintendent Amy Minor and CHS Principal Heather Baron delivered opening remarks before letting Rosato stand at the podium surrounded by her students and family.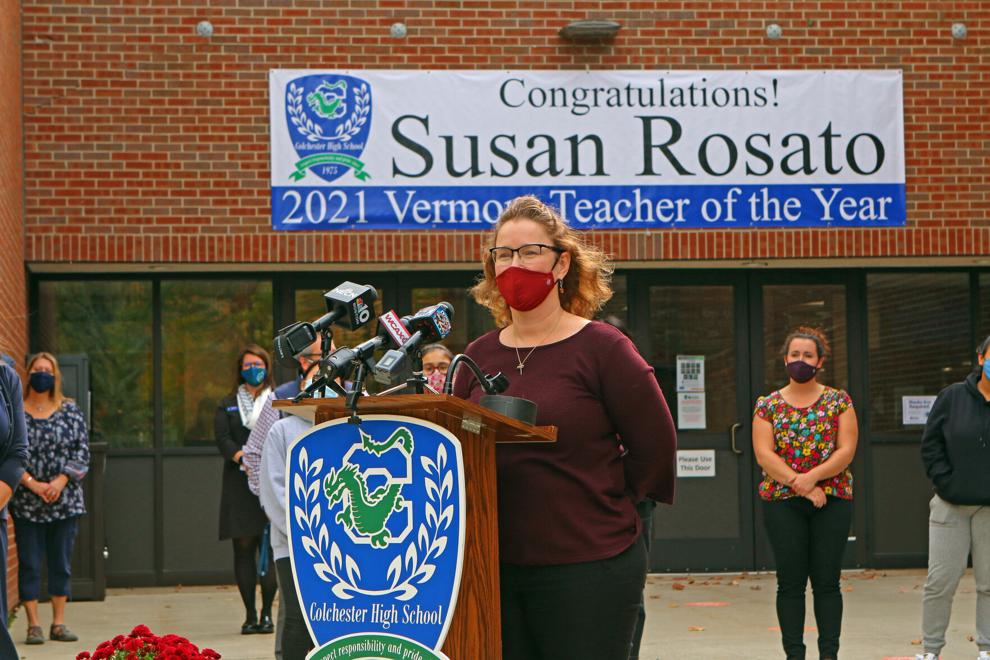 "I want everyone in our district to know this award is for our students and for our district," she said, holding onto her official plaque. "I am very, very humbled."
Rosato, who knew she wanted to be a teacher when she was still a young student herself, has been teaching in the Colchester School District for the last 17 years.
Over the course of her career, she has seen the enrollment of EL students, who are often immigrants or refugees, increase. Rosato was a key player in growing the language-learning program to suit the rising demand.
"Rosato is an exceptional teacher because she knows and understands the needs and strengths of our EL students better than anyone I know," Minor said during the media event. "Many of our EL students speak two, three and sometimes more languages. Many have navigated multiple countries and schools, and their persistence is striking."
Rosato was one of three Colchester educators who were nominated by the district's principals for the award. At the state level, Rosato's application was reviewed by a committee, and she was then chosen to complete an interview.
From an even smaller group, she was selected to make a presentation to the State Board of Education and was then chosen by Secretary French.
Rosato said her Teacher of the Year platform will be focused on equity in education.
"What I can do and what we can all do to make students' dreams a reality is we can start breaking down some of these barriers that refugee and immigrant students and other minority populations in our country and state face," she said. "I believe that our curriculum needs to be accessible and free of cultural bias. We need to start from the idea about what students can do, not what they can't do."
Minor said Rosato's commitment to this mission is seen in the many programs she's implemented during her tenure at CHS.
Rosato played an instrumental role in creating CHS' annual summer EL program and its regular family informational nights. Minor said Rosato's most important contribution has been the course she designed for teachers, to train them in how to effectively create and deliver lessons, so EL students can be included in all classes.
"She has taken steps to ensure that Colchester has an inclusive environment where we embrace and celebrate the diversity that our talented EL students bring to our schools and to our community," Minor said.
CHS senior Ranjita Sarki said Rosato is more than just a classroom teacher to her.
"She's less teacher and more of my friend," Sarki said. "She's always looking out for me. She pushes me hard to do my best and tells us we have so much worth."
Sarki moved to Colchester as a high school freshman after living for several years in Burlington. She said she remembers feeling isolated but that Rosato made her feel welcome and supported.
"She said, 'It'll be okay.' And she helped me out a lot," Sarki said. "She's the best."
The Agency of Education has awarded a Vermont Teacher of the Year since 1964. As the 2021 Vermont Teacher of the Year, Rosato will serve as an advocate for the teaching profession, education and students, according to the AOE.
She is also Vermont's candidate for the 2021 National Teacher of the Year award and will represent Vermont next spring for the National Teacher of the Year program, typically held in Washington D.C.
"If I ever got the chance to speak to our more higher-up leaders in Washington, I would plead to them to please allow more refugees and immigrants into our country, because what they add is so much more than what they need," Rosato said.