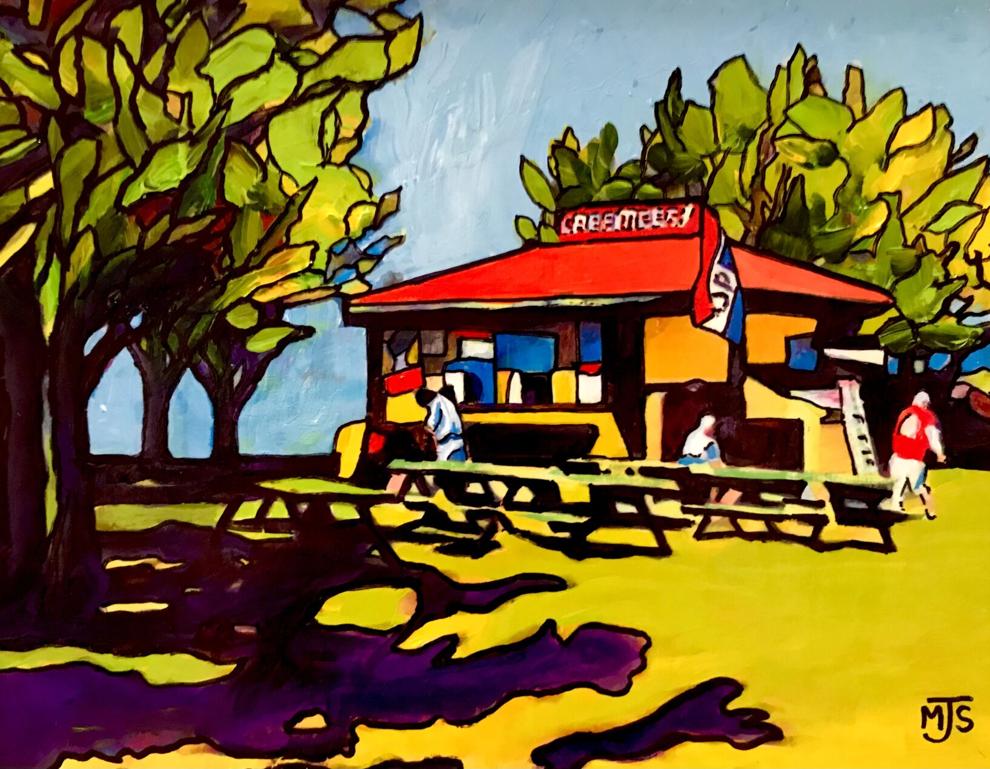 The South Burlington Public Art Gallery is featuring an exhibition of more than 60 paintings, photographs, and mixed-media works called "South Burlington Showcase."
The show highlights three artists from South Burlington: Gin Ferrara, Jeffrey Pascoe, and Michael Strauss and is curated by Jessica Manley. 
The Gallery, located at 180 Market Street, is free and available to the public whenever the Public Library, City Hall, or Senior Center are open. The building is  open from 8 a.m.–7 p.m.  Monday–Thursday, 8 a.m.–5 p.m. on Fridays and 10 a.m.–2 p.m. on Saturdays. "South Burlington Showcase" will run until Tuesday, Dec. 13.
About Gina Ferrara
Gin Ferrara returned to artmaking following a severe head injury in early 2020. While recuperating, she began a daily drawing practice, which became cemented into a lifestyle as the pandemic took hold.
Drawings led to small watercolors, which in turn led to larger acrylic paintings. With the help of a grant from the Vermont Arts Council, Ferrara moved into a studio, where she has been able to explore working in series and creating larger pieces.
This exhibition showcases Ferrara's "Volunteers" series: paintings and photographs of dried milkweed pods and sumac in late autumn. Her intent is to capture the beauty and power of these plants, and other small but significant moments in nature, through watercolor, acrylic, and digital photography, each medium highlighting a different aspect of these familiar yet extraordinary flora.
About Jeffrey Pascoe
Jeffrey Pascoe has been surrounded by art since he was a child. His mother is a professional artist, and when he was a boy, she brought him to summer art camp at The deCordova Museum in Lincoln, Massachusetts, and later encouraged his own artistic endeavors.
In college, Pascoe minored in media communications with an emphasis on photography and film production, but his eventual career took him in another direction.
Now retired, he became interested in frost photography in 2015 and ever since has been developing his own techniques for capturing its beauty.
For Pascoe, window frost is endlessly fascinating. Fluctuations in temperature, wind, and humidity can cause water to crystalize and form intricate, icy patterns—flowers, ferns, flocks of birds, vegetation, outer space—whatever the observer can imagine.
About Michael Strauss
Michael Strauss has been painting and drawing since his teens, but it wasn't until he retired in 2003, after forty years as a chemistry professor, that he began to paint full time.
His primary interest is in how color and value create the illusion of light and shadow. This is reinforced using linear perspective, which he creates through the lines of lanes, houses, poles, trees, and wires in his street scenes.
Strauss' work is strongly influenced by the Canadian and California colorists, both in style and subject matter. Though the colors and lines he uses are sometimes not true to nature, the resulting images retain the logic of light and shadow.
He often makes the brightest objects seem lit from within, as well as from incidental light, in order to create an otherworldly glow, like electrified neon in glass. It is this luminous quality of saturated and impressionistic color that pleases Strauss most.