COLCHESTER — To better serve residents of Grand Isle, a Park & Ride facility has been proposed for Jasper Mine Road in Colchester. 
If developed, the 74-spot Park & Ride would be the second to be located near Interstate 89's busy Exit 17 interchange, which sees commuters from Colchester, Milton, the Champlain Islands and Franklin County. 
The existing Park & Ride on Route 7 is not a convenient location for commuters coming from Grand Isle County, Marshall Distel, senior transportation planner at the Chittenden County Regional Planning Commission, told the Sun.  
An additional parking lot on Jasper Mine Road would ensure island commuters interested in carpooling wouldn't have to go through that congested interchange, with its three light signals, before getting on I-89. 
A Jasper Mine Park & Ride site would also mean the Green Mountain Transit St. Albans Link Express could have a designated stop in Colchester. The bus currently stops there only upon request, but generally has no stops between Winooski and Georgia. 
To move the project forward, more conversations need to be had between VTrans, who would own and operate the facility, and the Town of Colchester. According to a report by engineering firm VHB, the Town of Milton has expressed support. 
"We've had discussions with Colchester staff. They reviewed our report, provided comments and allowed us to send a memo to the selectboard," Distel said. They were all constructive discussions. … But there's still a need, definitely, for more conversations to determine if and when the facility should be pursued."
Project history 
In 2017, the Northwest Regional Planning Commission conducted a study and found 10 potential locations for a Park & Ride that would specifically serve residents of Grand Isle County. 
An undeveloped lot on Jasper Mine Road ranked highest on that list of locations, despite some concerns regarding traffic and safety at the intersection of Jasper Mine and U.S. Route 2. 
The Chittenden County Regional Planning Commission then contracted VHB, a transportation-focused engineering firm, to further analyze the site. 
VHB looked at the proposed lot's impact on transit, cyclists, pedestrians and traffic. In conclusion, it found "the proposed Park & Ride location at Exit 17 would allow for easy access to and from U.S. 2 and I-89 and will be well served by transit services and bicycle facilities; drivers would continue to experience lengthy delays exiting Jasper Mine Road onto U.S. 2 eastbound."
VHB's study was completed in July 2021, but the COVID-19 pandemic had a visible impact on Park & Ride facilities statewide. 
Since 2020, Park & Ride usage has been trending downward, as the pandemic caused more Vermonters to work from home and fewer to utilize public transit.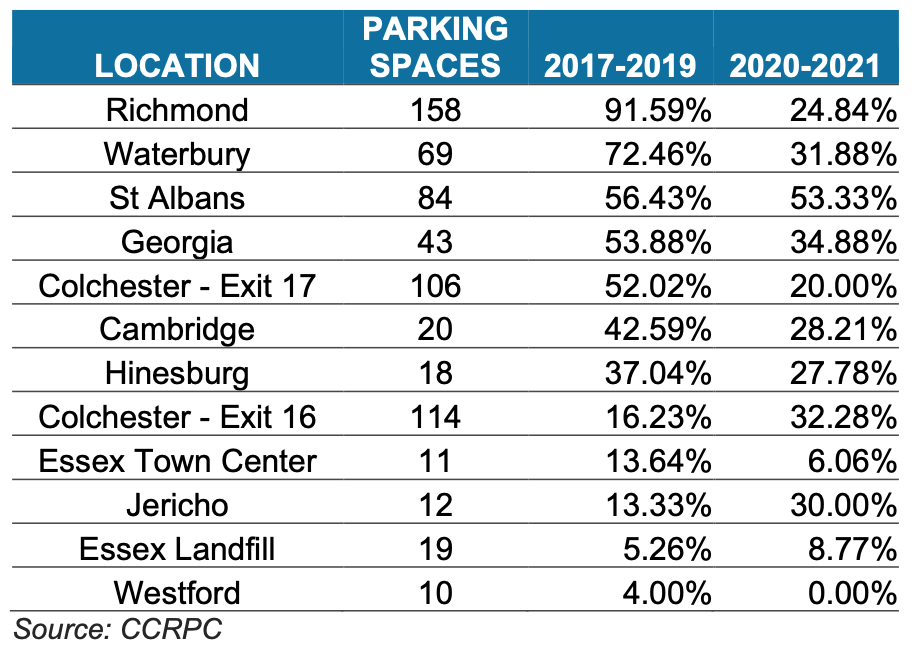 For example, the current Exit 17 Park & Ride, which has 106 total parking spaces, has seen its usage cut in half in the last two years. Prior to the pandemic, about 50% of its spaces were filled on a daily basis. 20% were filled in 2021. 
Given the uncertainty of the future demand for Park & Rides, Distel said the CCRPC will continue to monitor all the facilities in Chittenden County. The commission conducts counts several times a year. 
"We are starting to see them bounce back a little bit," he said. 
Why Park & Rides?  
To create a more energy efficient transportation system and reduce the number of vehicle miles traveled, the State of Vermont set a goal in 2011 to triple the number of Park & Ride spaces in the state. 
VTrans now operates 31 Park & Ride sites with around 1,600 total spaces. Individual municipalities also maintain around an additional 69 sites for another 1,300 spaces. 
"There's really been a lot of progress," Distel said, and he doesn't want to see that progress stalled or stopped.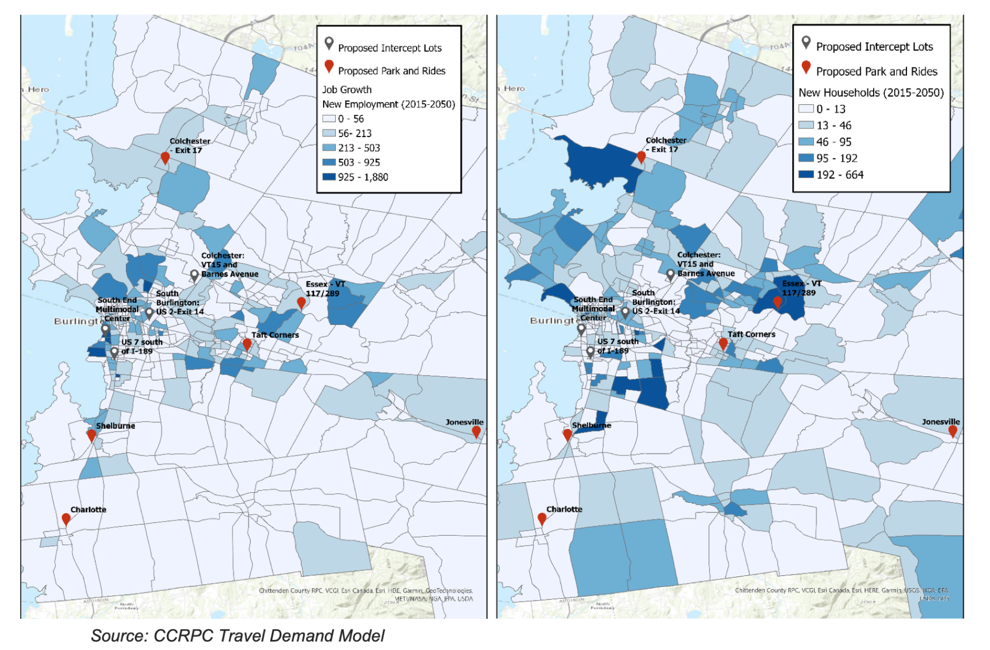 He said the number one way to increase the efficiency of a car is to add another person to it, and Park & Rides help Vermonters to carpool at convenient locations. Park & Rides also help Vermonters to access GMT's bus routes, which travel multiple times a day to the state's biggest job centers. 
And job and population growth in the Exit 17 region isn't expected to slow down anytime soon. According to CCRPC predictions, as many as 951 new households could be added to the area by 2050. 
The rising popularity of electric vehicles may also lead to increased demand for Park & Rides and their charging stations. By 2050, electric vehicles are anticipated to comprise over 90% of all passenger vehicles in the state of Vermont. 
"[Park & Rides] are an overlooked strategy … They don't have many advocates and are kind of under the radar, but  they should continue to be part of our future transportation demand management strategies," Distel said.