In an intimate ceremony July 1, the command staff of the unified Colchester Fire Department was officially sworn in to their new positions. 
Though the department had begun some operations a month ahead of schedule, this ceremony at the Colchester town offices marked the beginning of a new chapter in the history book. 
Jeff Bartley, chair of the Colchester selectboard, kicked off the event at 9 a.m. by offering a few remarks to the small audience of families, other firefighters and town officials.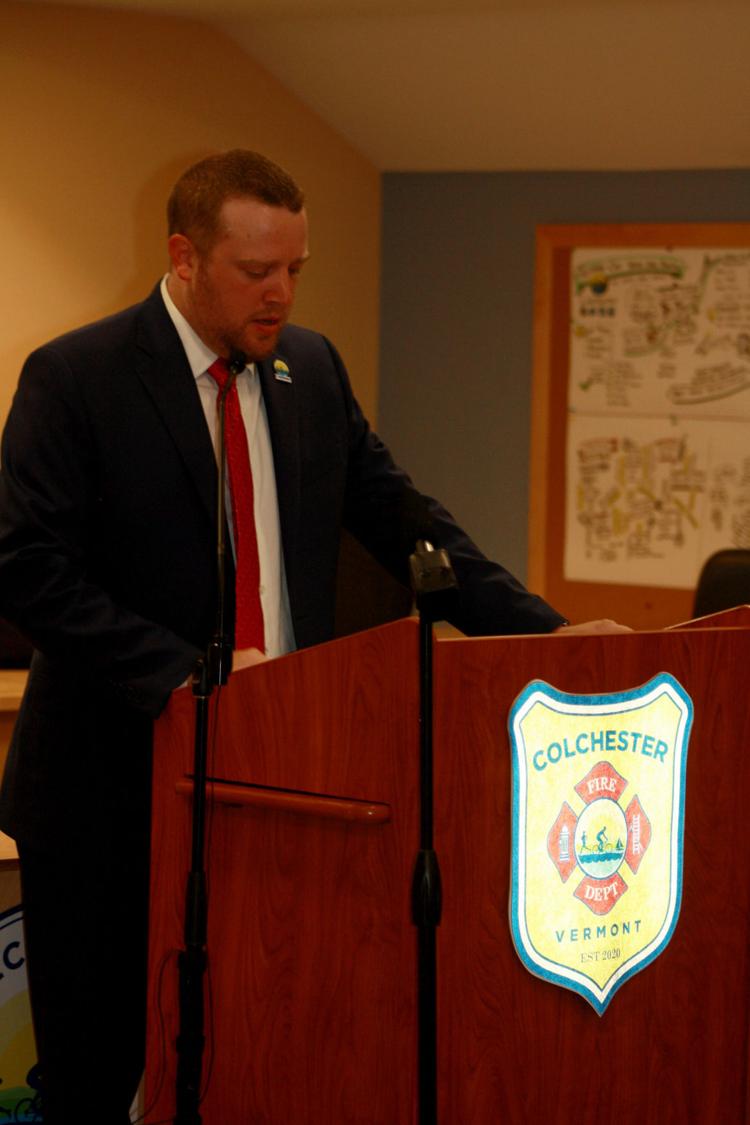 He commended Fire Chief Stephen Bourgeois for his hard work, saying he was the best person for the department's top leadership role. He also thanked members of the selectboard and other town officials for the years they spent working to unify the departments. 
Combining the stations allows it to receive 20% more financial support from the town, and more solid and consistent leadership, he said. 
"The volunteer role is still crucial," Bartley said, "But now there will be central leadership to support those volunteers." 
After Bourgeois was officially sworn in as chief, he took to the podium to recognize the historical resonance of the moment and the other members of his team. 
"This is history-making," he said. "We are going to make this the best organization we can going forward."
Bourgeois called each leader up one by one, announcing their name and title. Spouses pinned official pins to each man's uniform. 
David Weissenstein, who has been a firefighter in Colchester for 43 years, was sworn in as assistant chief of administration. In this position, he will oversee the department's medical first response operations. 
"We wouldn't be able to do what we do without the support of resident families," Weissenstein said. "From delivering dinners to forgiving missed holidays -- we couldn't do this without them." 
Seth Lasker, formerly the town's emergency management coordinator, officially became assistant chief of operations. He will manage the department's equipment and staff. 
The Colchester Fire Department's three battalion chiefs were also sworn in. Gary Francis will lead the Malletts Bay station, Erik Haversang the St. Michael's Station and Bruce Palmer the Center Station. 
For Francis, this ceremony was particularly special -- working in the Colchester fire service has been a tradition of his family for generations. His son, Adam Francis, is one of the department's new career firefighters. 
"We have a lot of work to do," Francis said. "We have to recruit volunteers and show them their value because they do this for nothing," he said. 
Captain Dale Newton and firefighter Tyler Cooteware are the department's two other career staff members. 
Four members of the town selectboard, as well as Geoffery Urbanik, deputy town manager, and Kathi Walker O'Reilly, director of economic development, were present. 
After the ceremony, the audience mingled at a socially-safe distance to take photos and give congratulations. 
"The selectboard is often boring,"Bartley said. "But it's moments like these that make my job really rewarding."