There is no doubt the holiday season will look different this year, but Colchester community members are committed to keeping at least one tradition alive and well.
For over 40 years, the Colchester-Milton Rotary has assembled and delivered holiday baskets to community members in need. Now, in the face of the pandemic, Rotarians are adjusting and working creatively to make sure this year's estimated 135 baskets are finished in time for Christmas.
"The consensus of everybody was that the need this year is greater than ever," Co-Chair Tom Raub said. "We don't care what it takes; we're going to make it happen."
At the end of last year's project, Raub said Rotarians discussed a few changes for 2020. Those changes, a shift to more staples and non-perishables and the inclusion of senior citizens, turned out to be in line with the needs of the COVID-19 pandemic.
"Last January, we did some preliminary planning of how we wanted to change things for this year," he said. "Little did we know what was coming down the pipe."
Every year, about 100 baskets are distributed to families enrolled in the Colchester School District's free or reduced lunch program. Now, for the first time ever, baskets are also being delivered to senior citizens who signed up through the Colchester Food Shelf.
Baskets typically include ingredients for a holiday meal, including potatoes, bread rolls, stuffing mix, cranberry sauce and either a ham or a turkey. But this year, at the recommendation of the school district's nutrition team, the baskets will include staples and non-perishables, to sustain recipients for longer.
These changes caused an increase in 35 baskets over last year and about 50 percent more items going into each basket, Raub said.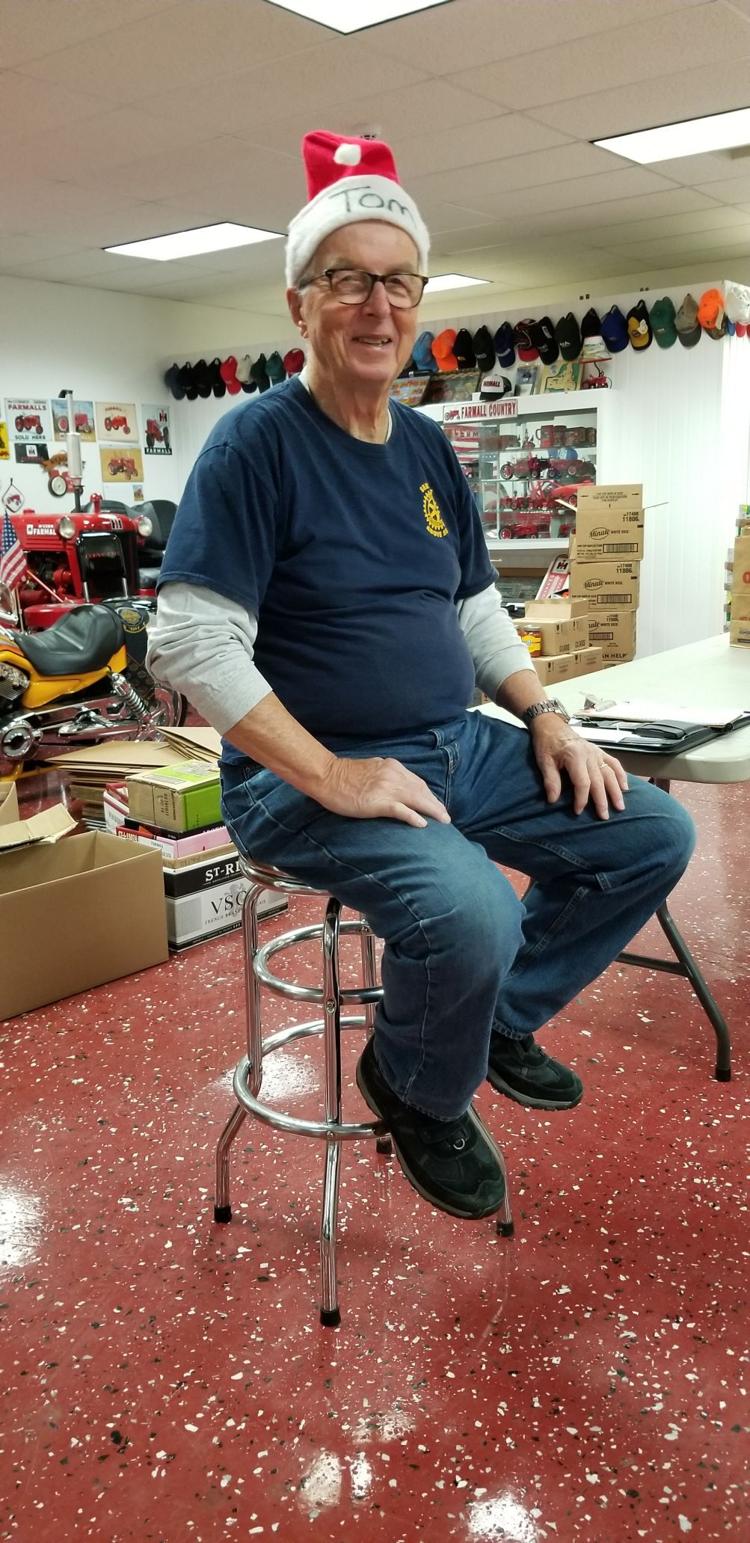 In a normal year, Rotarians and community volunteers get together in Sen. Dick Mazza's garage to assemble the baskets.
"With good organization and 40 people, we can fill 100 baskets in about an hour and a half," Raub said.
But this year, due to restrictions that limit the size of gatherings and prohibit multi-family contact, assembly will look very different.
"We're on to plan C or D," Raub said. "We're looking at doing it so it's only Rotarians and their immediate family."
Raub's Co-Chair Kathi O'Reilly said something else new in the 2020 holiday baskets will be hats and mittens that were knitted and donated by Connie Smith, a Florida resident who has ties to the Colchester community.
Burnham Memorial Library will still contribute books to each basket, and three Colchester churches are also still donating what they can to the project. St. Andrew's Church will provide boxes of cereal and Holy Cross is providing gift cards. Our Lady of Grace will again contribute cake mix and icing.
The rest of the baskets' items are purchased by the Rotary from donated funds.
"This is community-funded," O'Reilly said. "We send donation request letters to residents whose homes are valued at a certain amount and higher and to about 200 business in the community. This is a total community effort."
Raub said he is very much going to miss the assembly-day of years' past — 40 people getting together at 8 a.m. in a crowded space. It's always a day of reuniting with folks he hasn't seen in awhile and full of genuine merriment.
Though the assembly process will be slower than usual due to having to work in small groups, Raub was confident when he said the baskets will be delivered by Dec. 19, the Saturday before Christmas.
For years, the Colchester Fire Department has helped with delivery and will do so again next month, albeit socially-distant and staggered in order to keep everyone safe.
"I always like to think our real power is not in raising money but in the organization itself, in the hands-on resource we can provide to a group," Raub said. "That's where our real value is because we've got a great bunch of people."