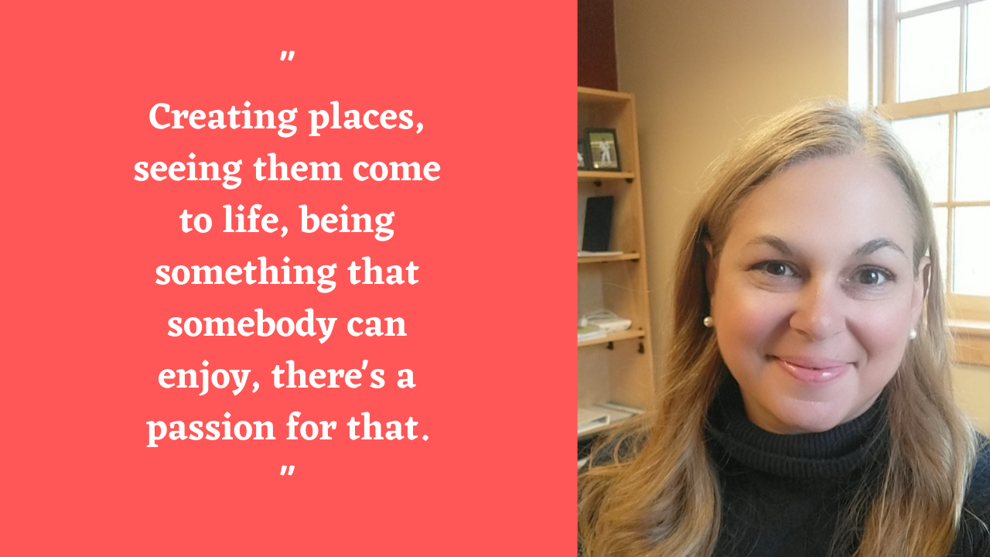 Cathyann LaRose, Colchester's new director of planning and zoning, has had a passion for placemaking her entire life.
Growing up in Connecticut, LaRose first moved to Vermont in 2005 as a planner for South Burlington.
Since Oct. 4 of this year LaRose has been working in Colchester, guiding the department through a period of reorganization and hiring as retirements and staff turnover have provided the opportunity to assess the department's needs, she said. 
LaRose spoke with the Sun to talk about her first few weeks on the job, her background and her role in Colchester's future.
How have your first few weeks been on the job? I know you are probably incredibly busy.
It's definitely been incredibly busy on all aspects. I've been helping out with the Development Review Board. They had a meeting in my first week here.
Staffing is a big part of what I'm working on right now because we're trying to bring the department back up. When I came on board, we had one staff member.
There's a lot of assistance from other departments right now to carry us through, but our department of four had one person, so we were only 25% staffed. A large part of what I've been working on so far has been hiring two planners to join our staff, so that we can be more responsive when people come in or have phone calls or emails.
The public's been incredible. They've been really patient with us, as we've been so short staffed.
But we'd like to get that back up so that we can be more responsive so that our turnaround time for applications, for permits, for questions is quicker. I think right now it's not as quick as we would like it to be.
What were you doing right before you got this job?
So right before I had a consulting business. I was a consulting planner for some private and public projects.
What made you decide to apply for the Colchester job?
Municipal planning is really where my passion lies. You work with more people that way.
There are a lot of perks to private consulting, including flexibility. But, you know, the downside is you're just not working as closely with a consistent group of people.
As far as Colchester specifically, it's a beautiful community. Incredible people, incredible landscape.
It's a very happy community. Folks generally like the way things are. It's a very geographically diverse community. Everything from farms to successful businesses.
What drew you to your field in the first place? I know that you have a Bachelor's in geography and a Master's in regional studies and economic development. What first got you interested in that? And why do you like it so much?
I love to travel. I love to see places.
And when I say travel, it could be three towns over from the town I live in, the town I grew up in, but I like to see places and understand places and I knew that from a very early age.
I couldn't go anywhere without slowly walking down the street or touring a neighborhood. It was always very interesting to me.
As I got into college and started studying a variety of things from economics to demographics, planning was what pulled all of that together and made sense and understanding what makes a place.
I mean, it's a buzzword, placemaking, and so some people stay away from buzzwords just because they are, but I think it's a really important word. Anytime somebody comes to you with a compliment or complaint, basically what they're talking about is how they feel about a place.
That's what planning does, it tries to build the places that people want. So it naturally pulled together all of those interests: what excites me and what kind of place I can create for my kids in the future. It's just so fascinating.
What is something about your job in your field that you think that people either miss or don't really understand? Or something about your job that isn't often talked about?
I think one thing that people may not know is that we don't make decisions. So as staff, it is pretty rare for us to make a decision.
We guide the decision makers.
The decision makers are the volunteers that are appointed by the board by and large. We only make decisions where there are very black and white regulations that are handed down to us but our job is not to decide whether or not this area of the town should be built up or not.
That is not our job. And while we often will have opinions because we're people, our job is to help the community make the decision that they want.
It is not for us to inform that with our own opinions, but we do try to inform it with our expertise. So that if they say we want this, we have the tools.
We're the tool carriers in order to help that happen. I think that that's missed a lot.
People, especially if they're not happy with something that's happened, they look for a person that they can blame that on and it's I think it's important for people to know that that's not our job.
What do you do in your free time? What do you do for fun?
Well, I have two boys. I have a soon to be 16 year old who I'm teaching how to drive.
I don't know if you consider that fun or not. It's certainly an activity.
And I have a nine year old. He's a fourth grader. So a lot of my time is spent with my boys. They're very active. They play sports.
What do you think is unique about your perspective and what you bring into your job and to Colchester?
I don't know that it's unique, I've met a lot of planners, but I've never met a planner who didn't have passion about places. I
It's not a job where you do a job, if that makes sense.
Creating places, seeing them come to life, being something that somebody can enjoy, there's a passion for that. Especially when best practices can come to life.
That's one of the best things about this position, that you see your work daily.
There are projects that I had worked on in South Burlington in 2005, I still drive by them. My kids can drive by them and say "Oh yeah, mom worked on that one." Being able to see those and know that they're still going to be there.
It's lasting and lasting in a way that some careers don't get to have.
I won't say it's such a noble profession as you know, the healthcare industry. But it definitely is very rewarding in terms of being able to see things that people like for a long time.