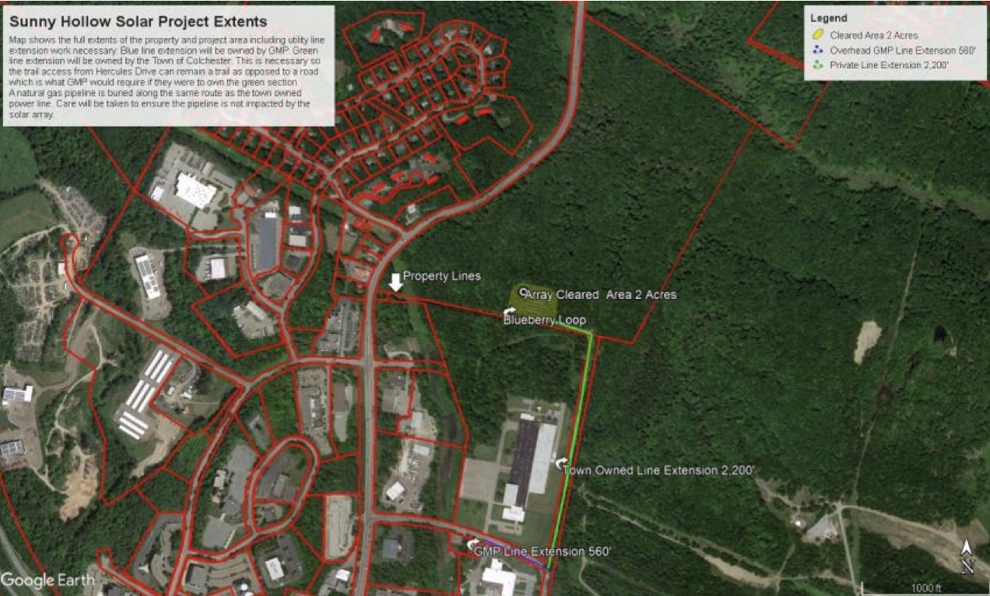 COLCHESTER — Colchester's town government is close to achieving its goal of being 100% solar-dependent by 2025. 
The only thing standing in the way is a bit of leniency from the federal government. 
In 2018, Colchester began construction on two solar farms, one on Shipman Hill and the other off Roosevelt Highway. Combined, these arrays, or panel systems, generate about 60% of the municipal government's energy. 
During the April 27 Selectboard meeting, Vice Chair Tom Mulcahy said a third array is needed in order to make the Town 100% solar-dependent. 
The Town wants to build the last solar array on two acres of the 81 deeded to the Town by the U.S. Bureau of Land Management. This land is close to Costco and contains a bike path called the Blueberry Path which would be rerouted in order to use this land. 
The problem is that the deed is strict and allows the land to be used for recreational use, Mulcahy said. Colchester is waiting on approval from the bureau to change the deed so the final solar array can be built. 
Mulcahy said contacting the federal government about this change has been difficult. 
"No one would receive our request or answer our question," he said. 
The Selectboard is now calling on Congressman Peter Welch, who attended last week's meeting, to help get the approval needed to complete the 100% solar energy goal by 2025. 
"We really appreciate the efforts you're making and we will do what we can to assist," Welch said during the meeting. 
He said he wasn't sure what the outcome of his assistance would be.  
In addition to the benefits solar energy has on the environment, this project predicts to save taxpayers $1 million dollars over the course of 25 years. 
"It's a project that pays for itself as it generates electricity," Mulcahy said. 
According to Mulcahy, the average life of the solar arrays is about 25 years.
"For the first twenty years, the [solar arrays] are paying for themselves, in the last five years we own them and that's where the money gets generated," he said.  
Mulcahy has hope that things will be sorted within the next month or so and has confidence Welch will catalyze federal approval. 
"What we are looking forward to is people understanding that this is something that is for the benefit of all," Mulcahy said.