BURLINGTON -- A healthy offensive showing Saturday afternoon allowed Colchester to walk away with a championship crown.
The Colchester All-Stars defeated Shelburne 16-2 at Schifilliti Field to capture the 2020 Vermont 10-12 District 1 Little League Baseball title.
Colchester's five runs in the bottom of the first proved to be all it needed for the win, but the bats kept rolling to put it out of Shelburne's reach and end the contest after just three and a half innings.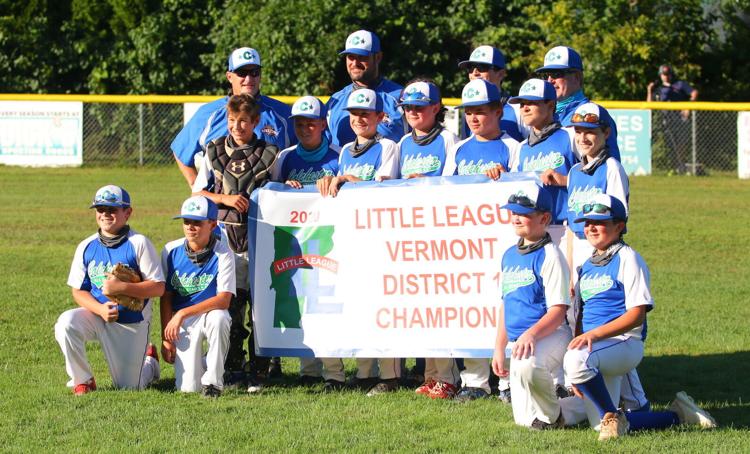 "They're a good group of kids," said head coach John Luter. "They've all been playing together now since they were in T-ball, and we've been waiting for this group to come up. So, as you can tell, they got some power, they can hit, they can pitch. We're pretty deep in all aspects, and I'm really proud of them. We worked on being patient at the plate and seeing the pitch that we want, and it paid off throughout the tournament."
That patience certainly paid off Saturday as Colchester got to the Shelburne starting pitcher for 5 runs, causing him to be taken out in the first inning after throwing 45 pitches.
"We've got some kids that just have natural talent and are free swingers," said Luter. "But we're working on our plate discipline -- not giving away our at bats. Every at bat's a battle, and we got to make them fight the pitchers and see if they can throw strikes. Our hitters right up and down, one to 13, they all put the ball in play and did something to contribute. It was nice to see."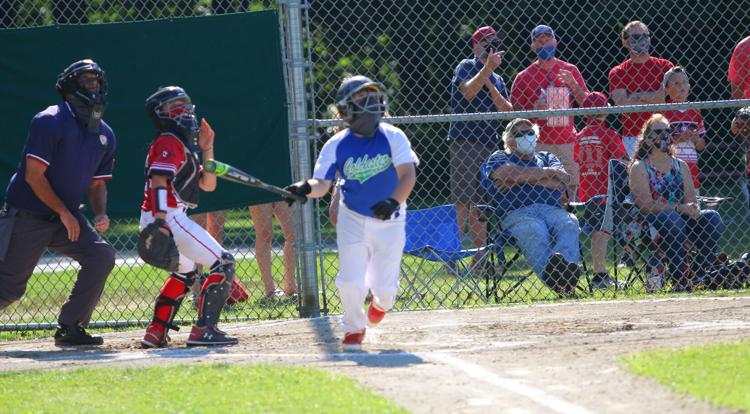 Colchester starting right-hander Vinny Wagoner saw the Shelburne lead-off batter get aboard and eventually make it around to third, but Wagoner found his groove and recorded back-to-back strikeouts to retire the side and keep the game scoreless.
It wouldn't stay that way for long, however, as Colchester -- which was batting as the home team as the representative of the winner's bracket -- jumped ahead in the bottom of the first. Shortstop Eli Davis started things with a soaring homer over the fence in right, and his squad never looked back.
Colchester would go on to score 9 runs in the first with the help of some aggressive base running and a Davis 3-run double slapped down the line in left which immediately followed the pitching change.
"It felt really good," Davis said of his day at the plate. "My team really did great. We did great in the field and had great hitting. I didn't know [my home run] was going over when I hit it, but when it did, I knew we were going to win."
Wagoner registered his third K of the day in the next frame while catcher Colton Lefebvre threw out a special pinch runner trying to steal second as Colchester kept Shelburne off the board.
The bottom of the box saw Colchester again use the long ball to increase its lead, this time coming off the bat of pinch hitter Brody Griffiths. His towering, 3-run shot easily cleared the fence in straight-away center field and likely would have gone for extra bases at some full-sized diamonds.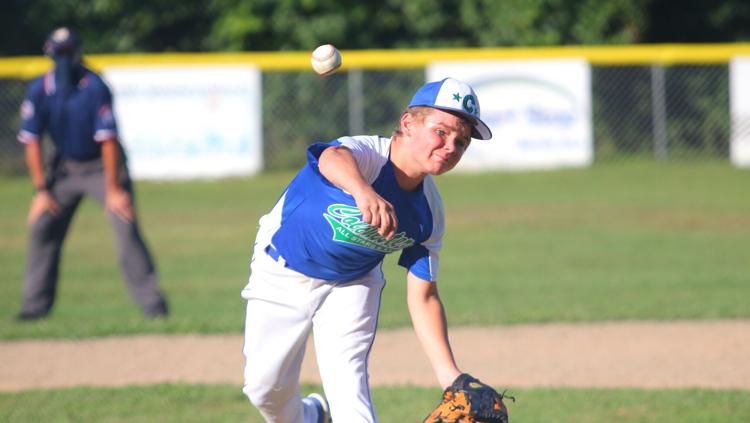 Shelburne was finally able to scratch across a couple runs in the top of the third, the first being knocked in from second on a seeing-eye single through the right side. The next came on a deep rip to the fence in left-center with runners at the corners, but Colchester outfielder Landon Merchant came up firing and sent a laser over the cut-off -- right to home plate where Lefebvre ended the inning by tagging out the Shelburne player who was trying to score from first.
Colchester strung together some hits in the home half of the third to pad its lead including Wagoner helping himself by taking a pitch off his helmet, without injury, as the bases were loaded. He then returned to the mound in the next frame to finish off what he started.
Needing to score five times in order to avoid the run rule and extend the game, Shelburne worked runners to second and third with only one out. A risky squeeze play, however, proved detrimental as Colchester executed the 2-3-1 double play with Wagoner covering home to make the final out.
Had Colchester lost Saturday, the two teams would have met once again Sunday to decide the champion since Colchester had not yet been defeated in the double-loss elimination tournament. Luter's crew, however, wasn't entertaining that scenario.
"They weren't even thinking about tomorrow," said Luter. "We were living for the day. We don't play not to lose; we play to win. From day one, we said, 'This is our tournament, and we're going to take the field every day like we own it. We're going to go out and do our job, get it done, and grind it out.' And they practice like they play."
Similar to his team's offensive abilities, Luter also commented on how deep his rotation is. He said all 13 players could have pitched if they needed to, but he was thrilled with how Wagoner handled the day and the championship situation. Additionally, the skipper praised those who didn't take the field throughout the summer.
"We have great fans who are out here all the time, and I just want to thank both my coaches, Jeff Pecor and Jason Lefebvre," Luter added. "They're baseball guys, and either of those guys could be the head coach. It was a group effort. I rely on those guys heavily, and we all put together a pretty good game plan. I couldn't be happier."
Saturday's championship was nearly the second for the Town of Colchester this summer as the 9-11-year-olds lost 21-10 to Shelburne in the title round, that being the team's second loss in the tournament after falling 5-2 to Shelburne in the second round.
The 8-10 team won its first game, 10-9, over South Burlington but then lost 16-5 against Addison County. The team stayed alive by topping Winooski 11-10 in the losing bracket, but Colchester was then bounced from the tournament by falling 20-2 to Williston.