This weekend's adventure: Take a hike at sunset to see the mountain views you know in a new light.
My experience: A few weeks ago, I mentioned that my brother and I had yet to tackle the sunset hike on our summer bucket list. I can now report that we've checked it off.
For me, it had been several months since I'd gone on a substantial hike, and as soon as we got to the Burrows trailhead of Camel's Hump, I was reminded of why hiking in the summer is a challenge: it's hot, often humid and there are many, many bugs.
We trundled onward though, drinking water and dowsing our legs and arms in bug spray.
We saw a brown-spotted frog and a handful of scattered auburn leaves. We heard the trickle of distant creeks and the squish of our boots on the soft earth.
When we reached the summit, we settled onto a rock slightly sheltered from the wind as the first strokes of pink brushed across the sky.
A few minutes after we arrived, another pair of hikers appeared above the treeline. One balanced a whole pizza, still in the box, on his hip. Our jaws dropped, realizing he'd carried it for nearly 2.5 miles. We stared with jealousy when he lifted out the first slice.
I know the view from Camel's Hump well: Mount Mansfield is there sloping north and Mount Abraham sits humbly in the south. A silver sliver of Lake Champlain extends into the west and the green of the valley is vivid.
But as the sun slowly began to glow fireball-red, a twistedly beautiful side effect to the wildfires burning on the west coast, I saw the view in a whole new light.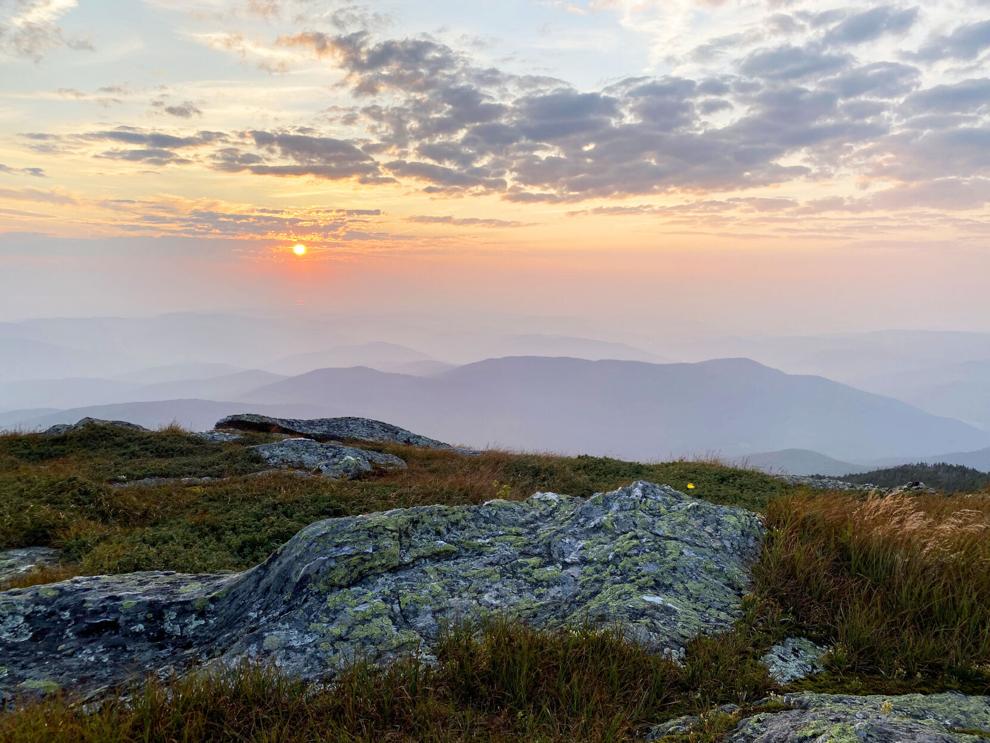 Where to hike: The best sunset hikes are those that lead to a 360 degree view or a west-facing clearing. Try to avoid lookouts shrouded in trees.
Camel's Hump is not the only good peak. Eagle Mountain in Milton, Mount Mansfield in Underhill and Stowe Pinnacle in Stowe are just a few of the other hikes in Vermont with wrap-around views.
Plan your timing: Whether we like it or not, fall and winter are approaching, and the sun is setting earlier and earlier each day. When I hiked last week, the sun set at 8:13 p.m. Now, it's sinking just before 8 p.m.
To ensure you don't miss the show, give yourself extra time to make your ascent. We gave ourselves two hours to hike up Camel's Hump and arrived at the summit with a few minutes to spare.
Check the weather: I recommend using weather.gov to find the most accurate weather forecast before your hike. It would be a real downer to arrive at the summit and find only a thick mass of clouds.
Pack a headlamp: Though light lingers for a short while after sunset, you'll need a headlamp to complete the hike. In the trees especially, it can be extremely dark.
In the summer, the light might attract moths and mosquitos, so bring along a strong bug spray. It's also always a good idea to bring extra headlamp batteries in your pack.
---
Weekend with Bridget is a recurring column. Tell her what you are doing this weekend at bhigdon@orourkemediagroup.com.