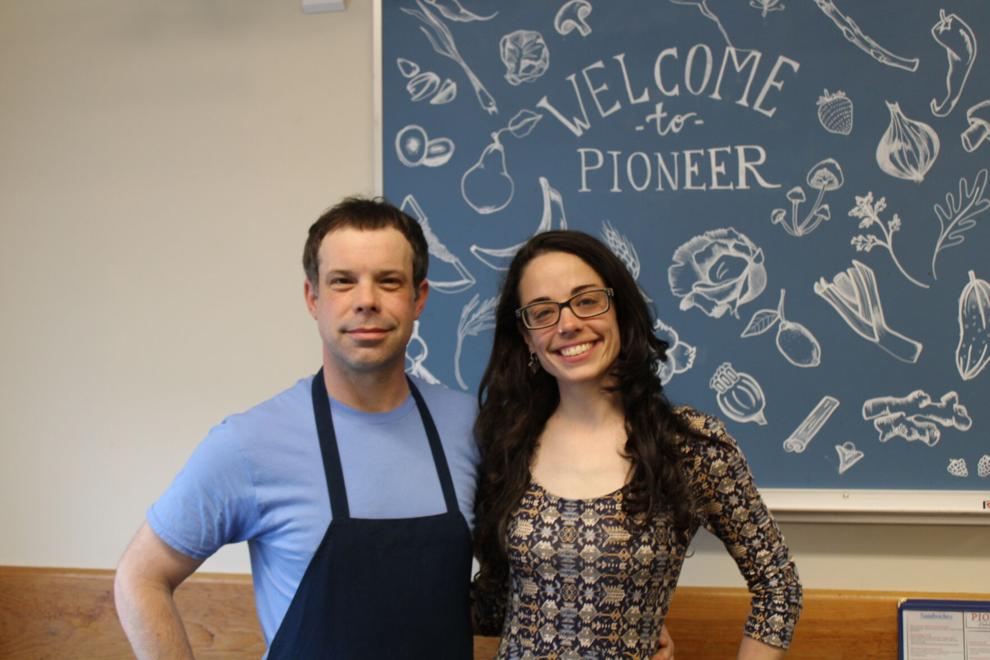 Two years into serving up creative sandwiches and burgers, Pioneer Lakeshore Cafe has become a community staple in Colchester.
The tiny lunch and dinner spot opened in April 2021 at 824 West Lakeshore Drive. Co-owners Jean-Luc and Lindsay Matecat have since offered up a menu that reflects their deep culinary interests and travels. 
The Matecats developed their taste in cuisine by working for a variety of beloved local restaurants. Lindsay worked in restaurants such as Misery Loves Company in Winooski, Dedalus Wine Shop and Bleu Northeast Kitchen in Burlington while practicing waitressing, bartending and management.
Jean-Luc has his culinary roots in the former Common Man restaurant in Warren near Sugarbush Ski Resort. He has been an executive chef since 2002 and has gone to France to improve his craft.
"What we do here is a culmination of all kinds of little things that we've brought from the places we've been and people we've met," Jean-Luc said. "So you'll find little techniques and bits of these travels and stories mixed in throughout our menu."
Both had a dream to own a restaurant, and they started out with a food truck, which they bought from Stefano Cicirello, who now owns Restaurant Poco in Burlington. After converting the truck into Pioneer Food Truck & Catering, they launched it into a brick and mortar venture.
The name "pioneer" carries a dual meaning by being both a nod to U.S. history as well as a reference to starting a new business.
"The first food trucks were the chuck wagons from the pioneer days," Jean-Luc said. "Many of these wagons stayed on and became places where workers could eat lunch."
Pioneer Lakeshore Cafe is decorated with ferns, vintage signs and roosters. There had been only one bird originally, but customers brought in more as gifts. 
While the restaurant benefits from the seasonal flow of boaters and tourists, it also has a local following.
"We are a seasonal place here for sure, but not to an extreme. We have a lot of locals that support us through the winter," Jean-Luc said. "So we have a nice steady winter and then summers here tend to be pretty bonkers for us."
The restaurant serves a variety of sandwiches ranging from the pioneer crispy chicken sandwich to the deviled egg salad sandwich on a toasted Kaiser roll. All the ingredients but the bread are made in-house, Jean-Luc said. The pioneer lobster roll is also back this summer, which is a customer favorite.
Pioneer's drink menu varies. During the winter, the restaurant serves a Cedar spritz and many of the herbs come from local sources such as Railroad Apothecary and Foster Farms. A Lemon Lavender spritz drink — perfect for warmer days —is inspired by Lindsay's journey into herbal medicine.
The restaurant's hours are now expanding for summer. Pioneer is open for lunch and dinner 11 a.m.-8 p.m. from Tuesday through Saturday.