COLCHESTER — While ordering lunch at the Fry Daze food truck last week, Michelle Taylor made it clear she needed two large orders of the establishment's hand cut fries.
"I'm not sharing my fries," she said to her husband, Rob, with a smile, though dead serious.
Fry Daze opened for business on May 10 and the fries are just one of several menu items that kept tourists and residents alike coming back for more. This will be its final week of the season, with the food truck open Wednesday, Oct. 6 to Sunday, Oct. 10.
Owner Steve Harrington said the truck enjoyed a pretty successful summer on Malletts Bay, despite the summer rains. Not bad for a rookie season, the vehicle bought on a whim by a guy who loves feeding people.
"I'm a self-taught cook," Harrington said. "We winged it. This was completely out on a limb. It just came along, and with COVID and to-go being the way it was going, it made sense."
Harrington, 52, of Richmond, said he has had a lifelong dream of owning a diner, but when the food truck became available last spring, he made a split second decision that would help him realize what makes him happy:
"Just to help people," he said. "Meet people. Feed people."
Fry Daze is a side gig for Harrington, whose full-time job is owner/operator of E&S Transport in Waterbury, which deals in AAA and accident recovery towing services. He is the first to say that Frye Daze would never have launched without good friend and business manager Jessica Dickinson.
"We've been best friends for a long time," she said. "I do more of the paperwork end of things, picking menu items, ordering supplies, help out with breakfast."
In fact, the two own seasonal camps next to each other on Mallets Bay. Dickinson summers at the camp and winters in Burlington.
"She does a very good job," Harrington said. "We butt heads but we get through it."
The truck added breakfast to the menu in September and it was a big success.
The Fry Daze team would not be complete without Brooke Mecca, the smiling face in the truck most customers see when they stop by.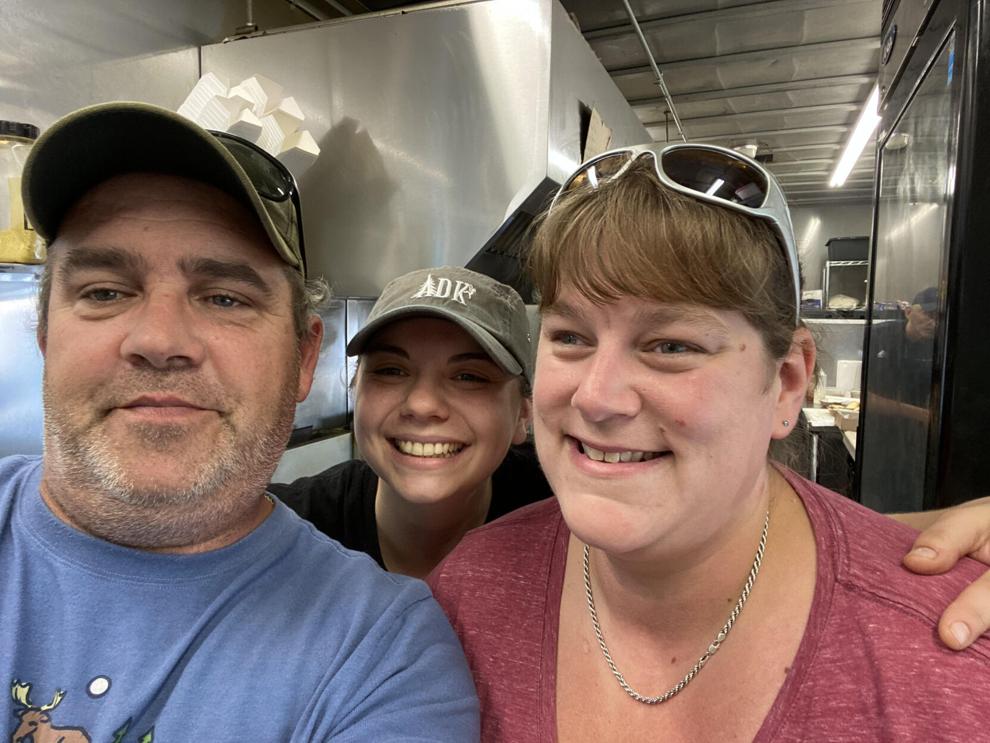 "We rely very heavily on Brooke," Harrington said. "She just kind of landed in my pocket and it's worked out great, and all of our regular customers love and adore her."
There is one gentleman who stops by the food truck every day at lunchtime, rain or shine, and orders a hamburger with ketchup.
"We see him pull in and we have his burger on the grill already," Dickinson said. "The day he orders something different, we'll be in trouble."
Harrington comes up with his share of ideas for menu items, and will bounce them off Dickinson, like the maple fries.
"I'll say, 'Ooh, that sounds good, maybe other people will like it too," she said.
Those items start as a special, and if enough people like it, it goes on the permanent menu.
The burger-and-fries menu options are quality, with five-ounce burgers being standard. You can get a Switchback bratwurst, a Michigan dog, or a killer Philly cheesesteak, to name a few. To create those delicious hand cut fries, the truck staff goes through 1,000 pound of potatoes a week.
Fry Daze best week ever?
"Sixteen hundred pounds of potatoes, 1,400 hotdogs, and 600 hamburgers," Harrington said proudly.
Their busiest day? Fourth of July.
"We had a 40-person line for three hours straight," Dickinson said.
Harrington plans to open back up in April 2022, and both he and Dickinson are pleased with the inaugural season Frye Daze had, making people happy with food.
"We've met some great people along the way," Harrington said.
"We've had a great success rate with everything in general," Dickinson added. "People seem to like us."