This weekend's adventure: Return to the theater for a fun and interactive performance that asks audiences to consider the stories we hear and, more importantly, those we don't. 
What to know: The play, "The Suffragist Reenactment Society," will be performed at 7:30 p.m. Saturday, Oct. 2 at Main Street Landing in Burlington. 
The hour-long show is one of ten performances taking place statewide in October. Admission is free. 
Commissioned by the Vermont Suffrage Centennial Alliance (VSCA), the play is written, acted and directed by Vermont women. Originally scheduled to debut in fall 2020, but delayed due to the COVID-19 pandemic, the play commemorates the centennial anniversary of the passage 19th amendment, which gave many, but not all, U.S. women the right to vote.  
For the safety of staff and guests, everyone is required to wear a face covering while in the theater and show proof of vaccination or a negative COVID-19 test.
My experience: At a rehearsal earlier this week, I sat in the back row, my notebook balanced on my knee. I had been invited by Sandra Dooley, a member of the VSCA executive committee, to sneak a peek at the play. 
After actors Kathryn Blume (President Deborah) of Charlotte, Sarah Mell (Historian Tory) of Winooski and Julia Sioss (Treasurer Lin) of Colchester donned their straw hats of flowers and feathers, I was immediately pulled into a meeting of the the Suffragist Reenactment Society, a fictional group tasked by town officials to distill 72 years of suffrage history into a 10-minute community presentation. 
The question soon becomes: how do we tell the story of women's suffrage without defaulting to the incomplete and biased narrative that's been told for the last century? The one that puts white women, like Elizabeth Cady Stanton and Susan B. Anthony, at the center of the story? 
It's a daunting task, but one the Society is determined to take on. 
"What are we going to do now?" says Tory. "Every one of these stories is amazing and patriotic." 

"We're not trying to be perfect," says Lin. 

"Just better," says Deborah. 
Written by Mary Beth McNulty, the dialogue is quick and witty, smart from beginning to end. With a bare-bones set and no stage lighting, her words and the actors' talents are the star of the show. 
As the play unfolded, the characters reenacted historical moments I know well, like the picketing at the White House in 1917, when the Silent Sentinels asked President Woodrow Wilson, "How long must women wait for liberty?" 
There were other moments, though, that even to me — a twenty-something history nerd — were completely new: Maria W. Stewart, a Black woman, speaking in public in 1832, the first woman of any race to do so; Mabel Ping-Hua Lee, a Chinese-American, leading 10,000 women down the streets of New York City in 1912.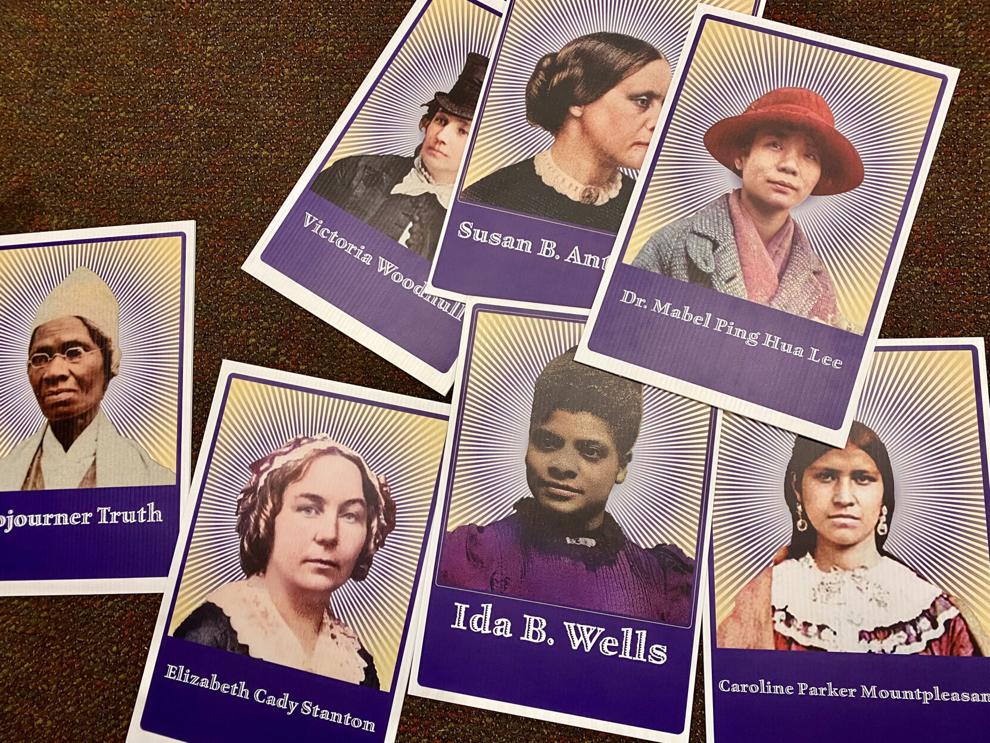 When the play begins its tour across the state next week, I have no doubt many other Vermonters will be learning these women's names for the first time too. I hope they go home afterwards, and like I did, eagerly tell a friend how cool it is to see women's stories get told by other women. 
"My whole background is in trying to do theater that's relevant, meaningful, that is both high art and high action," Blume told me, mid-rehearsal. "And with this play, not only is the approach to this material extraordinary, but this collective of women." 
Even from my back-of-the-room seat, I could see during rehearsal how genuinely happy these artists were to be in each other's company — how they laughed with, not at each other, how they prompted each other's lines and finished each other's sentences. 
As the days grow colder and the list of things that seem to divide us grows longer, "The Suffragist Reenactment Society," with its questioning of the status quo and female creators, is the play we need right now. 
Afterwards, out on the sidewalk or in Taylor Park, the show will spark conversation, between grandmothers and granddaughters, fathers and daughters. Conversations, I think, that will make us stronger, more empowered, for having had.