STOCKBRIDGE, Ma. — An artist with Colchester roots brings fantastical worlds to life with his imagination and brush strokes of oil paint.
Donato Giancola, who grew up in Colchester and now lives in New York City, has two artworks featured in "Enchanted: A History of Fantasy Illustration," an exhibit on display until Oct. 31 at the Norman Rockwell Museum in western Massachusetts.
The exhibition, curated by Jesse Kowalski, explores the narratives of good versus evil and heroes and villains. It is the first of its kind and covers more than five centuries of 140 works of art.
"I am very much honored and flattered and humbled by being in a show with so many great artists that I admired in my own youth," Giancola said.
One of his two included pieces, "St. George and the Dragon," serves as the cover of the show.
"I'm surprised, out of so many historical pieces, that they chose mine, a contemporary piece, to represent what was in the show," he said.
Giancola, who left Colchester to attend Syracuse University in 1989, is now a full-time artist and illustrator who has collaborated with LucasFilm, National Geographic, DC Comics, Scholastic and more.
He recently spoke with the Sun from his studio about his childhood in Vermont, his artistic beginnings and his creative process.
Q: When did you first take up painting?
A: I started painting when I was 20 years old, so not as a young child or young artist, rather, after I dropped out of my engineering classes. I wanted to do something different with my life, so I enrolled in some art classes for the very first time.
Q: Did anyone in your family influence you artistically?
I had an aunt who painted a few things. We had maybe one painting of her's in our house. My mother was very craft-oriented, and overall my parents were very supportive.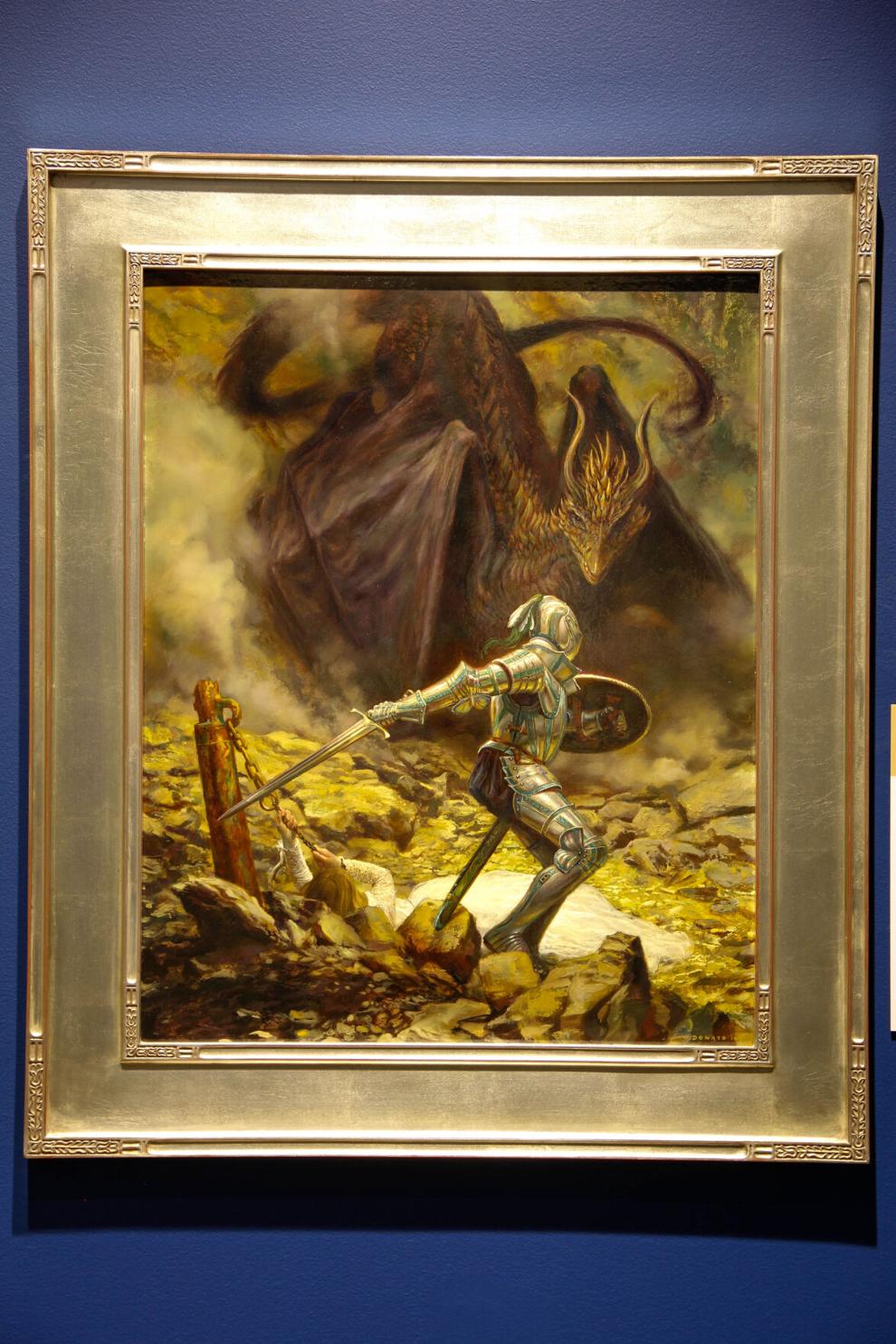 When I was younger, they sort of artistically fed me — with paper and markers and pencils. I just drew and drew and drew all the time with those materials, but never thought about it as a career.
Q: When did you first begin to take interest in fantasy?
A: I loved fantasy from very early on. I loved playing Dungeons and Dragons and reading fantasy books.
When I lived in Colchester, I lived on Westward Drive over in the village. In my high school years, I would go to the Burnham Memorial Library to read.
That's where I got deep into JRR Tolkien's books. I couldn't find them or buy them in the stores, so I would take them out from the library. I spent quite a few summer days up there reading in the library itself.
Q: How did the genre begin to make its way into your art?
A: It was there I think immediately. As a kid I was drawing Dungeons and Dragons all the time.
When Earth Prime comics opened on Church Street in Burlington, there was a wall where local artists and fans could post artwork. That was like my first chance to publicly share what I did as a fan, as a hobbyist.
Because of that, my very first attempts with oil painting and acrylic painting were interpretations of the worlds of Tolkien.
Q: Can you describe your creative process?
A: As an illustrator, I need to meet deadlines and provide a certain quality. I do have a process of generating sketches first and then really detailed drawings.
I'm always juggling anywhere from eight to 10 projects.
When I get to the painting step on a project, I only work on one painting at a time. The concept and the ideas are active on many different projects, but during this physical act of painting in oils, I tend to focus on one single work at a time.
Q: What are you currently working on?
A: I'm working on four different artworks for Magic the Gathering, which is a popular trading card game. I've also got a book cover illustration with six interior paintings to go with that. I also have three private commissions.