Since the late 1700s, Vermont towns have held town meetings to vote on issues like local officials and municipal budgets. These meetings can be loud and crowded, as residents pack into rows of folding chairs and stand shoulder to shoulder along the wall.
This year, the COVID-19 pandemic is expected to still be a factor come Town Meeting Day on March 2, and these meetings in public spaces are likely to be risky.
In the years since the first Town Meeting Day, many Vermont towns have transitioned to voting via Australian ballot, or a system of voting in which voters mark their choices on ballots at a polling place.
Colchester uses the Australian ballot system, but holds a busy informational hearing, usually in the Colchester High School gymnasium, the night before the election.
How will the informational hearing be conducted differently this year?
According to Act 92, which the Vermont Legislature passed in March 2020, informational hearings, where the items to be voted upon are explained and debated, may be conducted remotely, over Zoom or another virtual meeting platform.
During the Dec. 8 selectboard meeting, Town Manager Aaron Frank said he doubted the town would be able to host its hearing in-person like usual.
"It appears it will not be safe to have a group of a hundred people gather for a few hours to hold Town Meeting on Monday night March 1," he stated in a memo to the selectboard. "Town Meetings began in Vermont before the American Revolution so the history and tradition is very important."
Will Senning, the director of elections and campaign finance for the Vermont Secretary of State's Office, said an informational hearing must be held within the 10 days preceding the election.
Some towns might fear that if they opt for a virtual hearing, attendance might be low because of residents' unreliable internet connections.
"That concern is understood," Senning said. "It's a rock in a hard place this year."
One solution to the problem is that informational hearings are required to have conference call availability.
"It's not a perfect solution, but you have the remote meeting and then some people can call in on a landline," Senning said. "That's another option for people who may not have broadband."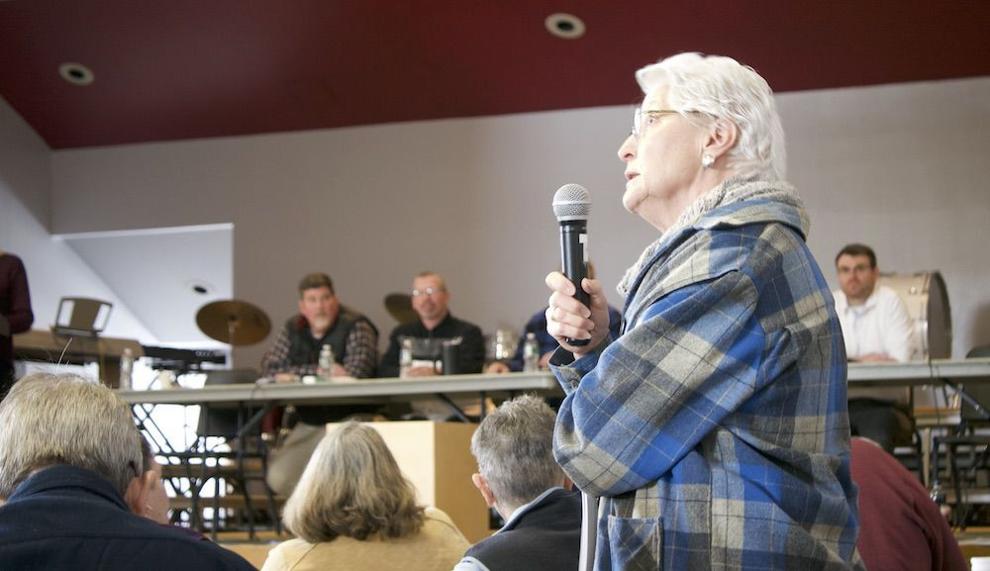 What if a town uses a combination of a town meeting and Australian ballot?
Some towns, like nearby Georgia and Fairfax, use a combination of a floor vote and Australian ballot.
Georgia votes on its budget through a vote of hands or yes and nos. Fairfax also votes on some ballot items this way.
Senning said current Vermont law does not allow floor votes to be conducted virtually. Therefore, these meetings must be held in-person, but must also abide by current health and safety guidelines.
This means no more than 50% of a room's fire safety capacity may be filled and no more than one person can occupy 100 square feet of space. In total, no more than 75 people can gather together indoors, according to the state's COVID-19 guidance.
Could towns postpone Town Meeting Day until a time when we can gather safely?
Vermont towns are required by law to meet annually on the first Tuesday of March, but on Jan. 12, the Vermont Legislature is expected to vote on H. 48, a bill that if passed would allow towns the move the date of their 2021 annual meeting.
What if I want to vote by mail?
You can request an absentee ballot, or a main-in ballot, by calling the Colchester Town Clerk's office. You can also make a request using the My Voter Page (mvp.vermont.gov) on the Secretary of State's website.
If H. 48 is passed, it would also authorize towns to mail ballots to all active, registered voters as they did for the General Election in November 2020.