If you've taken a walk or a bike ride on the Colchester Causeway recently, you might have noticed a rather large mud flat on the left-hand side as you head north. 
This mud flat is typically covered in feet of water, but this year it extends all the way to Law Island. Why can you see it? Lake Champlain's water level is significantly lower than average. 
The Sun spoke with Oliver Pierson, lakes and ponds program manager at the Vermont Department of Environmental Conservation's Watershed Management Division, to find out the reason. 
Here's what he had to say: 
Q: Why is the lake's water level so low right now? 
A: It's been a pretty interesting year. Lake levels haven't yet set records, but what's been very uncharacteristically low is precipitation, which leads to low flows from the rivers that empty into Lake Champlain. Water temperatures have also been high and have even set records. 
Since April, precipitation has been well below average, and that's really the principal driver. 
Normally, the average rainfall from January thru September in a given year at the weather station at Burlington International Airport is 29 inches. This year, we're at 22.5 inches. 
Editor's Note: For more perspective — so far this September, Burlington has only seen 0.22 inches of rain, when the 20-year average is 3.41 inches. 
That's a substantial difference. We've only received about three-quarters of the rain we normally do, and what that's done is really reduced the flow in the rivers that dump out into Lake Champlain. 
The Winooski River is flowing at a rate that is 65-70% less than normal, and we're seeing that statewide. The West River, in Jamaica, Vermont, is also well below average. 
The temperature of the lake on the other hand, was well above average in the early part of the summer. The highest temperature ever recorded in Lake Champlain was on June 23, 2020, when it got up to 79 degrees Fahrenheit. 
What that means in terms of lake levels, is greater water temperature leads to greater air temperature, which causes more evaporation of water.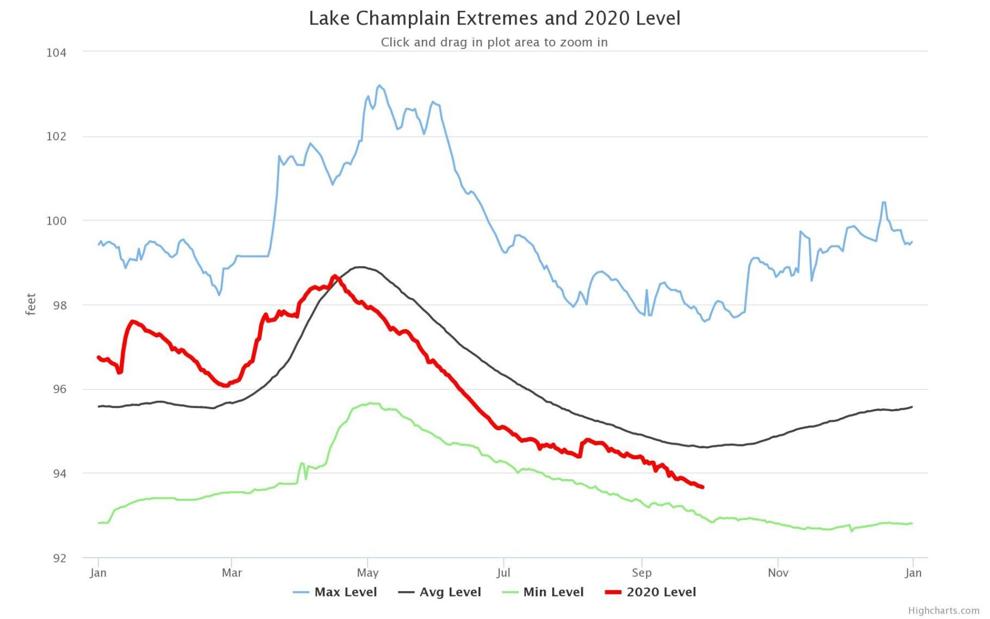 Q: What consequences, if any, do low water levels impose on fish and wildlife and overall lake usage? 
A: An increase in lake temperatures is going to cause stress to certain kinds of wildlife.
Fish that have adapted to cold water will have to swim to lower depths to get to the cold water they like. Often, those lower depths have less oxygen, and that can lead fish kills which we've seen a little bit of around the state. 
Hot, dry conditions also can fuel blue-green algae and cyanobacteria blooms, and we saw that this summer when some parts of the lake were closed off for swimming and other uses. 
Warmer temperatures, a lack of precipitation and lower water levels kept the lake from moving as much as it normally does. Specifically, in the area of the Inland Sea, Grand Isle and North Hero, this caused above average bacteria blooms this summer.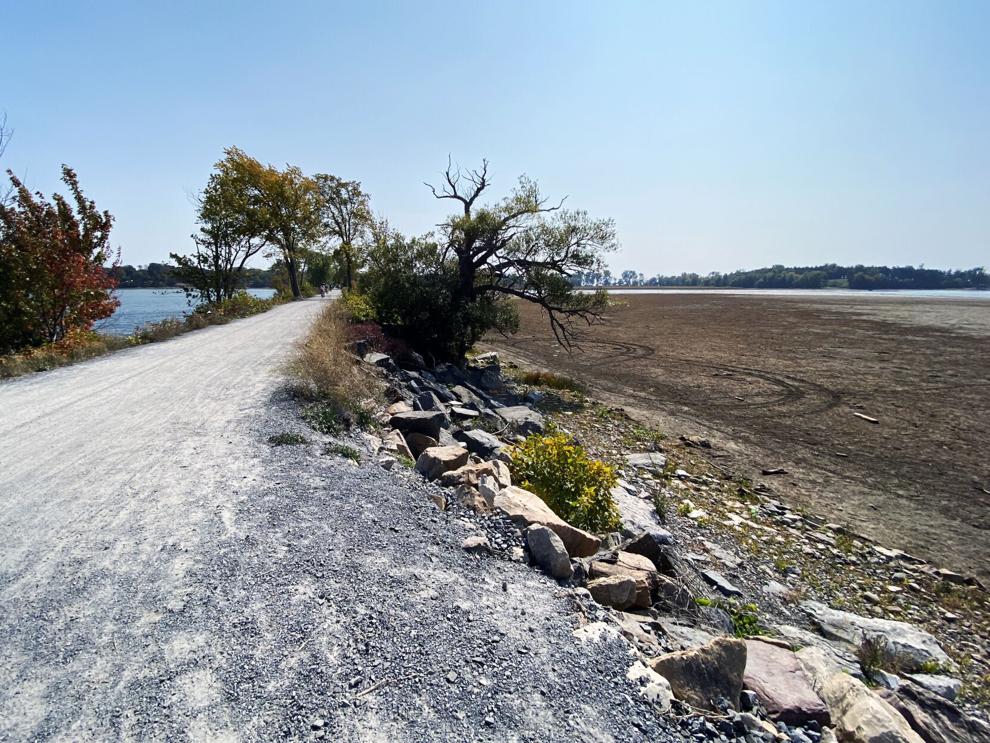 Q: People might wonder if all of this is connected to climate change. Is that a possibility?
A: It's hard to say. What we're seeing is driven to some extent by climate change, but's also just unusual.
In order to find another year where we've had only 22 inches of rain by the end of September, I have to go all the way back to 2003. This is not part of an old trend, but it could become the beginning of a new one. 
These drought conditions are somewhat limited to northern New England and upstate New York. As you go south to Connecticut, Rhode Island, they are having a more normal precipitation year. 
Typically, by Nov. 1, water levels tend to creep up again. As we head into the winter months, we should see more precipitation month to month, and that's the respite we're all hoping for.