Editor's Note: This story was written by Brooke Tucker, a Colchester High School senior and student in Lakeside Voice Publishing, a humanities class focused on journalism skills. 
---
Oct. 16, 2020 seemed like every other day at Colchester High School — math tests, book discussions, cleaning protocols — but it turned out to be an extraordinary day for Susan Rosato who was named the 2021 Vermont Teacher of the Year.
"I was very surprised and it was awesome, it was really awesome," Rosato said.
After applying alongside a number of other talented teachers, she was chosen as the winner for being an exceptional English Language Learner (ELL) teacher. But Rosato is much more than just a teacher to her students — she forms long lasting relationships with many, and they keep in touch years after graduating.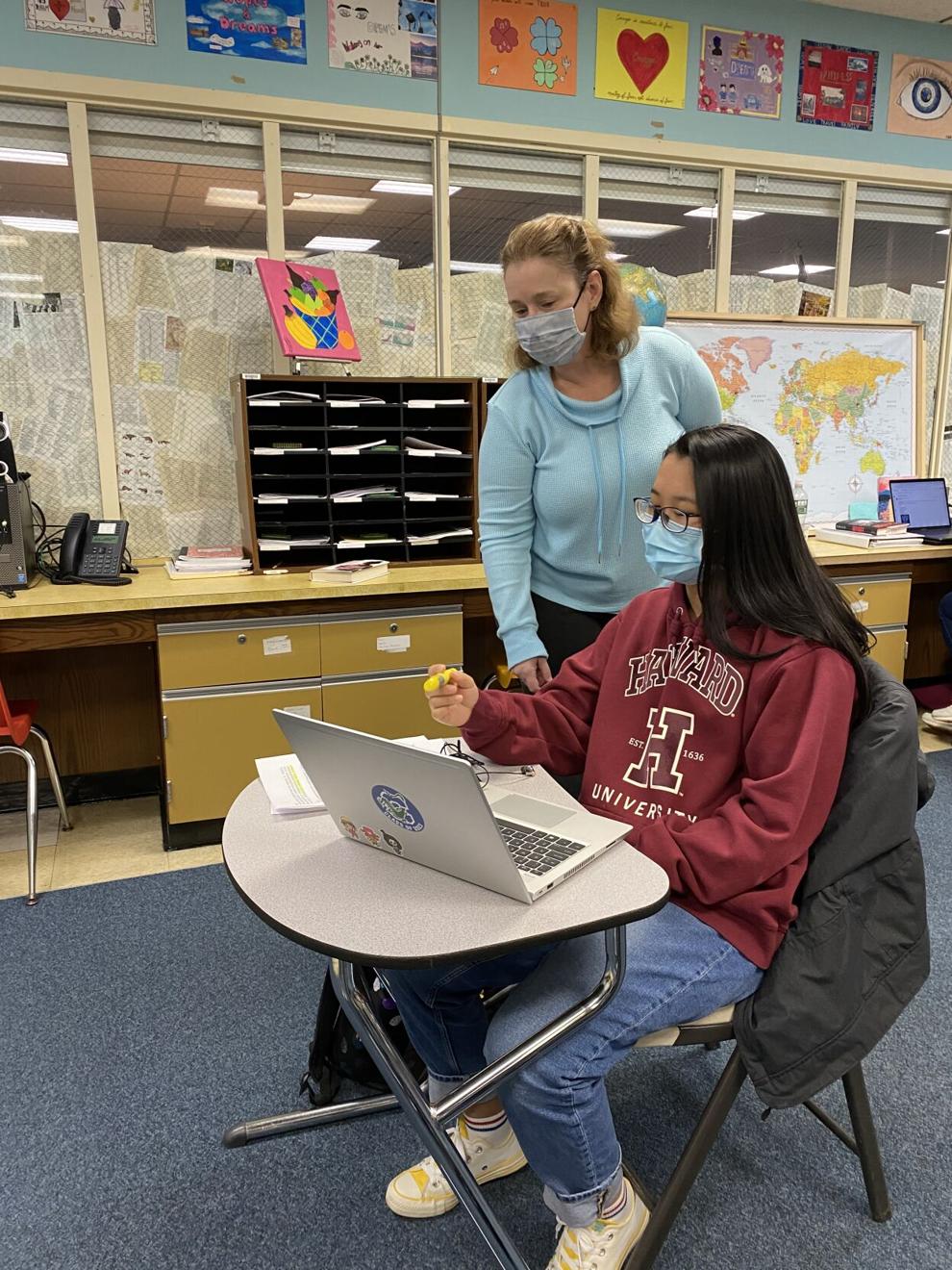 Rosato's career wasn't always focused on English language learners. After graduating from SUNY Cortland with a degree in education, she applied to several teaching positions but didn't have any luck. It was at that point that she decided to look at other avenues she could pursue in education.
"I had been abroad; I studied abroad; I studied Spanish a lot," Rosato said. "I loved practicing and speaking Spanish, so it seemed like a natural fit to go for ELL."
She got her first job in a bilingual classroom in Holyoke, Massachusetts where she worked for five years. When her family moved to Vermont, she worked at Colchester Middle School and Colchester High School as an ELL teacher.
What comes with being an ELL teacher, she said, is learning the grammar and the language structures of the different languages her students speak.
Rosato said one of the most unique languages she's had to learn is May May, from a student that is Somalia Bantu. May May is not a written language.
"That one was the most challenging because I didn't have anything to... fall back on," she said.
This goes to show how dedicated an ELL teacher has to be, because she never knows where a new student may have come from, and what languages they've been exposed to. The dedication it takes to spend time to learn such unique and foreign languages and then use that to teach English, shows just how amazing what Rosato does for her students is.
Rosato's commitment doesn't go unnoticed by her students.
Tenth-grader Peas Liu said: "She's the best teacher."
Rosato knows the value of the relationships she forms with her students.
"The relationships are so strong," she said. "I've been invited to some of my students' weddings. They come back with their babies to show me their children, and that is super rewarding about what I do. That's got to be about the most rewarding thing, is that you actually make friends."
As Vermont Teacher of the Year, Rosato is a nominee for National Teacher of the Year.
Rosato mentioned that one of her former students had written her a letter of recommendation when she was applying for the National Award just a few weeks ago. She thought it was a great idea to include it in her application, because it would make her stand out that one of her former students would say such nice things about her.
In the meantime, she still goes to work everyday to do what she loves and to see the students she feels passionate about. Whether she wins the National Award or not, the real reward is continuing to work with her students.