MONTPELIER -- The state has continued to expand its ability to treat medical patients based on models of how severely COVID-19 will impact Vermont, adding additional medical surge beds Thursday in Essex and Rutland.
As of Thursday, the disease had claimed the lives of 17 Vermonters. Twenty-nine people known to have the illness were hospitalized and another 42 hospital patients were being tested. The number of people in the state who have tested positive for OVID-19 has reached 338.
Worst case scenarios show a need for 2,500 hospital beds at the peak of the disease in Vermont, well in excess of the state's existing 622. The best case scenario places the number of beds needed at under 200. The most likely scenario has the number of beds needed coming close to the number available.
When it comes to intensive care beds, the likely scenario exceeds the 135 currently available and staffed.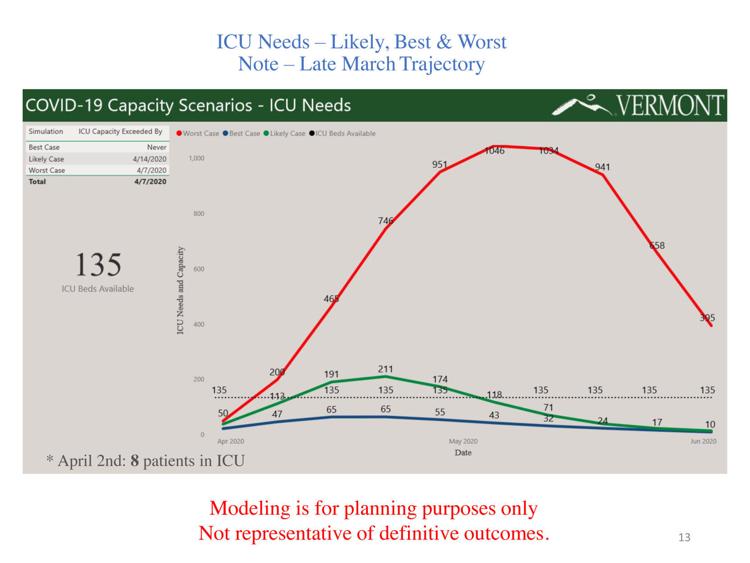 The same is true for ventilators, where the projected need is ranging between 35 in the best case scenario and 565 in the worst. The state currently has 93 available, with the most likely scenario showing the state will need 20 more than that. Additional deliveries are expected over the next few days, according to Public Safety Commissioner Michael Schirling, from the 452 the state has ordered. More have been requested from the Federal Emergency Management Agency.
"It really makes sense to plan for the worst case scenario," said Agency of Human Services Secretary Mike Smith. "Under any scenario, we need to plan for more capacity."
However, state officials are optimistic the worst case can be avoided, but only if people continue to socially distance. 
"This is a very serious event," said Smith. "I can't emphasize this enough. Lives are at stake."
The state's planning is taking place in layers, he explained, to deal with a complex medical emergency in which some patients will require intensive care for days.
Hospitals are being asked to add capacity, including intensive care beds. Medical surge sites are being set up to support the hospitals, but those will primarily be used for non-COVID-19 patients, should the need arise.
Five sites have already been set up. There are 50 surge beds in St. Albans at the Collins Perley Sports and Fitness Center, another 50 at the Barre Civic Center and 100 at the University of Vermont Patrick Gymnasium. On Thursday, 400 beds were added the Champlain Valley Expo in Essex Junction and 150 beds at the Spartan Arena in Rutland. 
The state also has two portable hospital units capable of treating 20 patients each and trailers with supplies to set up 50-bed surge sites in Brattleboro and Windsor. 
Sites are also being set up to serve specialized populations, such as the conversion of the Woodside facility in Essex to a location for hospitalized mental health patients with COVID-19. 
Planning is also being done for people who have COVID-19, don't require hospitalization but do need a safe place to stay isolated.
"The facilities are one thing, finding the personnel is another," said Smith.
The state is asking those with medical experience of any kind, including veterinarians, to register for the Medical Reserve Corps at www.vermont.gov/volunteer.
Then when surge facilities come into use the state will be able to call on the reserve corps in those areas, explained Schirling. 
Vermont has relaxed licensing requirements to allow medical professionals who are retired or who are licensed in another state to practice here. Smith indicated the state is also prepared to call on nursing students and have emergency medical technicians work inside health care facilities. 
"We've got to think differently about this entire event," said Smith.  "We're looking at anybody right now. We'll match up the experience with what we need."
"I'm asking please sign up," he said.
Dr. Mark Levine, Vemont's health commissioner, added that what is needed in order to deal with the epidemic and what is happening, is "innovation, creativity, resourcefulness."