A company based in Colchester, that has been providing construction materials for construction projects throughout Northern Vermont since 1968, recently made a heavy donation to a local school.
At the start of what is a unique school year, educators at Albert D. Lawton Intermediate School (ADL) in Essex Junction collectively agreed that learning outside and increasing students' access to nature would be a priority. But then there was the issue of needing to keep the students warm once temperatures dropped.
"ADL knew even before it was a reality that a community fire would help us uphold our commitment to outdoor learning -- even through our Vermont winters -- and would provide us ongoing opportunities to build a sense of classroom community, shared-responsibility, appreciation for nature, and to teach flexible thinking and problem-solving skills regardless of the restrictions that COVID-19 was challenging us with," said ADL Social Emotional Learning Coach Jessica Butler.
The school reached out to and received donations from a handful of area businesses in order to have a safe and operational fire pit built on its campus -- one of those being Trowel Trades Supply (TSS), a company located on Hegeman Avenue in Fort Ethan Allen, which provided 2,200 pounds of stone veneer for the enclosed pit.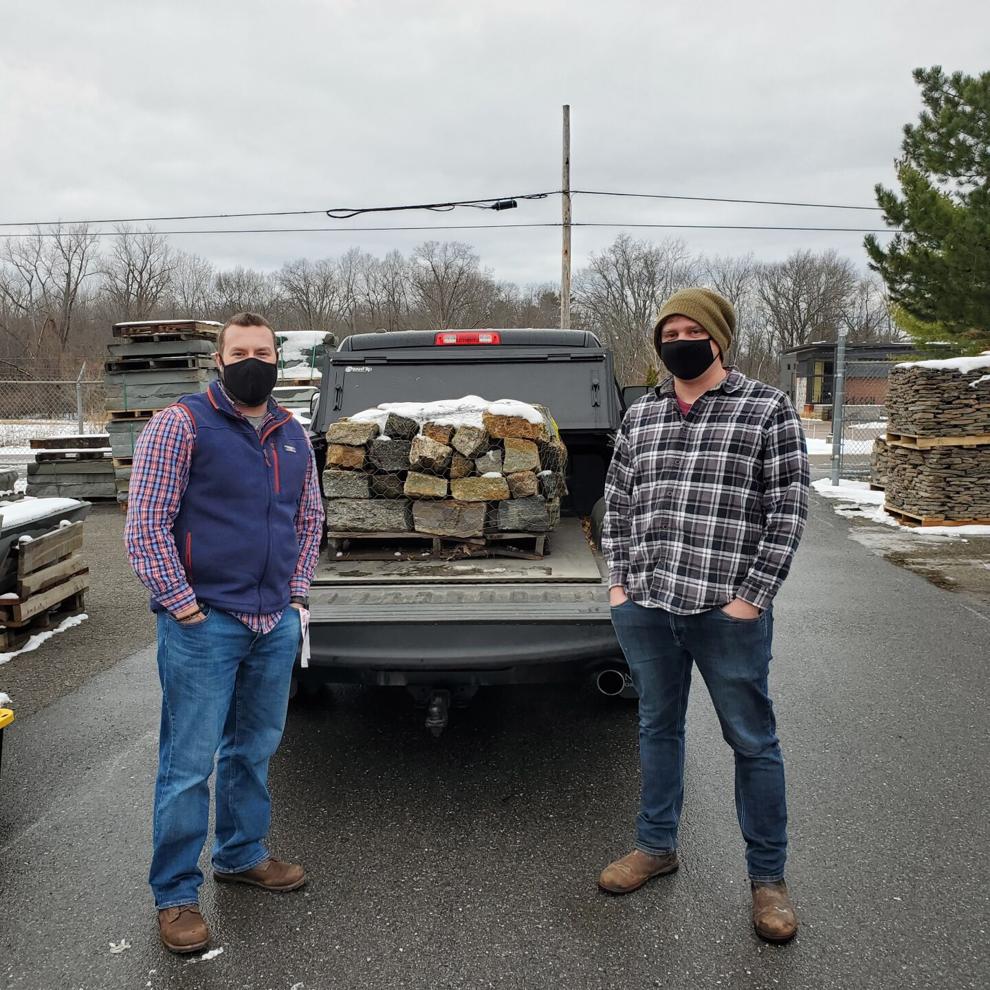 "When we arrived back to campus that day after picking up the stone donations and having all the supplies we would need to make the fire pit a reality in one place, we had students and educators alike grinning ear to ear as we worked together to unload the truck and organize our materials," said Butler. "It was a truly magical moment then to experience the generosity and care of our local community partners, and it continues to be an inspiring and energizing part of our campus now."
Eric Mootz, a sales representative at Trowel Trades Supply that Butler was in contact with to coordinate the donation, said the company doesn't typically have the types of materials the school was looking for on hand. However, TTS happened to have some extra veneer from a mockup display which was perfect for what Butler was looking to do.
"We're glad to be a part of the project," said Trowel Trades Supply Branch Manager Mike Smullen. "It's always good to make sure the students have something new, and we're all fond of the outdoors here so the more kids can get outside the better."
Trowel Trades Supply
Incorporated as a family-owned business in '68, Trowel Trades Supply started out as a masonry yard that serviced the needs of residential fireplace masons. As time went on, the company started providing additional products such as drywall. About 20 years ago, it began offering landscape items before supplying rain screens for the outsides of buildings more recently.
Along with its stylish look, Smullen said what sets TTS's products apart is that most of them are environmentally and economically friendly -- opposed to other materials like vinyl siding and those made with petroleum.
"Stone and brick is some of the greenest stuff you can have as far as the environment goes. You can put a stone or a brick building in, and that should last you hundreds of years potentially. That brick can last 100 years; stone lasts as long as stone lasts," he noted laughingly.
About a year ago, the company was purchased by Gypsum Management & Supply based out of the State of Georgia. While there may have been cause for concern with that transfer of ownership, Smullen thinks it's worked out well so far.
"Our folks are really happy here, because sometimes it's a little scary when you go from a smaller company to a big company," he said. "But we're seeing that our employees and our customers are actually benefiting quite a bit from having a larger infrastructure to go on."
In addition to selling materials to contractors and construction companies, TTS also sells directly to homeowners. However, the company thinks it's best to have residential customers seek knowledgeable help when trying to spruce up an entryway or backyard patio.
"When it comes to landscape and masonry projects, our recommendation is that people seek the services of professional installers," said Smullen. "The experience and knowledge they provide will add to the quality, longevity, and aesthetic value of a project. We are happy to help people get started on their project by getting them in touch with local installers."
You likely don't know it but have possibly seen Trowel Trades Supply products detailing the gorgeous architecture of many commercial buildings throughout Chittenden and Franklin counties. TTS materials have been used for projects such as Homewood Suites in South Burlington, Hotel Vermont in Burlington, the University of Vermont's alumni building and STEM building -- Discovery Hall -- Vermont Public Radio in Colchester, and the Northwest Medical Center in St. Albans.
Mootz said one of the projects he's most proud to have been a part of and see Trowel Trades Supply's products featured in is Burlington's City Hall Park which was completed in the last year.
"I lived in downtown Burlington for 10 years, two blocks away," he said. "So to be involved in that one all the way from the very beginning was pretty cool. Part of the reward of working in the professional industry -- especially when you are part of it whether you're starting on projects all the way in the conception phase, helping selecting source and do the concept design part of it, and then still continue to be a part of it all the way through the closeout when the project finishes -- it is a cool process to watch for sure."
Commercial projects that used TTS products