The Centers for Disease Control and Prevention (CDC) has released estimates of hesitancy rates for each county in the U.S. in receiving the COVID-19 vaccine.
The U.S. Census Bureau's Household Pulse Survey was used to gather the data in conjunction with the bureau's 2019 American Community Survey 1-year Public Use Microdata Sample (PUMS). To create county-level estimates, the CDC used a PUMA-to-county crosswalk from the Missouri Census Data Center. PUMAs spanning multiple counties had their estimates apportioned across those counties based on overall 2010 Census populations.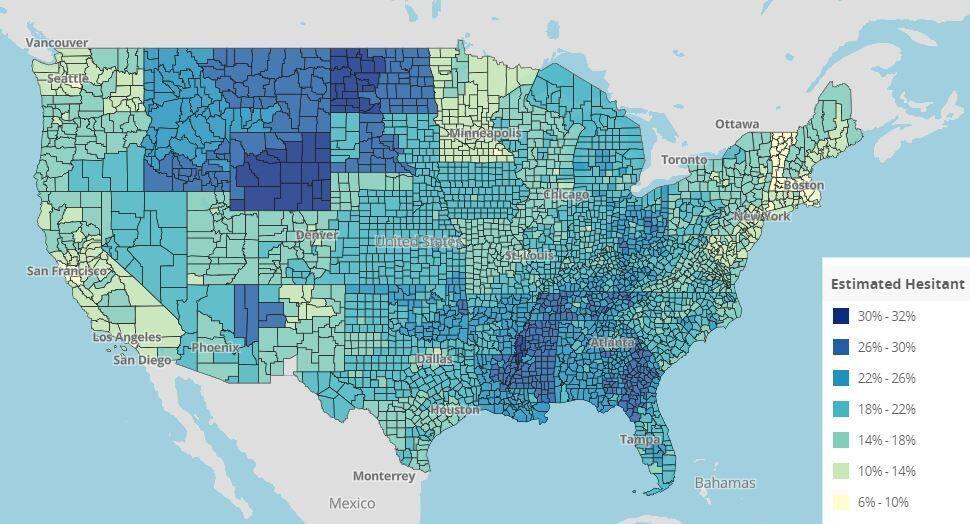 Counties throughout the country landed anywhere between 6-32% of estimated hesitancy with all of Vermont's being on the lower end. In the Green Mountain State, Orleans, Essex, Caledonia, and Washington counties were all listed as being 8% hesitant while every other county in the state was listed as 7%.
While Massachusetts was similar in its percentages, the estimated hesitancy climbs up significantly just over Vermont's borders to the west and east. On the other side of Lake Champlain, New York's Clinton and Essex counties – along with many others in the northern part of the state – were charted at 17% while each of the four New Hampshire counties that border Vermont were charted at 15%.
Some of the higher estimates for the country – in the 30-32% range – were seen in Mississippi, Wyoming, and North Dakota.
In a "strongly hesitant" estimation, counties in the U.S. ranged from 2-20%. Once again, Vermont was on the lower end of the spectrum. Essex, Orleans, Caledonia, Lamoille, and Washington counties were all at 4% while the other nine were at 3%.
Massachusetts was also in line with Vermont for the strongly hesitant estimates while New York and New Hampshire jumped up towards 6-7%. States registering in the 17-19% range included Arizona and Wyoming as North Dakota was the only state in the highest range of 20%.