People to Know is a monthly Q&A with a member of the Colchester community. Want to recommend someone to be featured? Send an email to news@colchestersun.com.
---
Yara Hanna, a teacher at Colchester High School, was thrown into the spotlight last year when she became the first Arabic-certified teacher in Vermont. She had already been teaching French students of varying proficiencies for years before starting these new classes in Arabic.
Hanna emigrated to the U.S. from Lebanon in 1994. She still has family there, including her mother, whom she hopes to visit as soon as it is safe to do so.
"When you learn a language, you are learning not just the language, but a whole culture," she said.
The Sun spoke to her about emigration to the U.S., her love of foreign languages and how she got where she is today.
Q: How did you come to start teaching at CHS?
A: It's a long story, I have to start with background first.
Arabic is my first language, but Lebanon is a multicultural, multilingual country. It's a Francophone country, so French is a second essential language. I started learning French and Arabic simultaneously...on the street with my parents I would speak Arabic, but it was mixed up with some French words.
In school, we would learn Arabic in an Arabic language class. We started right away, from Kindergarten. Throughout middle school, it was advanced. We learned Arabic and English as languages, but the other subjects we learned in French.
When I went to college, I studied French literature, but I always took extra classes of Arabic language.
When I came to Vermont, I started teaching at Colchester High School. I first started teaching French, but I approached my principal, Heather Barron, and I proposed to her, "What do you think about teaching Arabic here?" And right away she was very excited about the idea.
Q: Was there anything you needed to learn, Arabic wise, in order to teach the language?
A: I didn't have to learn anything new, but I did have to get a teaching certificate.
Q: What was that process like?
A: Because I'm a public school teacher, I am required to get a teaching certificate. CHS gave me a provisional license, a temporary license that you can work with. They give you a two-year time period to work on your license as you are teaching. To the Vermont Board of Education, I had to provide many documents. I had to provide a whole portfolio, proving that I'm proficient and above in Arabic.
I used to have a side job where I did translations and interpretations in Arabic, French and English, any mix of the three languages. That helped me also to get my certificate in a faster way.
I had two years to get it on top of my French license, but because of all my experience, I was able to assemble a portfolio of translations I did for professionals like doctors and immigration officers. I had to provide proof of my work for them and well as their letter of recommendation.
And then I had to present it to the Board of Education and that was a very unique process. I presented like you would do for your masters defense or PhD defense. It was a whole process that they had to vote on. They questioned me, they read my case and I got my license.
Q: As an Arabic teacher and an Arabic speaker, do you think other Vermont schools should start teaching Arabic?
A: Yes, definitely. I think there's a big Arabic community and it's growing. It's not huge, but it's considerable in Vermont. There are immigrants, there are refugees.
Arabic is a hot topic and it's very relevant, it's always on the news, and to teach it in high school, it's like opening a new world for our American high schoolers.
There are a lot of misconceptions and stereotypes and just learning the language plus culture, it's a great opportunity.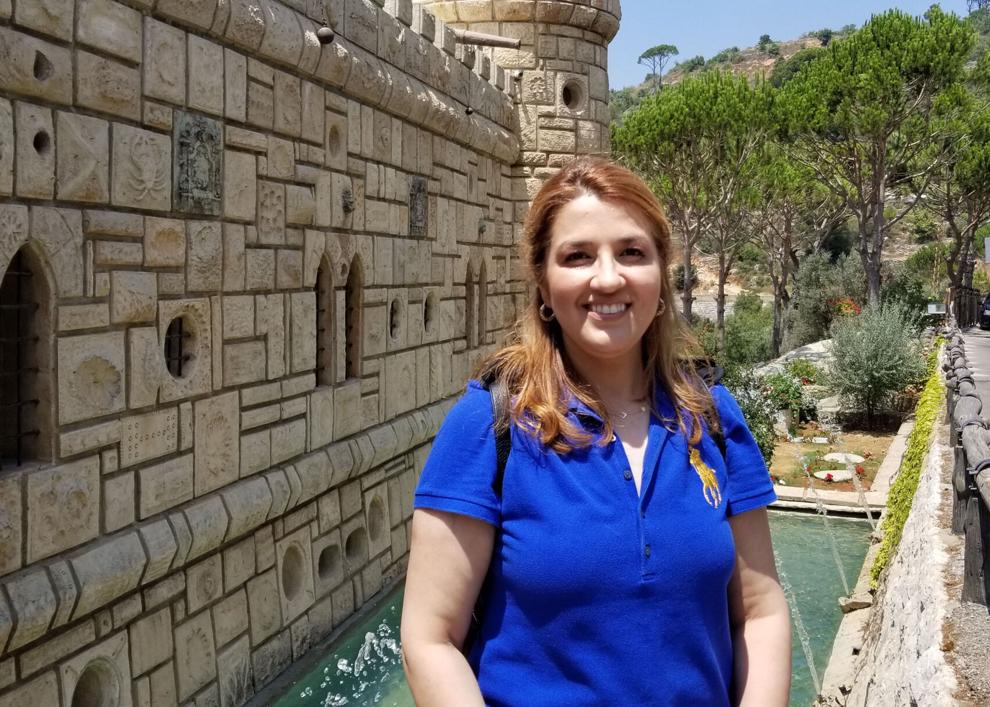 Q: What was the process of learning English as a native French and Arabic speaker like?
A: Well, I love languages. I've always been good at them, but of course, learning a third language is a little different.
I started in middle school like Colchester students start French and Spanish. The classes were not as frequent as your language classes in middle school — for me it was once a week.
I loved it and I took it very seriously. I think maybe my classmates didn't care much for it, and they didn't pay attention. They didn't get much out of the class, but for me, I really paid attention because we were exposed to movies and to American cartoons. We would watch a movie with subtitles.
Q: How long did it take you to become totally fluent in English?
A: When I came to the States, I could speak English right away, but maybe I wasn't this fast or this fluent. I spoke it maybe more hesitantly, with an even heavier accent, if you can imagine! But I just kept getting better. That's just how languages are.
It was the little phrases, little expressions that are used on a daily basis and the speed with which people spoke that was very challenging when I first came.
Maybe that's why I'm so compassionate with my students, because I know how it is. I've been in their shoes, learning a totally new language.
Q: What are some tips you'd give to someone trying to learn Arabic as a second language?
A: First of all, do not be intimidated. It may look intimidating, but it has some simple elements that are not present in other languages, like the fact that it is phonetic. That means the way you hear it, is the way you spell it or write it.
I can compare to you between French and Arabic. In French, for instance, when you have "au." It's "a," or when you have "ph" it's "f." There is no confusion in Arabic. An "f" is an "f."
Be patient, come with an open mind and ready to practice.
Q: If you talked to someone who was considering learning Arabic but they weren't sure, what would you say to convince them?
A: First of all, I would tell them that on your college application, it looks awesome. Arabic is a little bit unique, and that shows how committed you are to trying to be a global citizen.
The other point is that you would be able to communicate with over 200 million people who speak it as a first language. Chances are, if you get on a plane, you're going to be able to do the introduction sentences with at least one person on the plane, who speaks Arabic.
There are also a lot of work opportunities for Americans in the Arabic speaking world — the United Arab Emirates, Saudi Arabia, Qatar, in all those oil rich countries.
When you learn a language, you are learning not just the language but a whole culture. There are more than 27 countries who speak the language. In class, we talk about their dialect, their food and music. How do they view women? What are their family values? And we cook in the class, we cook, we dance. We apply what we learn to our lives.