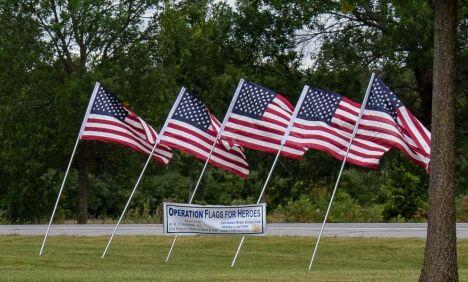 Flags for Heroes displays are flying at locations in Colchester and Milton to celebrate heroes - soldiers, medical personnel, teachers, community workers, and veterans - by displaying flags to honor them.
Flags are displayed during holidays at Dick Mazza's General Store in Mallets Bay, Charlebois Trucking in Milton, Dr. Hayes Office at Severance Corners, and at 12 business sponsor locations.
Each flag site has been "purchased" by individuals and businesses and each site has a plaque that honors a specific person or group and acknowledges their accomplishments. 
The Colchester Milton Rotary Club has more flag sites available and those interested can celebrate heroes  by purchasing flags and joining the celebrations, especially on Veterans Day. 
Funds raised from this project will be used to meet community needs. For more information visit CMRotary.org or email Chuck Ginsburg at Chuck34@comcast.net or call his cell 802 578-3546.