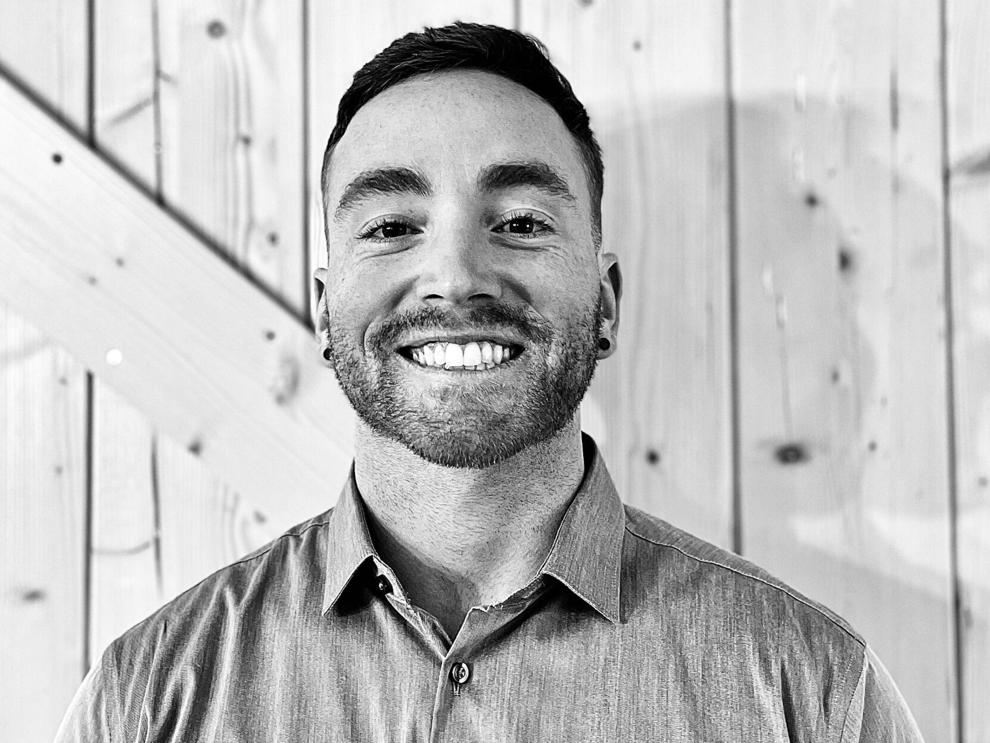 Growing up, Quinn O'Reilly and his older brother didn't get along. But in the months before his brother left home for Marine Corps boot camp, they grew closer. When Quinn flew to Parris Island, South Carolina to watch boot camp graduation, he was inspired to follow in his brother's footsteps.
"Watching him graduate, and go from just older brother [who I'd] started to become friends with to a United States Marine—very disciplined, doing these drill movements that I had never seen before, and immersing himself in a culture and really like another world, and mastering it, and mastering himself…I was like 'I want this for me, too.'"
Quinn graduated from Colchester High School in 2015, but a torn ACL during his senior year meant that it was April 2016 before he could start boot camp. After six months of training on the East Coast, Quinn was stationed in Hawaii for the next three years of his service. "I got to go all over the world multiple times before I was 21. I was super fortunate to do that." He says those years were formative, and set him up for success in college.
"I learned a lot about myself, my character, who I am one, as a follower, and then two, as a leader," he said. "If I went to college after high school, I probably would have ended up failing out, but the Marine Corps really taught me to just do the work, get it done…Same with school: sit down, do the work, but also put in your best effort."
In high school, he'd been ambivalent about the prospect of college. He wasn't yet sure what he wanted to study, or what he would do with a degree. But after four years in the Marines, and through close friendships he developed in Hawaii, he was inspired to pursue a career helping others, and set his sights on nursing.  
Quinn started full-time classes at CCV in the fall of 2020. "CCV seemed like I could get a quality education but I wouldn't have to overcome some of the obstacles that would come from going to a university…the class sizes are much smaller at CCV so I got to know my instructors. I could ask them questions during class, I could ask them questions after class." Even though his classes were entirely online, he developed close bonds with classmates. In his six-person Dimensions of Self & Society class, "we all got to know each other, and I loved that, and I miss that. I got to know those people intimately. We would joke and laugh and have fun with each other while still learning…I learned a lot from the instructors but I also learned a lot from the students in my classes."
He also had support from Kyle Aines, associate director of veterans services at CCV, who helped him navigate life as a student veteran. "Kyle was super helpful. He told me what I needed to do and when I needed to do it…he dealt with all of the policies and stuff and made it as simple as it could be for me." As a fellow veteran, Kyle creates a culture of support among military and veteran students. "I had Kyle," Quinn said. "I knew that he was in the Army. He had my back."
Quinn excelled at CCV. "His performance as a student veteran is in many ways a direct reflection of his time in the Marine Corps," Kyle shared. "He has proven to be a leader in the classroom, earning the highest distinction within our SALUTE Honor Society. His participation in our first ever SALUTE induction ceremony is a testament to his commitment to school and status as a student veteran."
After a year at CCV, Quinn transferred to the nursing program at the University of Vermont. He said all of his credits transferred easily. "It's so seamless, the transition from CCV to UVM. They communicate with each other all the time."  
"CCV definitely primed me, got me back in an academic mindset," he said. "I was really fortunate to have a positive first year of school back from the abstinence from school, so it definitely helped me...I think if I didn't go to CCV, I don't know if I would still be in school."
When I asked Quinn how it felt to be training for a job that's in such critically high demand—and at such a historic moment in public health—I got the impression that his experience as a military veteran has a big impact on the way he views his future career. You can't back out when things get hard or dangerous, he said. "You're making a commitment with yourself." He was also quick to give credit to the nurses who are on the front lines right now. "They're still showing up every day, they're still doing their job. It definitely takes a certain amount of bravery to go to work every day and put yourself at risk. Definitely a bit of bravery and courage."
This Veterans Day, Kyle Aines and CCV's Veterans Services Team are recognizing Quinn and the many other members of the military who study at CCV. "No matter the branch of service, no matter the chosen degree or profession, the women and men that raise their hand and take an oath to defend our land, people, and constitution have a quality within them that sets them apart," Kyle said. "That quality is a love of their country and fellow countrymen. That commitment is forged in honor, dedication, perseverance, and unity. These are the same attributes that student veterans bring to our classrooms. To all the women and men that have donned a uniform of our Armed Forces: I thank you and your family for the many sacrifices you have given and continue to give."