VERMONT — Essex Westford School District became one of the first schools in Vermont to address the use of ChatGPT and other artificial intelligence programs for coursework when it updated its academic integrity policy Feb. 10.
"Students need to understand that using an AI bot to accomplish academic work is not the same as building a process for doing that work on one's own," the policy states.
Work produced by the AI language learning model such as homework assignments and essays have begun to appear in isolated incidents throughout Vermont schools. Educators whose students have turned in the AI-generated work are grappling with addressing the issue and trying to understand the new program.
While school districts have the capability of blocking access to ChatGPT within schools, this will not stop students from accessing it at home. Plagiarism checkers such as turnitin.com, which is known to be highly scrutinizing, do not always flag AI-generated work.
When ChatGPT launched in November, teachers were already familiar with an individual student's writing style and so far have been able to tell when a student resorts to AI. But educators are concerned about next year and the following years, when they won't have an isolated time to get to know new students.
Educators are now working to figure out how to respond, and are doing so on a spectrum — from discussing the issue to blocking the program. 
EWSD is having conversations with students and trying to remain optimistic about ChatGPT and its potential uses. Educators at Colchester High School are turning to handwritten assignments and believe a writing tutor could eliminate the desire for AI-generated answers.
Winooski Middle and High School is still discussing the program and has not yet blocked it. In Swanton, Missisquoi Valley Union has not yet addressed ChatGPT, but does not find it conducive to the learning environment.
The Reporter reached out to the Vermont School Board Association to see if policy conversations about AI in the classroom are happening at the state level and did not receive a response.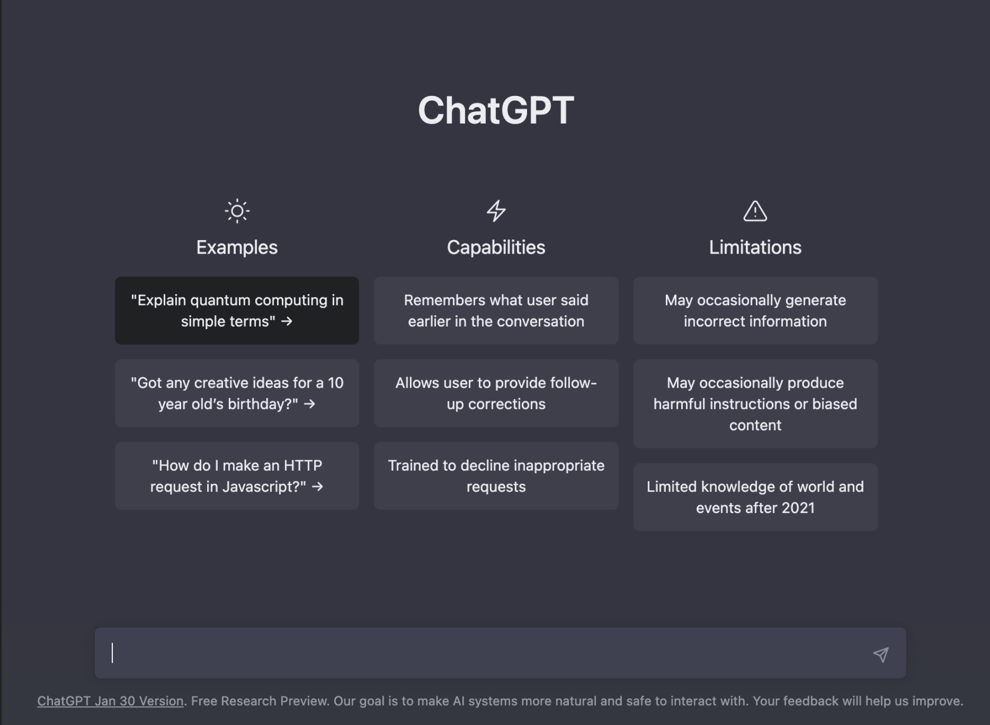 What is ChatGPT?
ChatGPT is a language learning model that was created by OpenAI, a San Francisco company dedicated to AI research and development. OpenAI is also known for GPT-3 and DALL-E 2, an "image and art generator."
The artificial intelligence program first became available to the public in November 2022 for testing purposes. Within five days, ChatGPT recorded one million users. Since then, the users have increased to 100 million as of January and in February ChatGPT became available worldwide. Because of all the current users, it can be difficult to access the program at times.
As a language learning model it does not produce original thoughts. Instead it responds to questions with generated answers it has been trained to learn. The program can be asked any question that is deemed appropriate by the site's guidelines, but it is not all-knowing. 
Unlike a search engine such as Google, it does not have access to any material on the internet and because its initial training period stopped in 2021, it has no knowledge of anything that occurred after that.
The program still has many limitations as it is still in a training period, now as a "free research preview," which OpenAI makes very clear on its website. 
Answers provided by ChatGPT can sound correct, but be completely wrong.
In an attempt to test ChatGPT's knowledge of events taking place after 2021, the Reporter asked the program "How many cities are there in Vermont?" 
As of 2022, the correct answer to that question is "10 cities," due to the creation of the City of Essex Junction. The Reporter expected ChatGPT to answer "nine cities" with its 2021 knowledge. Instead the program gave a false answer.

"We'd recommend checking whether responses from the model are accurate or not," OpenAI's ChatGPT General FAQ states. "If you find an answer is incorrect, please provide that feedback by using the 'Thumbs Down' button."
Another limitation of the program is it is not able to produce a unique answer for every user.
Users on ChatGPT must be 18 years or older according to OpenAI's terms and conditions, but at no point in the sign up process is a new user prompted to confirm their age. All that's required is an email and a phone number.
Educators in Vermont respond
"In early January, I came across an essay in one of my classes that just didn't feel like it was written by the student," Essex High School English teacher Jennifer Letourneau told the Reporter.
After looking into the issue and speaking with the student, Letourneau learned they utilized ChatGPT to construct an outline for their assignment and to find quotations to use in the essay.
Letourneau's assignments are more involved than "do you know where to put the period." She is assessing the student's ability to construct an argument with evidence they find in the assigned text.
"If [a student] uses a text generator… I can't assess what they can do," she said. "That's just me then assessing how well they can regurgitate something they found online."
Often high school students who have no interest in reading books or becoming a writer argue they don't need to know how to write an essay. While students might not be discussing Dostoyevsky at the dinner table, reading and writing are crucial communication skills.
"I think it's really dangerous for not just our nation, but I think our world if we have people who can only just absorb information without thinking about where it's coming from and the merits of that information," Letourneau said.
As an instructor of 29 years Letourneau has watched three decades of evolution in the education system, most notably the growth of the internet and computers. Though Letourneau does not believe the transition from writing by hand to typing is comparable to the changes ChatGPT presents.
"To me it is simultaneously fascinating and frightening," Letourneau said.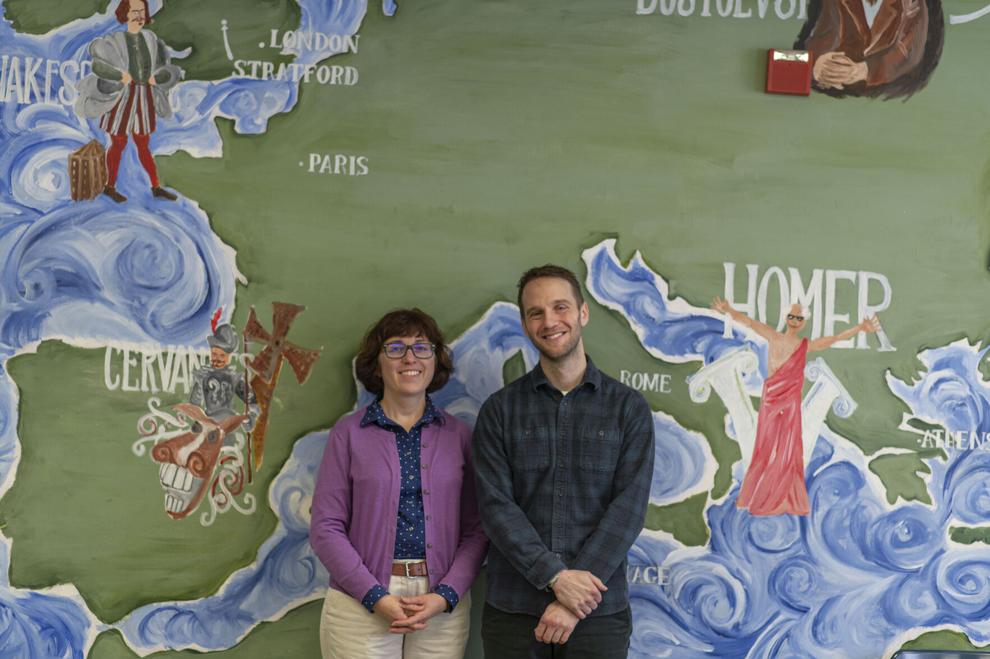 EHS English teacher Cyrus Dudgeon had a similar experience when his sophomore student turned in work with college graduate-level phrasing.
When Turnitin and the plagiarism checker in Google Classroom didn't flag anything, Dudgeon created an account with ChatGPT and found similarities between the student's assignment and what the program was generating.
ChatGPT can be used to create something as simple as an outline, or to write an entire essay based on the prompt imputed. 
Since that first instance, Letourneau has spoken with her students to clarify plagiarism is not just verbatim copying, it's also presenting ideas that are not your own.
The EHS English department had a conversation about ChatGPT Jan. 25 to discuss the merits and drawbacks of the program. Some are adamantly against it, while others are trying to find potential uses for it in the classroom.
"I think there are instances where it's useful, personally. I think it's just a matter of knowing how to use it," Dudgeon said.
As of Feb. 17, EWSD has decided not to block the program from its server as this could create potential equity issues between students who have access to technology outside of school and those who don't.
EWSD's IT department has seen 1,170 users access the program between Jan. 1 and Feb. 17. This does not mean 1,170 people utilized the program, it is just the number of people who visited the site.
1,170 hits over seven weeks is still on the low side, as the department sees roughly 4,000 YouTube hits a day at the middle and high schools and roughly 450 Wikipedia hits per day.
"Leaving it unblocked (for now anyway), means we are encouraging dialogue about the implications of using the technology between teachers and students," the district states. "It is a weighty topic and worth discussion."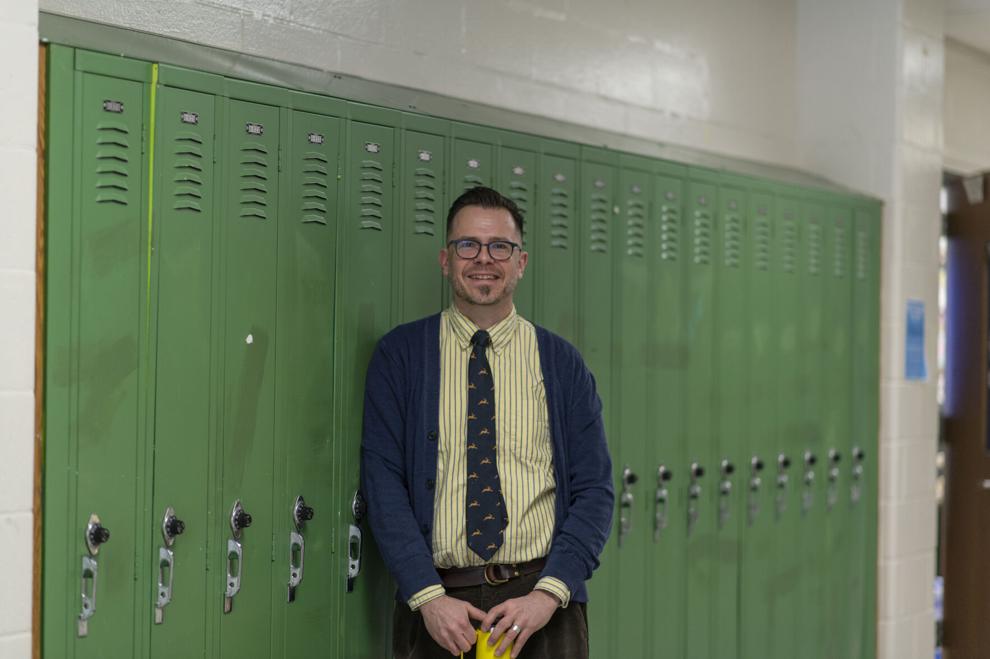 Colchester High School, has a more strict policy and has blocked the program completely so neither educators nor students can access it while using the school Wi-Fi.
Wayland Cole, head of the CHS humanities department, discovered this when he tried to show ChatGPT to a colleague. He first became aware of the program when another educator found a student had used it to complete coursework. 
"I haven't seen it in my classroom yet and a lot of the reason for that is because I require a lot of handwriting, and that's where a lot of teachers are going with this," Cole told the Reporter Feb. 14.
Incorporating hand-written assignments is not a new practice for the CHS humanities department. 
"Even before ChatGPT, there were other ways to plagiarize. We're not a school that bought into programs like Turnitin," Cole said. "They're expensive programs."
To combat the new issue, humanities teachers at CHS are looking into how they can redesign assignments to be both unanswerable by ChatGPT and capable of being completed without the program. 
Cole would also like to see the return of a full-time writing tutor at the high school.
"I think mostly when kids fall into cheating, plagiarizing, it's because they don't have enough support," Cole said. "It's because they're stressed, they're strapped for time or they don't know what to do."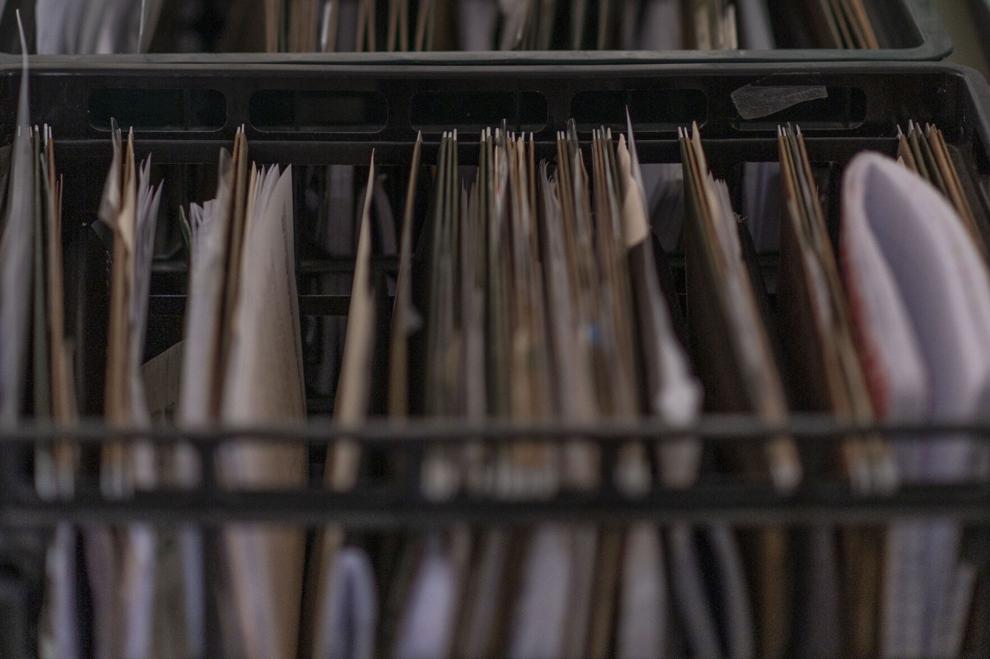 The Colchester School Board had one of the state's first board-level conversations about ChatGPT at its Jan. 17 meeting when they were reviewing the Vermont School Board Association's Acceptable and Responsible Computer, Network and Internet Use policy.
The board discussed how an AI-use policy could be added to the district's acceptable use policy or the new cybersecurity policy being created, but they would first like to have more conversations and better understand the legal aspects of a potential policy.
"As a student, I've heard already of people looking into this and trying to use it," student School Board Representative Olivia Dallamura said. "I think it's really new, but there's a lot of people who want to jump on it and that's not fair at all."
General student knowledge of the program is still fairly low, the Reporter learned in conversations with students and educators.
Winooski Middle and High School has not blocked the program "yet," the school's co-principal Jean Berthiaume told the Reporter Feb. 17.
"We've been in conversation with staff via email just to make sure everyone has the right information about it via our tech integrationist," Berthiaume said. "We're really having preliminary conversations but no broader policy discussions at this point."
The Missisquoi Valley School District in Franklin County is just beginning conversations about ChatGPT in the classroom. So far, AI-generated writing has not become a big issue for the district.
"[Our department chairs] do not see it as compatible with the way they teach writing, particularly in grades 7-10," MVU Superintendent Julie Regimbal told the Reporter via email.
Is work generated with ChatGPT mine?
OpenAI says yes, with an asterisk.
"As between the parties and to the extent permitted by applicable law, you own all Input, and subject to your compliance with these Terms, OpenAI hereby assigns to you all its right, title and interest in and to Output," the site's terms and conditions state.
OpenAI's policy encourages users to be upfront about the use of AI to generate the work.
"Don't mislead your audience about AI involvement," OpenAI's content policy states.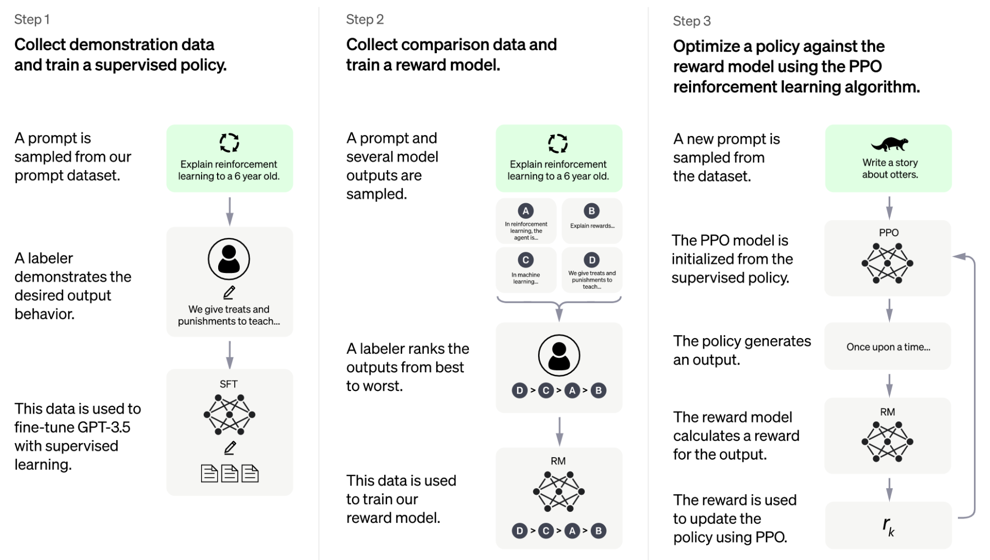 As of Jan. 31, OpenAI has begun to work on a classifier trained to distinguish work generated by an AI program and work created by a human.
"We are engaging with educators in the U.S. to learn what they are seeing in their classrooms and to discuss ChatGPT's capabilities and limitations, and we will continue to broaden our outreach as we learn," OpenAI states.
Just like ChatGPT, the classifier is still in its early stages, and has many limitations. OpenAI encourages educators to also refer to their preliminary resource on ChatGPT.
Those who have been directly impacted by the functions of ChatGPT in the education setting, including teachers, administrators, parents, students and education service providers are asked to complete this feedback form by OpenAI.
Outside of OpenAI, others are developing tools to confirm whether content was created by artificial intelligence, including a Princeton student who designed an app to detect AI generated content.
Is ChatGPT just a phase?
UVM Professor ​​Safwan Wshah, who is currently investigating how machine learning algorithms can be applied in energy, transportation and healthcare fields, says AI is here to stay.
"AI is coming whether we like it or we hate it," Wshah told the Reporter Feb. 9.
ChatGPT is one of many potential language learning systems to exist. It might be the first to gain such a large user base, but it will not be the last. The entire machine learning field is still just beginning, Wshah said. 
"If I were to compare the machine learning as of now to a kid, and how intelligent that kid would be, we are talking about 3-4 years old," Wshah said.
The science is still in the early stages, but Wshah said it will be coming to most professional fields.
"It is the AI era. This is where you're going to see things actually moving forward," he said.
In January, Microsoft invested $10 billion in OpenAI. On Feb. 7, the company announced the launch of an "all new" AI-powered Bing search engine and Edge browser which can be previewed at Bing.com, though data journalists have found some issues with it.