COLCHESTER — Someday, when Saving Vice is a household name, the town of Colchester can say it once knew two of its members.
Saving Vice, an American metalcore band, which has performed on the Vans Warped Tour and whose music has been streamed over 1 million times on Spotify, has two Colchester High School grads in its ranks. 
This February, the band will celebrate the one-year anniversary of its debut album, Hello There, a 10-track record that was the culmination of many years of work.
When the album debuted on Feb. 21, 2020, the band had planned to go on tour and play the album's head bangers at venues across the country. But just after the band rocked a sold-out show at Higher Ground in Burlington, the COVID-19 pandemic altered everything.
"This year was supposed to be a big jump off," vocalist Tyler Small said. "We got to do one big headliner and then a week later COVID cancelled everything. We literally only got to play the new stuff one time."
Saving Vice is made up of vocalists Tyler Small and Chase Papariello, guitarist Robbie Litchfield, bassist Kenjamin Smiertelny and drummer Sam Whelton.
In 2016, after spending a few years living and playing with a band in Las Vegas, Small decided it was time to put music to the side and move back to Vermont.
"I thought it was time to grow up and do something else, but nothing else ever really made me happy," he said. "I would listen to music in the car and always wish I was the one making it."
Small's break from music didn't last very long — soon, Saving Vice's guitarist, Robbie Litchfield, was recruiting Small to join the band.
"One thing led to the other — first I was just playing a couple of shows with them, and then we ended up playing at Higher Ground, and suddenly it got really serious," Small said.
Litchfield, then a student at Saint Michael's College, started Saving Vice in 2017 in his garage with other musicians he met on Craigslist. One of those musicians was Papariello, who grew up in the same Colchester neighborhood as Small.
"I never even knew who he was, and then years later we ended up meeting through the band," Small said.
Papariello and Small, who are a few years apart in age, both attended Colchester High School. 
For Saving Vice, metalcore is a multi-faceted genre that is often misunderstood. While it's often recognized by its screaming vocalists and heavy guitar riffs, metalcore has evolved since its prominence in the mid-2000s.
On Hello There, listeners will find traditional metal and hardcore punk, but also elements of hip-hop and rock. Small said Linkin Park and My Chemical Romance were some of the band's very early influences.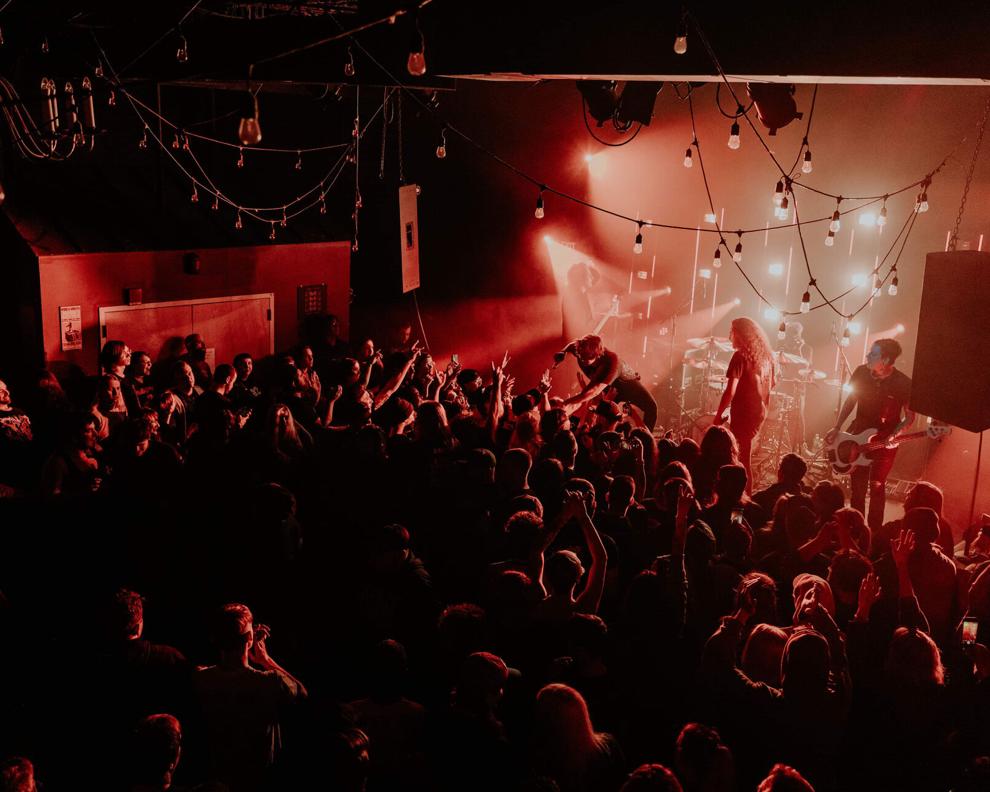 "I got really into musical screaming because it was passionate and angry and angsty," he said. "I always felt like I could connect with the lyrics. I felt like it wove a very cool tapestry of emotion and sound."
Growing up, Small taught himself to sing and scream, though he took vocal lessons as an adult to help him preserve his voice and protect its longevity.
After its tour was cancelled, Saving Vice used its new-found time at home to make music videos for songs on Hello There. The band also released an EP called Binary and produced a few piano and acoustic versions.
As a band, Saving Vice makes most of its income from playing shows and selling merchandise. Because neither of those things have occurred over the last 10 months, the band has gotten creative with other ways to make money.
Papariello and Whelt are working on separate clothing lines, and Small is spending time on his digital art.
"Our mindset has been, how do we sustain ourselves until touring comes back?" Small said. "That could still be two years away, so what are things we can do now to set ourselves up financially?"
Small said even though all of the band's members have Vermont roots, he doesn't think they are very well known in the state. Before the pandemic, Saving Vice played at venues in New Hampshire and Massachusetts, mostly because it felt it didn't fit into Vermont's music scene. 
Small hopes more Vermonters will give Saving Vice a listen and be proud that the band got its start here. 
"We get told a lot by fans that we're the first band with screaming in it that they were able to get into because of the balance we have with other sounds," Small said. "I think being a gateway band for people is really cool. Even if I'm not your favorite band, I'd love to be the band you tell everyone got you into your favorite band."
Listen to the piano version of "Never Knows Best" from Hello There