COLCHESTER — A young woman from Colchester recently got to take in the view from the wooden bench seats legislators have occupied for decades. 
On July 30, Sydney Feltz, a sophomore at Colchester High School, was one of 18 young Vermonters brought to the State House in Montpelier as part of the Governor's Institutes of Vermont. A grant from the Summer Matters for All program made the students' visit possible.
The group had the opportunity to speak with Gov. Phil Scott and Lt. Gov. Molly Gray, as well as other legislators. The group also performed a legislative simulation in the House Chamber.
"We need you. We really need you. We need the next generation at the table," Gray told the students, who piled into her office to discuss the climate and housing crises currently facing Vermont. Gov. Scott added that "Regardless of our differences, we're all team Vermont. And our young people — all of you — are incredibly important members of that team."
Earlier this year, Feltz attended GIV's Winter Program, an applicant-based leadership and learning intensive.
"My guidance counselor sent out a brochure for the leadership program, which I loved," Feltz said. "I didn't think it would be amazing, just because it was virtual, but the staff members were so nice and so fun. I ended up meeting some of my closest friends there."
Feltz's winter involvement made her eligible for the State House visit last month. At CHS, she's a member of the award-winning debate team and involved with the Vermont Student Anti-Racism network. She's looking forward to taking chemistry this school year.
Here's what else she told the Sun about her State House experience.
Q: What did you do while you were there? What was the legislative simulation like?
A: We started off with some icebreakers, getting to know each other outside, and then we went on a tour. After, we were able to talk with a bunch of different legislators and ask them questions.
That led into a dialogue specifically around what their individual committees and focus groups are. We were able to hear their own perspectives on how they vote and how they make decisions and hear from constituents, which is really cool.
We then engaged in a simulation where we broke off into groups and were given some of the bills that are either being introduced into the House or the Senate. We simulated making edits to those bills, and we presented them to the whole group. Then we voted with an oral vote on whether or not the bill would pass and got to take objections and hear feedback and cross-question.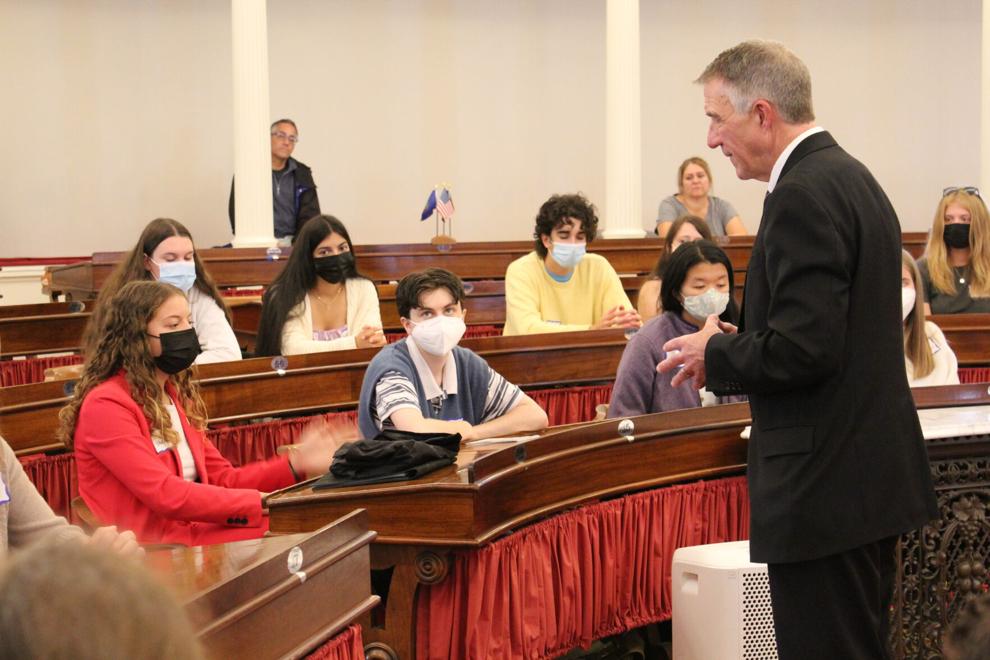 Q: What did you learn from that experience? Was the law-making process what you had expected?
A: I was really surprised with how long things take. From the outside, it looks like a very quick process to pass things. But after talking to a lot of the legislators, I learned it takes absolutely forever to get like one point written into a bill.
I definitely have a new understanding now of how the state government works and how a constituent's concern becomes a bill. It's just such a long journey.
Q: What questions did you ask the legislators?
A: We talked to a few representatives who work on racial equity issues, and me and another participant asked a bunch of questions about how the news, current events and current political state of the country feed into their own decisions and their own policies.
They said it's really hard for them to take action on really current things, because they're so backed up with things that have been happening for years now.
Q: What was the most memorable moment from your visit?
A: When we got to meet Lt. Gov. Molly Gray. She was so inspirational. I loved hearing her speak. It's so important to see a woman in such a powerful position in the state government.
Q: Are politics in your future?
A: It's definitely on the table, though I don't know if it's necessarily the career I see myself going into. It's definitely very interesting to me and something I want to get involved with when I'm older.