ST. ALBANS — This weekend is expected to bring the warmest weather we've had so far this year. With Vermonters likely to head outside for all kinds of activities, the Dept. of Health (DOH) wants people to be careful of the heat and to take steps to prevent the spread of COVID-19.
The Agency of Natural Resources, meanwhile, is alerting people to changes to trail etiquette in the wake of COVID-19. Memorial Day weekend is the unofficial kick-off to Vermont's hiking season.
Although the heat of summer is still a few weeks away, "it can take several weeks for our bodies to adjust to warmer conditions, so ease into outdoor activities," DOH said in a statement.
People heading outside are advised to drink plenty of fluids, start slowly, and take more breaks than usual. They should also keep a physical distance of six feet between themselves and anyone who is not a member of their household. Faces should be covered in crowded areas.
Muscle cramps, heavy sweating, nausea, headache, or light-headedness may all be signs of heat illness. Most heat illnesses can be treated with fluids and by resting in a cooler place. If symptoms persist or if someone seems confused or loses consciousness, dial 9-1-1 and get immediate medical help. Learn more about symptoms and first aid at www.weather.gov/safe.
Young children and the elderly are at greater risk of heat-related illness, as are those with chronic medical conditions, including obesity.
New COVID-19 trail etiquette
Out-of-state visitors are still being asked to self-quarantine for at least 14 days after arriving in Vermont and before engaging in any activities. All hikers are being asked to stay off of the trails and away from others if they feel unwell, have been exposed to someone with COVID-19, or recently traveled from a location with a travel advisory from the Centers for Disease Control and Prevention (CDC).
To protect public health, backcountry shelters and remote campsites on public lands are closed through June 15.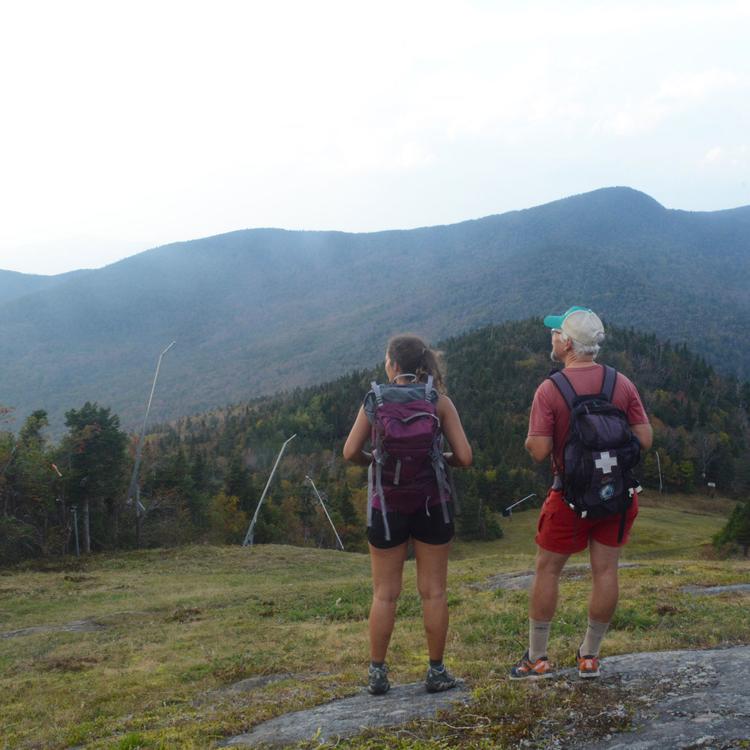 When heading out on the trail, hikers should follow the updated COVID-19 trail etiquette, provided by the Agency of Natural Resources.
Know where and when to go: It's best if everyone doesn't go to the most popular trailheads at the most popular times of day. Early morning or evening tends to be less crowded. If the parking lot is full when you arrive, the parks departments advises that you find another trail.
Maintain a physical distance of at least six feet from others: This guidance includes dogs, which should be leashed.  
Wear a cloth mask or face covering: Any time others outside of your household may be present, you should have your mask on, even while hiking. Keeping it at the ready is okay if you can quickly and safely pull it up over your nose and mouth, doing this well before you come within six feet of others.
Slow down, step back, and let people know when you're approaching: Awareness and consideration are key. Everyone should yield to everyone right now and making some noise as you approach is recommended. A friendly "Hello!" followed by a pause to figure out your next move is the best tactic. If you find yourself coming up behind a slower walker and there's not six feet to pass safely, slow down instead. If somebody is getting too close to you, step back to allow enough space.
Step off the trail when needed: If the trail isn't wide enough to allow for six feet in passing, step off the trail at a 90-degree angle, being careful not to tread on plants if at all possible. Once you're six feet off, wait for the approaching group to clear the area before retracing your footsteps. Please do not cut a new trail parallel to the existing track.
Keep single file (even on wide trails): Keep your group single file. Do not spread out all over the trail. When you let someone pass, step off to the side and stay put — don't walk alongside the path. 
Don't stand across the trail to chat: It is great to see friends and acquaintances, but stopping on either side of the trail to chat just creates a breath "gauntlet" that others must either pass through or go off-trail to avoid.
Embrace an arrive, play, and leave mentality: Do not gather in groups before or after activities.
Hiking with children: If you are hiking with children, set expectations before getting out of the car. Remind them not to run up to people or dogs, and to cough and sneeze into their elbows while turned away from people. Children older than 2 years in age can and should be encouraged to use cloth masks or face coverings. 
Despite the upcoming warm weather, there is still snow and ice at higher elevations. Hikers are being advised to be prepared for winter condition or to remain below 2,500 feet.
"The snowy treadway is undermined in many places where drainages and streams are running, creating the potential for bad post-holing," says John Plummer, Group Outreach & Field Coordinator at the Green Mountain Club (GMC). "The mud is still pretty significant in a lot of places since the snowline is so low. It depends on the location, but people will see mud at every elevation on the Long Trail System this weekend."
When encountering hikers should either turn back or walk through the puddles and mud, according to ANR. They should not step off of the trail, which can damage vegetation.
While trails are open, staff and volunteers have not been able to do the same level of spring maintenance as in years past. 
"Our volunteers have been working diligently to clear the trails of winter debris," said GMC Director of Field Programs Keegan Tierney. "However, our volunteers were delayed in starting their spring trail maintenance due to COVID-19 restrictions and late season snowpack. They are still working on clearing trails and hikers should expect to encounter areas of blowdowns from the winter. We will also be operating with very limited field staff this season and will need hikers' help in stewarding the trails."
Back country facilities are closed while guidelines are developed and implemented for their safe use.
GMC offered the following tips for early season hikers:
Plan ahead and prepare. Now is the time to practice extra caution and know the risks of any activity. www.greenmountainclub.org/plan.
Always let someone know where you will be hiking and when you expect to return.
Carry a map and know which trailhead you need to return to.
Bring a warm extra layer as mountain tops are chilly year-round and Vermont's weather can quickly change. Be prepared for winter conditions if you are hiking above 2500' in the near future.
Bring rain gear; even an emergency poncho or garbage bag will help in a pinch.
Water levels in streams and rivers may be higher than normal this time of year so use caution when crossing.
Stay hydrated and bring food for long hikes.