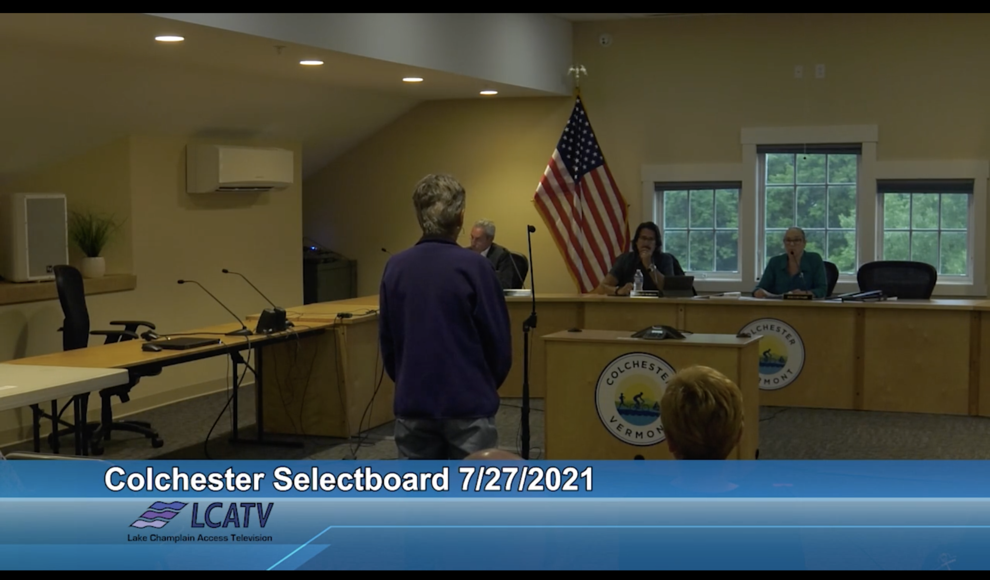 COLCHESTER — The main event of the July 27 Selectboard meeting consisted of residents' concerns about a possibly "vicious" dog. On July 14, Rebecca Trudeau was bitten by a German Shepherd named Jerry owned by Suzanne Tremblay. 
She said she was out getting her mail in her condominium complex when she was attacked and "pinned to the mailboxes" by Tremblay's German Shepherd who was not on a leash. 
The dog had to be pulled off by Tremblay and left tooth marks and a scrape mark on Trudeau's upper leg. She said the wound does not interfere with daily activities but that it is very sore and slows her down a little. 
Trudeau said she feels Tremblay needs to get her dog under control by using a muzzle so this does not happen again. 
Tremblay's statement was then read by Selectboard Chair Pam Loranger, which stated how terribly she felt about this instance. She then addressed the Selectboard, stating she will be getting Jerry in more behavioral classes and training and has been working with dog behaviorist, Tom Radford, to make sure Jerry doesn't do something like this again. 
Board members were wondering what kind of recommendations Radford gave. His recommendations included a special collar called a prong collar. Together, they tested the collar out at home and Tremblay said Jerry reacted positively to it. 
She said Radford confirmed this dog is not abusive. 
Tremblay pointed out that Jerry came from a four star German Shepherd breeder in New Hampshire that breeds specifically for temperament. She has not told the breeder about the incident.
 In the town of Colchester, dogs do not have to be leashed; they only need to be under verbal control.  
Animal control officer, Stephanie Gingras, who responded to the scene, initiated a quarantine for Jerry where he had to be on a short leash with his owner outside at all times. 
Gingras later received a call from community member Carol Blakely about Jerry's concerning past behavior including him lunging aggressively and incessant barking. 
Gingras said she would recommend that Tremblay use a prong collar and a basket muzzle when taking Jerry outside. Gingras said prong collars are a great tool when used properly and that using one could solve the lunging problem. She said basket muzzles are effective because they allow dogs to breathe and pant but prevent biting. 
Police officer, Elizabeth Fell, who also responded to the scene shared with the board her perspective. 
She said Tremblay stated the bite was more of a nip rather than an aggressive hold on Trudeau's leg as she states. She also said Trudeau went over to her neighbor's house to get her wound dressed. 
Fell said Blakely had also expressed concern about the dog's presence in the neighborhood.
Blakely along with other concerned community members vocalized their experiences with Jerry and how they think the Selectboard should handle the situation. 
Blakely said she has experienced Jerry aggressively lunge and bark often. She is concerned about Trudeau's experience because she said she has read that once dogs get a taste of blood that changes them and they want more. 
Blakely also said she hasn't seen kids playing outside in the condominium complex since the incident because people are scared of Jerry. 
Another resident, Bob Campbell, also said the children in the condo complex are no longer riding their bikes and playing outside near the mailbox in fear of an interaction with Jerry.   
Campbell said he thinks Jerry should be put to sleep for the safety of the community. He shared an experience when he thought Jerry was going to attack him, but Tremblay stepped in and intervened. 
Campbell also pointed out that if he had been the one that Jerry bit he would have been much worse off than Trudeau. 
When asked why he thought the muzzle wouldn't suffice, Campbell responded, "I have no confidence in [Tremblay]."  
Campbell said Tremblay does not have a good track record with complying with rules and regulations so he is concerned she won't comply with the muzzle and prong collar. 
The board then asked Tremblay if she would comply with the muzzle. She said she would but she didn't understand why he needed a muzzle. 
Other community members also voiced concern in Tremblay's ability to comply with rules the board sets for her. 
Tremblay said she has only broken two rules, one being that she parked her car for too long in a specific spot and that she displayed a sculpture outside of her house. 
It also was mentioned that Tremblay would leash her dog to the car and drive it around. She clarified that she would hold the leash while she drove because her dog "needs to run." 
The Selectboard listened intently to all public comments and will issue a decision within ten days on this matter. 
Chair Loranger addressed Tremblay saying: "I strongly advise that you maintain strict control over your dog and take this testimony seriously."
Community members asked if the original quarantine could be extended for the period of the board's deliberation. Tremblay agreed to this. 
What else you need to know: 
Tom Scanlon from the American Legion's Vermont presented the Law Officer of the Year: Chief Doug Allen. 
Sherry Labarge is retiring after 32 years of service to Colchester. She was recognized for her stellar performance as Human Resources Director. 

The Colchester Selectboard moved to approve the cancellation of the August 10 selectboard meeting.