COLCHESTER -- The Colchester Selectboard unanimously approved the Capital Budget Program for fiscal years 2022 through 2027 at its March 23 meeting. 
What exactly does this mean? The Capital Budget Program is a multi-year planning tool which helps the Town of Colchester identify and plan for its capital needs. 
"The plan is dynamic in nature and will change from year to year as priorities, needs and funding change," said Deputy Town Manager Renae Marshall. 
The CBP is a guide for considering, selecting and developing vehicle and equipment acquisitions, facility repairs and improvements, transportation improvements, park improvements, information technology and communications improvements, and public safety communications needs and equipment. 
Projects are funded in a variety of ways, authorized by voters or the selectboard, and state and federal grants. The majority of funding comes from the town's voter-approved multi-year reserve funds. 
The proposed FY22 Capital Budget lists 34 projects, which total $2,607,228. Of that amount, 29 percent ($750,000) is expected to come from state and federal grants, Marshall said in a March 12 memo to selectboard members. The remaining $1,857,228 would be funded by local property tax dollars from voter-approved capital plans.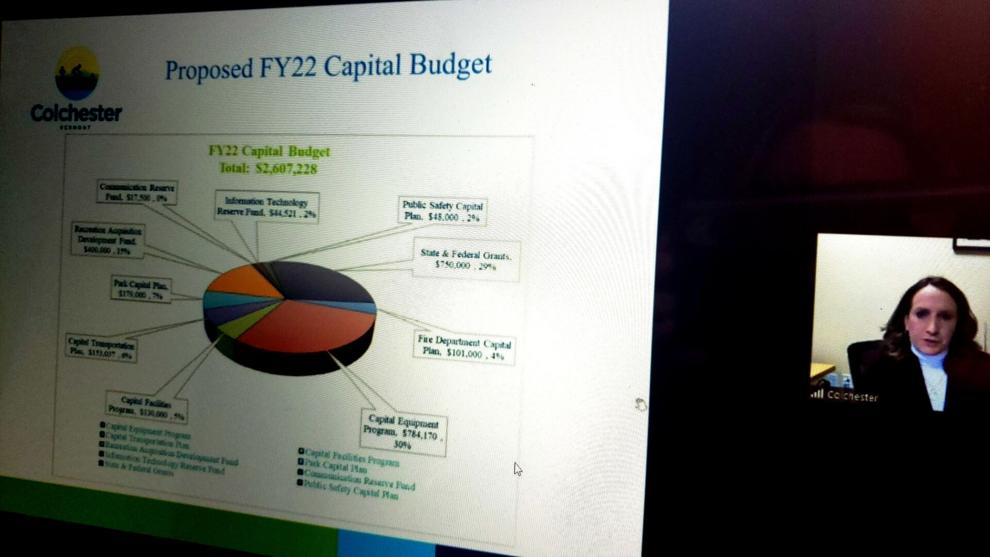 Projects expected to be completed in FY22 are Bayside Park master planning, Airport Park's causeway connector path, community recreation center master planning, expanding the Department of Public Works' salt shed, purchasing a new ambulance for Colchester Rescue, facility improvements at the fire departments, and designing a roundabout for the Bayside intersection. 
Last year, completed projects included pickleball courts at Airport Park, reconstruction of the causeway, the Blakely Road/Laker Lane intersection, West Lakeshore Drive bike path, the Rescue remodeling, and paving West Lakeshore Drive and Church Road.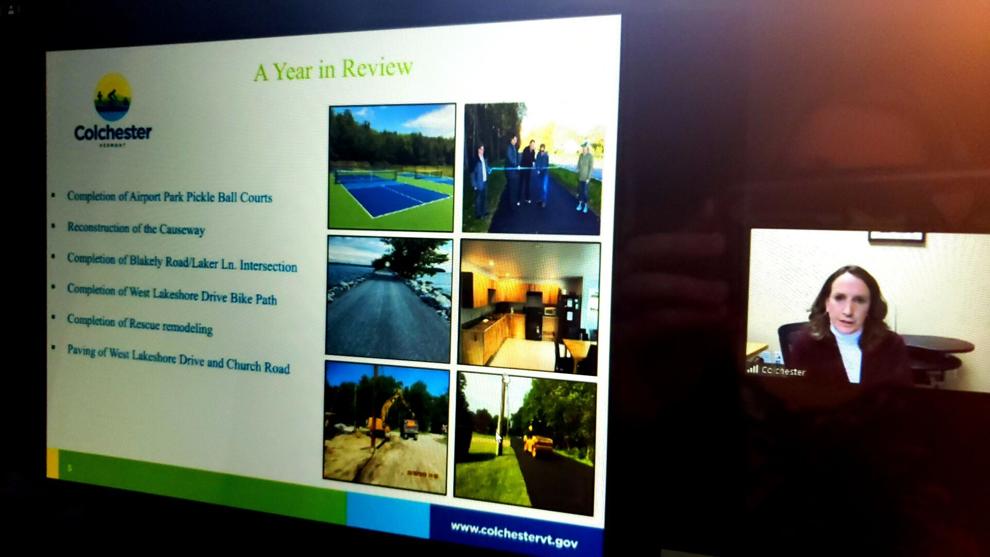 Five-year capital program
The proposed five-year capital program for fiscal years 23 through 27 lists projects totaling $10,351,675. According to Marshall, roughly 32 percent ($3,263,795) is expected to come from state and federal grants and development impact fees. The remaining $7,087,880 will be funded by local property tax dollars from voter-approved capital plans. 
The five-year CBP is a valuable tool which helps the town determine capital needs' priorities and assign available resources to those projects. It allows the town to plan for projects to be completed in each fiscal year, the estimated project costs, and how those projects will be financed.  
"Funding authorization for the capital program is accomplished by separate actions in the form of multi-year, voter approved capital plans, voter approved financing agreements, voter approved debt, impact fees ... and grants," the memo stated. 
For a detailed look at the FY22-27 Capital Budget Program, click here.
What else you need to know
Time of Sale Program
Planning & Zoning Director Sarah Hadd gave a brief presentation on the town's consideration of adopting a time of sale program, which she does not recommend at this time. 
A time of sale program requires a regulatory agency to collect information on a septic system prior to a property sale. This then makes septic systems' condition public information, providing prospective owners with information on possible repairs. 
"Given the town's geography, topography, larger lots, soils, and rural nature in most areas, most of the community will be forever serviced by on-site wastewater systems," Hadd said in a memo to selectboard members. "To provide more universal information at a crucial and certain time at property ownership change, this program of disclosing condition at time of sale would help future owners plan for future repair and replacement costs. It will also help to prevent unpleasant surprises and make fraudulent reports on pump out far more difficult."
However, the town already provides Certificates of Compliance when requested by mortgage companies or attorneys in property transactions. Local or state regulations do not require certificates, but they are issued for the majority of property sales and some refinances, Hadd said.
"In fiscal year 2020, 298 property sales occurred and approximately 200 compliance letters were issued," Hadd said. "In analyzing the sales that occurred during fiscal year 2020, only 46 properties transacted without compliance letters."
Of those, there were 23 mobile homes, 11 new builds, three commercial properties, three vacant land, and five varied residences. 
Hadd also said that requiring an inspection may prompt sellers to hire inspectors, when the buyer would be better off doing so, to maintain impartiality. 
Vermont Fish & Wildlife Acquisition
The selectboard voted to support Vermont Fish and Wildlife's acquisition of 142 acres from Jeffrey Stanley Senesac and Lisa Lovejoy. 
The parcel is adjacent to the Fitzgerald property that VFWD bought last year. Both properties are located in the Winooski River floodplain. The Senesac-Lovejoy land would provide opportunities for wetland restoration, wildlife habitat conservation and recreation, said Fish & Wildlife Specialist Toni Mikula.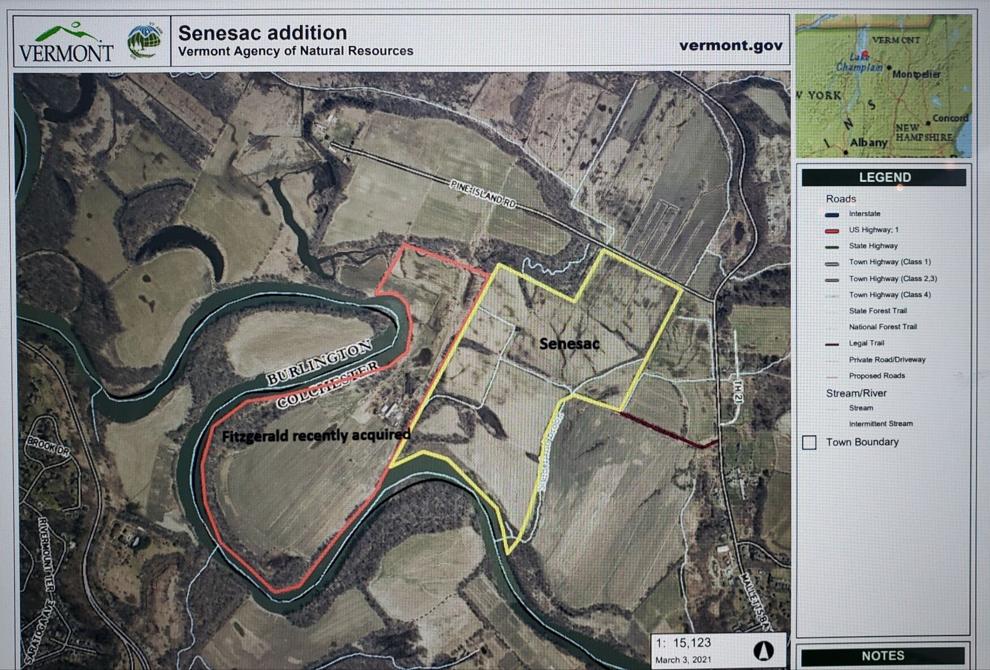 Quit Claim Deed
The Selectboard unanimously approved a quit-claim deed for Parcel #13, which extinguishes all rights to the town's utilities in the state right-of-way. 
The parcel is located in the midst of the Vermont Agency of Transportation's Colchester NH 028-1 project, which consists of improvements to the U.S. Route 2 and U.S. Route 7 intersection and the U.S. Route 2 and Interstate 89 Exit 17 intersections. It also includes bridge replacement and corresponding roadway improvements. Construction is slated to begin in Summer 2022 and extend into Fall 2023.  
Reappointments, peddler's license
The Selectboard approved the following three reappointments and one peddler's license:
Bryan Osborne as the Colchester Tree Warden for a one-year term beginning April 1, 2021 and ending March 31, 2022. 

Aaron Frank as an Alternate Representative to the Champlain Water District for a two-year term from April 1, 2021 to March 31, 2023. 

Steve Bourgeois as Fire Warden for a five-year term from July 1, 2021 to June 30, 2026.
Peddler's license for Gary Hathaway d.b.a. Mr. Ding-a-Ling Ice Cream.
Act 175 Vermont Education Property Tax Transition Study
The Vermont Department of Taxes, the Vermont League of Cities and Towns and the Vermont Municipal Clerks' and Treasurers' Association studied potentially transitioning the responsibility for billing and collecting the statewide education property tax from municipalities to the VDT, Marshall said. 
"In theory, it was wonderful, but it was an incomplete proposal," Frank said. 
Town staff liked the idea at first, since many taxpayers believe all the taxes they pay are levied by the town, which is not true. 
If this transition took place, each taxpayer would receive two separate tax bills, resulting in confusion, Marshall said. One bill would be for state education taxes, one for municipal service taxes. Marshall also cited escrow, billing cycle and software complications as deterrents. 
Other disadvantages mentioned were:
Loss of local control in billing cycles; 

Loss of the Homestead/Housesite Allocation payment to the town, which was $69,190 in FY2020; 

Creating two different assessments on two different tax bills, resulting in two separate appeal processes. 
Town staff recommended making changes to property tax bill statements, distinguishing more clearly the municipal services tax from the state homestead education tax, rather than transitioning billing and collection of the state education property tax to the VDT. 
New Human Resources Manager
Human Resources Manager Sherry LaBarge introduced new Human Resources Manager Chad Bouvier to the Selectboard. LaBarge will retire  June 30 after 31 years of service. 
Bouvier is a lifelong Colchester resident who LaBarge lauded as a good listener, a good communicator, loyal, poised under pressure and excited to learn new things. A panel selected him from a pool of 32 candidates. 
Bouvier graduated from Champlain College with a degree in business administration, LaBarge said. He has worked for Spherion for 18 years. 
"I know I have big shoes to fill and I'm excited for the challenge," Bouvier said.