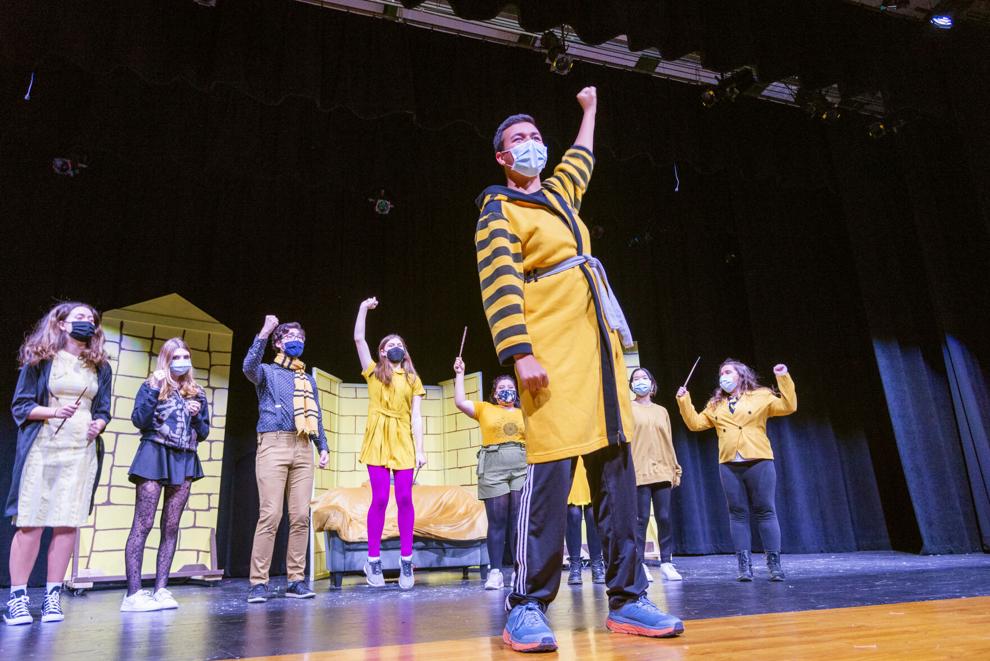 Opening night for Colchester High School's first play back in front of a live audience was last night, but willing audience members can still catch two more runs, one tonight and one tomorrow.
For the first time since the beginning of the COVID-19 pandemic, CHS thespians stood on the stage of the auditorium and did a sound check for a dress rehearsal run of the show Nov. 10.
From a seat directly in the middle-rear of the auditorium sat the show's director Jeremy Laroche, telling the students to be louder, to pronounce their consonants and to project.
The show is Laroche's first with CHS, being hired as a paraeducator and theatre director just this year.
The show is called Puffs and, according to Laroche, is a parody reinterpretation of the story of a certain bespectacled wizard boy, examining the story through the eyes of the famous story's side characters. A typical group of misfits who learn that everyone is the hero of their own story and that every story is worth telling.
Laroche said for most of the rehearsal process, whether or not they were going to be able to put the show in front of a live audience was up in the air. Therefore, it didn't really hit the cast or crew that they were back until they finally got word that it was going to be a live, in-person show around a couple of weeks ago.
"The uncertainty of whether we'd have an audience or not kind of got in the way of knowing for sure, but once we got approved for the live audience, once we got our costumes and set ready and once we were doing full runs with everything there, that's when it really started to click in like, we're doing this. It's gonna be great. We're back," Laroche said in a Nov. 11 interview.
Laroche said that the students in this production have made his first show at the high school very special.
"It's been really great seeing them laugh with each other and make friends and improve their acting as they go. They make a fun community, putting together something fun," Laroche said.
The show has two more runs Nov. 11 and 12 at 7 p.m. Tickets can be bought for $10 cash or check at the door. There is a limit of 200 people per showing.