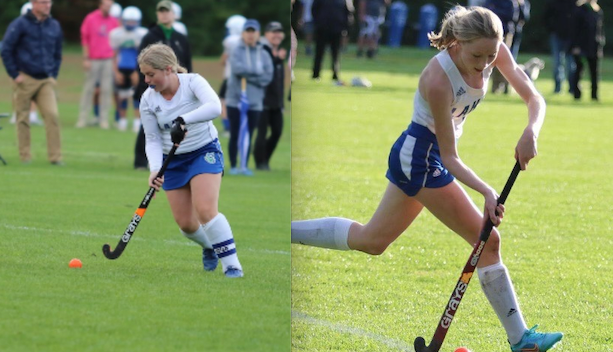 The Sun is shining a spotlight on the captains of Colchester High School's fall athletic teams.
Erin Perry and Ryleigh Garrow are co-captains of the Colchester High School varsity field hockey team. 
Erin Perry
When did you start playing field hockey and why have you continued playing it?
I started playing field hockey in the fall of 7th grade and have continued playing because it clicked to me when I started playing unlike any other sport.
I immediately enjoyed playing even though my very first season we lost pretty much every game and our team only scored 3 goals in the entire season.
Even though we lost it was still so much fun and we ended up going undefeated my 8th grade year.
Making varsity freshman year was definitely scary at first but was what pushed me to be better for the rest of high school so that I could be that leader as a junior and senior that mentored and made the underclassman feel welcomed just like the juniors and seniors did for me.
Did anything about this season surprise you? If so, what?
One thing about this season that has surprised me is how close our team is. We are like this one big group of sisters that all happen to play the same sport.
I can say I've never been on a team that has gotten along this well before. There was an instant bond between all of us from the second we started playing together.
Having a bad day at school would usually shut me down for the rest of the day, but knowing that I get to spend my afternoon with girls I love playing a sport I love is what gives me the motivation to keep going.
The thought of not having that next year makes me beyond sad. Each player on this team is beyond smart, talented, and kind. Knowing I have a safe space with them where anyone can say what they want and have support makes me extremely happy and blessed.
This team will forever be special to me.
What about this season feels different than years past?
One thing about this season than in years past is the energy on and off the field.
Taking the warm up lap listening to Pitbull and looking back to see all of the smiling faces behind me is what gets everyone pumped up.
We don't need to bang our sticks against the goal as we run by or think about what the other team is doing while we warm up. We play our own game and get into the game mindset mode from the second we put our jerseys on.
The energy in overtime when the field feels twice as big and I look over and see everyone on the sidelines jumping up and down killing their voices with JV besides them doing everything they can to get us hyped is one of the best feelings.
What are your goals for the season?
My main goal for this season is to walk away from it proud of everything I put on the table and make sure my teammates do the same.
I want to look back after I graduate and be able to say that was one of the best seasons, even if our record doesn't always show the skills on this team.
I remember being a scared little quiet freshman who envied the upperclassmen and how funny and outgoing they were let alone the skills they possessed with a stick and a ball.
When I became a junior we didn't have any seniors so I realized that it was now my turn to be that outgoing upperclassmen and to be a leader for those new freshman and sophomores which we had a lot of last year.
I was so impressed when the girls started coming out of their shells and we could see each of their personalities. This allowed us to all become close very fast which made for great game play.
I want the juniors this year to do the same thing next year and push each girl to be a better player, push each girl to take those risks knowing that mistakes are how we get better.
I have no doubt that laker field hockey will continue to be special and continue to be successful. Of course we are also hoping to get to that UVM field in a couple weeks and represent our school and take home a trophy.
Ryleigh Garrow
When did you start playing field hockey and why have you continued playing it?
I started playing field hockey when I was 12. I had played soccer my whole life, and I was starting to get tired of the game.
I had played sports my whole life, so I knew I still wanted to play something in the fall. I tried out for field hockey in 7th grade.
I ended up falling in love with the game, and so I played the rest of middle school and have never stopped.
Did anything about this season surprise you? If so, what?
This season's dynamic is different from all of the years past. Our team is so close, and we all love to play with one another.
The 30 minutes we spend together before the coaches show up for practice is the best 30 minutes of my day. There are so many laughs and jokes. I love being a part of this amazing team.
The way we all work together has also really stood out to me this season. We have all played together since last season, so we all know how everyone else plays, allowing us to work together well.
What about this season feels different than years past?
This season I feel as though our skill level is better than it has been. Everyone on the team has something to bring to the table.
We are individual spokes in a wheel, each with our own strengths but working together as a whole. It feels especially different for me because this will be the last year I step onto this field so I am cherishing every moment of it. 
What are your goals for the season?
My goals for this season have almost all been met. I wanted to have a fun senior year, and I have. These amazing girls make me a better person and a better player everyday.
I wanted to leave this season knowing that I put everything into this team and left everything I had on the field at the end of the game. I feel like I have been able to accomplish this because of the support and encouragement from my coaches and teammates.
The one thing I still hope for this season is to go as far as we can. Now that we have finished our regular season games, it's like a new slate. Anyone can win on any given day; that's why they call it a game.
As long as we give it our all and end our year playing with the Laker Pride we know, my goals for this season will be accomplished.