People to Know is a recurring Q&A with a member of the Colchester community. Want to recommend someone to be featured? Send an email to news@colchestersun.com.
---
As some may know, running a business independently is extremely hard work. Even with amazing co-owners and a dream team of employees, being a primary owner can still wear a person down.
This is why Molly Terrien, one of the owners of Colchester's Village Scoop, is so impressive. Molly and her mom, run the Scoop mostly on their own, with help from the familiar smiling faces of the ice cream shop's employees.
The Sun spoke to Terrien about what it was like running a business during COVID, and other Scoop related questions.
Q:  What was the most challenging aspect of COVID for The Village Scoop?
Terrien: I would say the most challenging aspect for us was people's comfort level for coming out for ice cream: when were they going to come? How were they going to come? What did they prefer?
In years past, we had a pretty good grasp on when the busy couple hours would be, like after school or after lunch or after dinner. And with COVID, I think everyone's schedules were so different that people were coming randomly throughout the day. We'd get these crazy rushes unexpectedly at 11 a.m. instead of 7 p.m.
Adapting to a change in everyone's schedules was one of the more challenging parts of COVID.
Q:  Did you find that eventually the busy times leveled out?
A: Yes, I do think things have completely leveled out. Generally, we're still a little bit busier with drive-thru versus walk-in, which used to be about 50/50.
I think people are still a little more comfortable just staying in their vehicles, rather than lining up where there might be other people outside closer to them. The safety of your own vehicle helps people maintain the distance without having to interact with other people.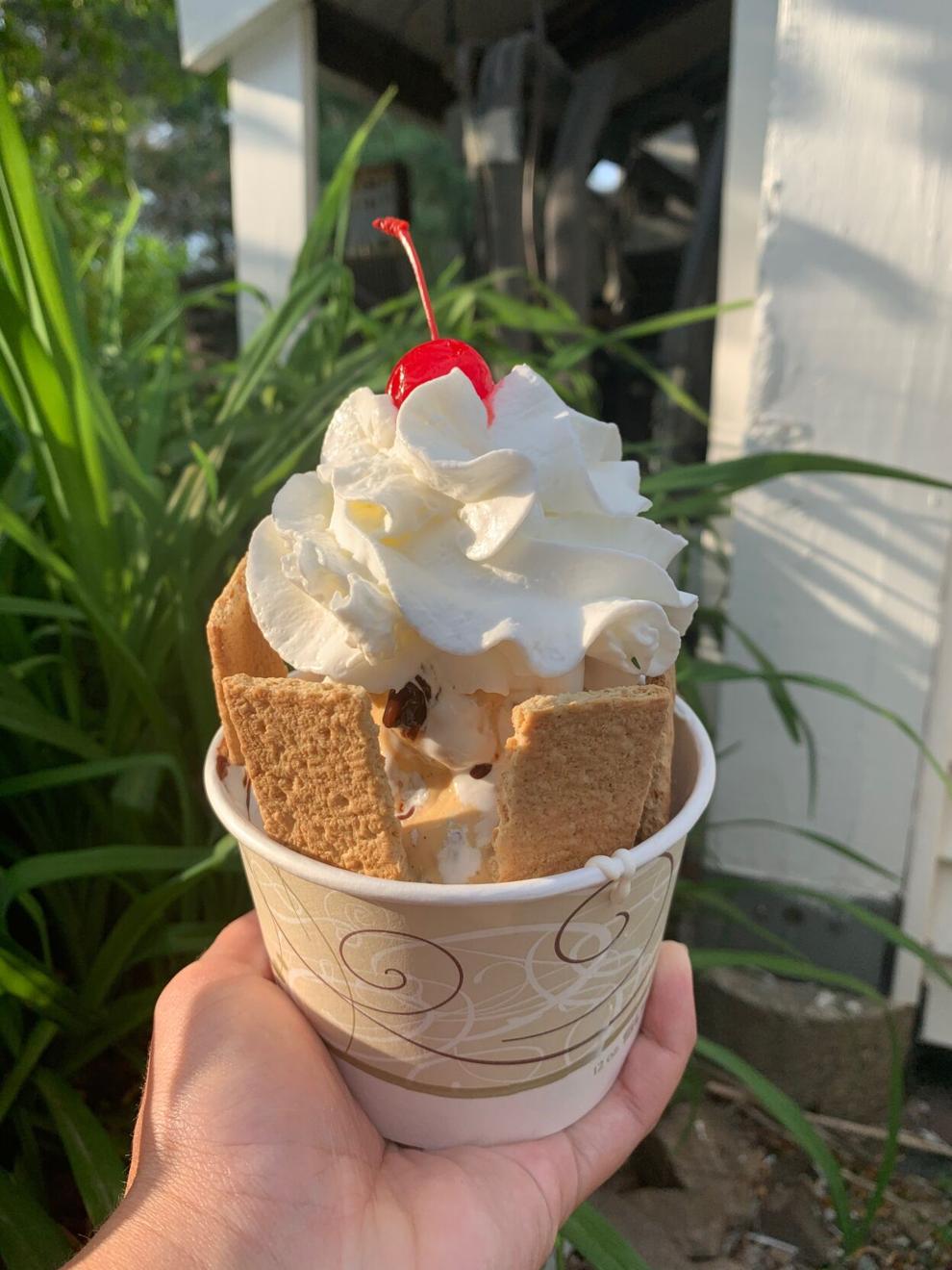 So the drive-thru is still a little bit busier than years past, but overall I would say we've kind of settled back into a more predictable, open to close schedule, now that people are back in school every day, or back in their offices and working 'normal hours'.
Q:  How did you adapt so quickly, as a business?
A: The business itself is fast-paced. Being on your feet, you never know what you're going to get, or what little obstacles you might overcome during a day.
We were in close contact with the Vermont Health Department, asking 'what do we need in place to keep our customers safe, our employees safe and the community safe?' Talking and knowing all the health guidelines made it easy for us to come up with a plan to stay open and semi-normal during COVID.
Q:  In general, what was the feedback you got about your COVID ideas, like the milkshakes and cake slices being sold at the Spanked Puppy for example?
A: That's actually how we bought ourselves a little time with safely reopening. The cupcakes were already pre-ordered packages so we just had to hand out everything. It was safe and covered, versus an open sundae cup or a cone going out.
We are friendly with the owners at the Spanked Puppy, and it's right down the street which is easy, so in talking with them about how things were going for their business and our business, we came up with the 'hey why not, we're here anyway. Why don't we just keep some sundae cups in our freezer and people can add it to their order.'
That's how we kept sundaes going for a couple of weeks while we were just doing cakes and cupcakes out our window. It was only a few weeks that we really needed to figure out how to get back to people being able to come in to order out the window.
Q:  What is it like running a business and working full-time as a teacher?
A: It gets easier every year, and it goes back to having really great employees.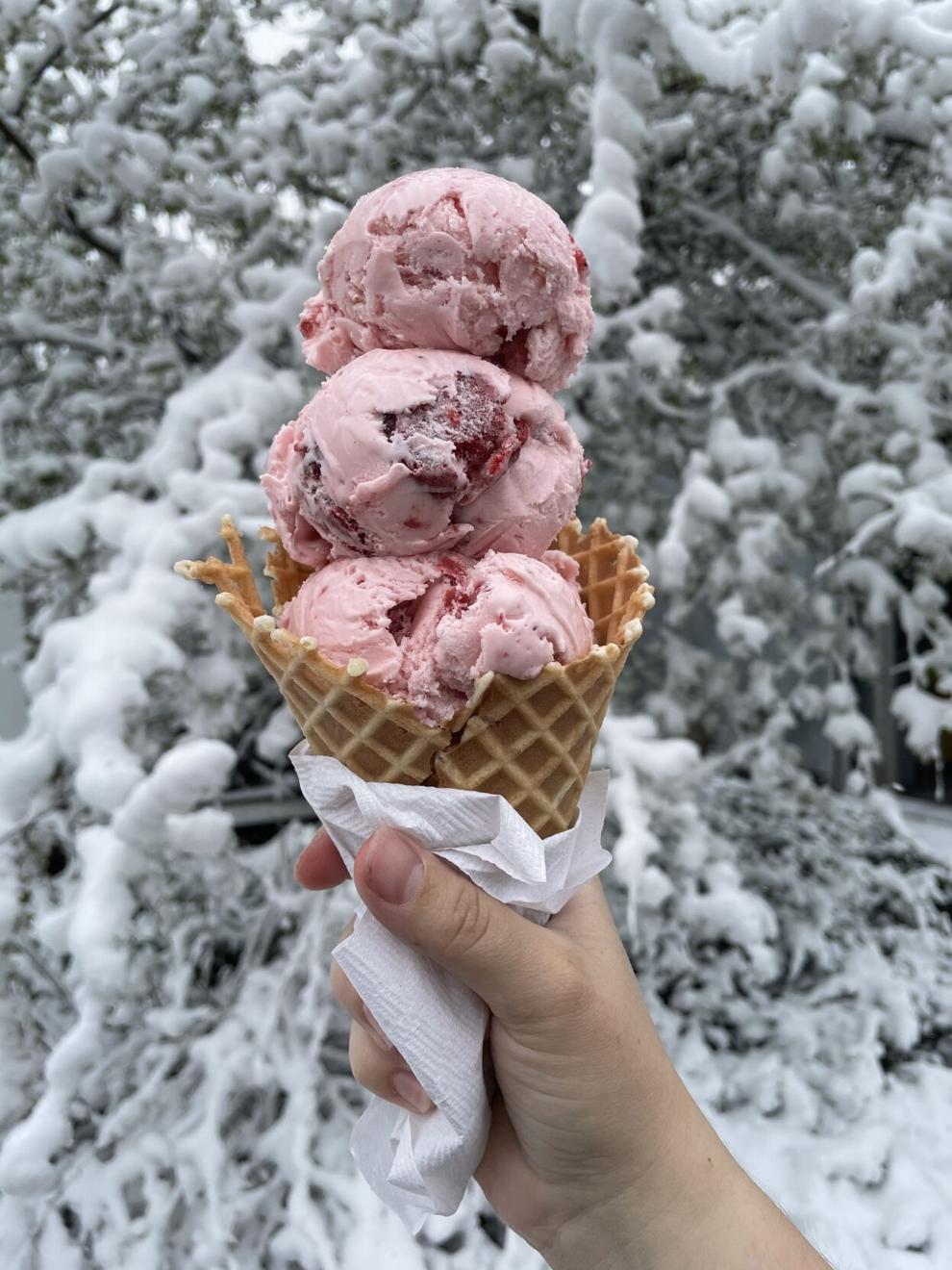 Our employees do a really great job at watching the whole inner workings of the scoop shop, and they keep us really informed. We often get texts like, 'we're low on this or we're almost out of that', or we need to change things that I might not be seeing at the moment, if I'm not inside the shop.
For me, what's really nice is the scoop shop has never felt like work. So even though I may have worked a full day, if I needed to pop in and do something, it's like a whole different part of my brain.
The energy level is so different, so it doesn't feel like I'm going from one job to another job. It's more fun and easy.
Q:  What is something about The Village Scoop that most people probably wouldn't know?
A: Oh, great question. I would say just how much of a family it really becomes, no matter where I am. If I'm out and about in town, if I'm wearing something Village Scoop. Even if I have a sweater or a mask on, I get stopped no matter what to talk about the Scoop Shop and a lot of people just somehow recognize me or put it together.
Their first comment is always, 'you have the best employees', and it's so nice to hear because we think so, but it's great that other people are seeing that. I love hearing that. And I always tell them, I have employees who have been with us for forever and ever.
Typically they'll start working in the middle of high school, and they'll stay all the way through college. What's incredible is we'll have some employees move away, and then they'll have a month and a half gap between finishing a master's program and starting a real job or they have time in between one job to another job and they're like, 'oh hey can we pop back in and work for a few weekends while we're home' or just because they miss the shop.
Most of our scoopers end up being our babysitters for all the kids in the family. They are pet sitters, dog walkers, house sitters.
Q:  It's like 4 jobs in 1.
A: Yeah absolutely. It's a 4 in 1. And we're just really lucky that everyone takes care of each other in that way. If my windows are open and kids are closing, it's just really awesome at the end of a super busy day hearing them.
They're all laughing and chatting with each other and like 'who's going to order pizza', or you know, 'Who wants to go out for dinner now that we're done working here?' And friendships have formed within this group that weren't there prior, even though most of our scoopers know each other from being in the same grade or school or on the same sports team.
And everyone really kind of takes care of each other. So I think that's the hidden gem of what makes our employees the best and people might know that they're great, but they don't know that afterward, they still really love each other.