People of any age can take an idea and run with it to make a difference in the world -- as proven locally last weekend by a seven-year-old boy.
Desi Hong, a rising second grader from Hinesburg, utilized the front lawn of his grandmother's Shady Lane home in Colchester to sell items during a two-day yard sale with all proceeds going to benefit the Committee on Temporary Shelter (COTS).
"He is always wanting to share his toys and be a good friend to kids at school and in the neighborhood," said Desi's mother, Mary, "but this is the first time he really took an idea like this and went forward."
Mary says the idea was planted in Desi after he saw a homeless man on the side of the street with a sign and wanted to give the man his snack. Mary went on to tell her son more about organizations that help out and are able to provide more for those less fortunate, and Desi then came up with his plan to raise money for such groups.
"Right away, he said, 'Okay, I could sell some of my unused toys at a garage sale,'" said Mary.
Mary and her husband, J.P., helped their son load up a pair of vehicles with his toys -- along with some other household and family items -- and drove them up to the Malletts Bay house of her mother, Mimi Whitney. The yard sale ran from 8 a.m. until 12 p.m. on Friday and then from 8 a.m. until 2 p.m. on Saturday.
In total, Desi was able to collect $473.51 for COTS. Mary said the total "absolutely" exceeded his expectations.
"To him, $10 is a lot of money," she quipped. "That definitely surprised him."
Tuesday afternoon, Desi and his parents joined Becky Holt, the development & communications director for COTS, in a video conference to share the good news and let her know they'd be sending along a check.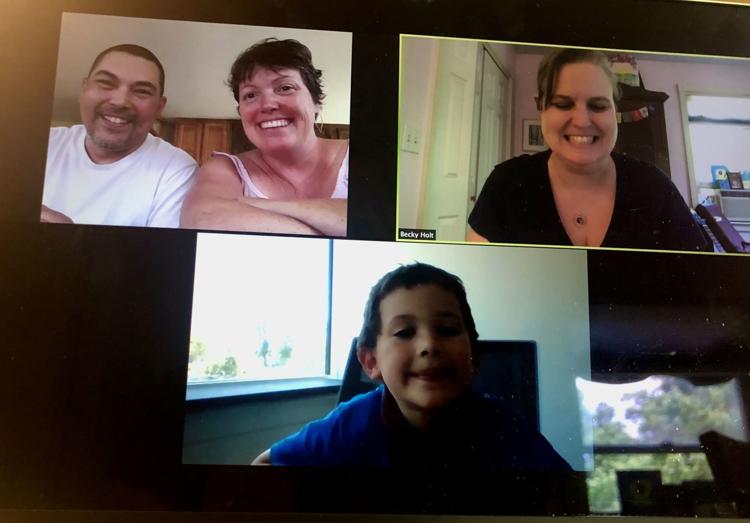 "We were so touched by Desi's warmth and generosity, and we are grateful for his wonderful gift to COTS," said Holt. "Desi's act of kindness is a powerful reminder that we all can do something to help each other and our communities. Desi's gift will help COTS continue to provide emergency shelter for families and single adults, services, homelessness prevention, and affordable housing."
"I'm extremely proud of Desi," Mary added. "He has a really big heart and continues to show it to people. I will also say that the community members, our family, and [our] friends were so generous. We didn't have anything priced, and we just said it was by donation only. People were very, very generous."
Started in 1982, COTS provides emergency shelter, services, and housing for people who are homeless or marginally housed in Vermont and advocates for long-term solutions to end homelessness.