As many as 1 in 10 Vermonters depend on the state's network of food shelves for some of their nutrition. Most of those food shelves are run by volunteers, many elderly, out of church basements and community centers. It's a fragile system and, advocates say, coronavirus may break it, even as the need for food assistance escalates.
Leaders of the Franklin and Chittenden County Hunger Councils sounded the alarm during a conference call with Rep. Peter Welch, D-Vt., on Friday.
"I am very, very concerned that this whole system is going to collapse and collapse very quickly," Robert Ostermeyer, executive director of Franklin-Grand Isle Community Action, told Welch. "This is a very serious situation. I'm very, very worried."
In a conversation with the Messenger on Thursday, Ostermeyer said that over a million pounds of food comes into Franklin County for distribution but only two of the people who distribute that food are paid. Both work for Community Action operating NorthWest Family Foods.
Volunteers and staff at food shelves are taking on the same risks as people at drive through COVID-19 testing sites, Ostermeyer said, but without the protective gear. "We're minimizing contact, but it's still there," Ostermeyer said.
NorthWest Family Foods is limiting operations to paid staff and has reduced hours for pick up of food to 12 p.m. to 2 p.m., Monday, Wednesday and Friday, to allow staff time to create prepackaged boxes for distribution.
Prior to this crisis, NWFF served one in every ten residents of Franklin and Grand Isle counties. With unemployment rising rapidly and precipitously, the number of households needing food is also escalating. "We went from record low unemployment to record high unemployment in a week," said Welch.
Distribution, including getting food to those who are isolating at home either because they're at risk or because they are sick and have been instructed to stay home will require people with experience, training and personal protective equipment, such as the National Guard, Red Cross or the Federal Emergency Management Agency (FEMA) in Ostermeyer's view.
"We need them and we need them right now," he said. "This crisis...is about getting food out to the last mile to people who need it."
"I agree with Robert completely," said a leader of the Hardwick Area Food Shelf, which serves seven communities in the Northeast Kingdom.
"We're coming together, we're being creative; we're doing what we can," she said, adding that food shelves need people who are trained for situations like the current crisis.
A food shelf in the Lamoille Valley had to close when a volunteer tested positive for COVID-19. It will reopen next week, according to Scott Johnson of the Lamoille Valley Hunger Council. "It was a reminder of how fragile the system can be,"Johnson said.
Locally, Johnson said, they had also lost half of their Meals on Wheels delivery drivers but United Way was able to find replacements. 
But there is still the question of what will happen to food shelves and Meals on Wheels as more volunteers either become ill themselves or are exposed to people who are ill and instructed to self-quarantine so they don't spread the virus further.
Ostermeyer's views were also echoed by Amy Carmola, director of community impact at the United Way of Northwest Vermont. 
"We're seeing an incredibly rapidly increasing demand for food access," said Carmola, which is "creating an incredible strain on the charitable food system."
"Food shelves are not resourced to do this work alone or do it safely," she said.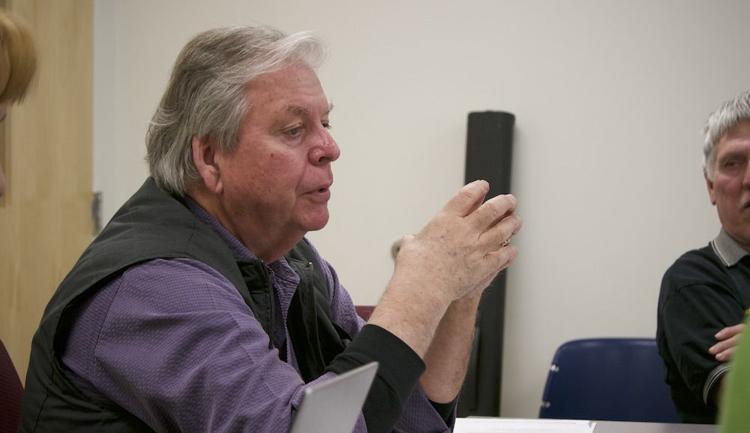 Carmola pointed out that the U.S. has two systems for procuring and distributing food, one for those with means and one for those without. That second system, the one serving the most vulnerable, is "incredibly fragile and it's going to break," she said.
The answer, she suggested, is to bring those who struggle economically into the first system that already serves 90 percent of the population.
But that isn't likely to happen soon.
Welch said that although he and others, including Vermont Sens. Patrick Leahy and Bernie Sanders, fought for an increase in benefits for those who receive aid from the Supplemental Nutrition Assistance Program (SNAP), better known as food stamps, they were unable to get even a temporary increase past Senate Majority Leader Mitch McConnell, R - Ky.
The relief bill passed by Congress this week does contain additional SNAP funding, but it is for new recipients, not more assistance for individual families.
Welch also pointed out that President Donald Trump's proposed budget had contained "brutal cuts" to nutrition programs.
There were some bright points on the call, with Hunger Council leaders from around the state describing how schools have stepped up to bring meals to students, efforts by volunteers and donations to food shelves.
There were also concerns about how local farmers would weather the loss of sales to restaurants and institutions, and Tawnya Kristen, executive director of Green Mountain United Way, said she is hearing of WIC recipients unable to get baby formula.
"People are doing what they can, where they are with what they have," Welch observed. Addressing Ostermeyer's remarks he said, "The magnitude of the challenge vastly exceeds our capacity to meet it."
Welch also noted that "most public health officials think that we're on the beginning of the rise in cases."
COVID-19, an illness caused by a coronavirus that only began infecting humans late last year in China, can be deadly for some people, particularly the elderly and those with other health conditions.
Health commissioner Mark Levine announced on Wednesday that the growth in cases in Vermont has become "exponential."
"We're in for a period of time where the economy is profoundly compromised, where the health and well-being of our citizens is profoundly threatened," Welch said. "It is absolutely essential we do as much as we can as quickly as we can."
He also said he would pass Ostermeyer's recommendation for activating the National Guard for food delivery on to Gov. Phil Scott, who has the authority to call-up the guard.