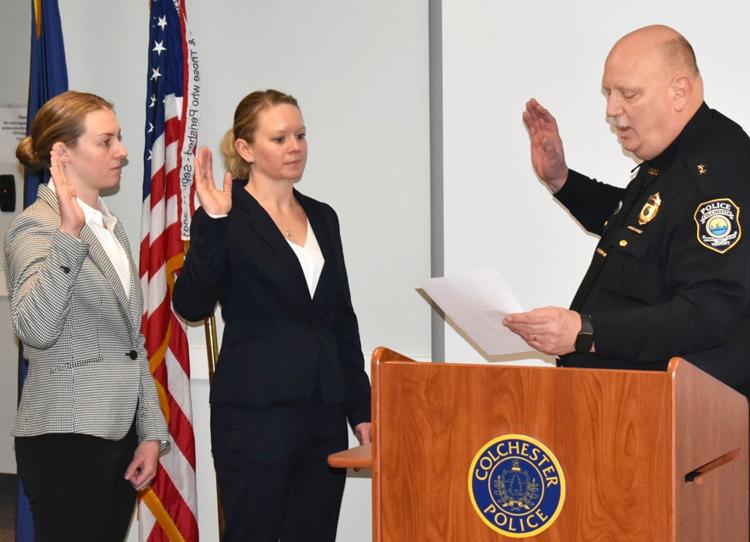 In a 2017 state report, women made up zero of Vermont's 14 sheriffs, two of its 260 fire chiefs and two of its 59 police chiefs—one of whom served in Colchester at the time.
At nearly 25 percent, the Colchester Police Department (CPD) employs double the amount of female police officers than the national average. Two of CPD's newest recruits, Alyson Dengler and Emily Fitzpatrick, were sworn in on Jan. 21, pushing the force to near equal numbers of male and female patrol officers.
So what makes Colchester different?
According to Chief Douglas Allen, who has served the department for 36 years and was sworn in as Chief in 2018, recruiting officers is a struggle, regardless of gender.
"Small agencies have trouble recruiting, period," he said. "It's one of the things that is almost a full-time assignment for us here. Our priority is not to attract women or to attract any specific demographic, as opposed to attracting good, talented people."
For both of CPD's newest recruits, their interactions with the officers tipped the scales in Colchester's favor over other departments.
Fitzpatrick has a background in Emergency Services, having served the community since 2011 as a volunteer in technical rescue and EMS. She followed a career in law enforcement because she wanted to stay active in serving her community and dive into challenging herself. "In EMS, there isn't a rank structure where you can really promote, so policing allows me to do that while I can still serve and protect the community that I have grown to love," said Fitzpatrick. Participating in a ride-along with Colchester officers helped her solidify her choice.
"[The officers] are very welcoming. They want you to succeed in what you're doing," she said. "They'll tell you like it is; they're not going to sugarcoat things so you get a skewed perspective."
Law enforcement runs in Dengler's family. "I have been fortunate to have both male and female examples in my life in law enforcement, military, first response, that have all served incredible service," she said. For her, the path was clear. "I finally realized this isn't something that is going to go away. I felt that I wanted to step up, hold myself to a higher standard, support and make a difference in my community and, at the end of the day, be able to go home and say, 'Yes, I've helped, I've done something.'"
Fellow CPD Officer Nicole "Nicki" Talcott graduated from police academy in November last year and is completing her 50 shifts in field training. She too comes from a family in public service and has always known she wanted to go into a public service sector.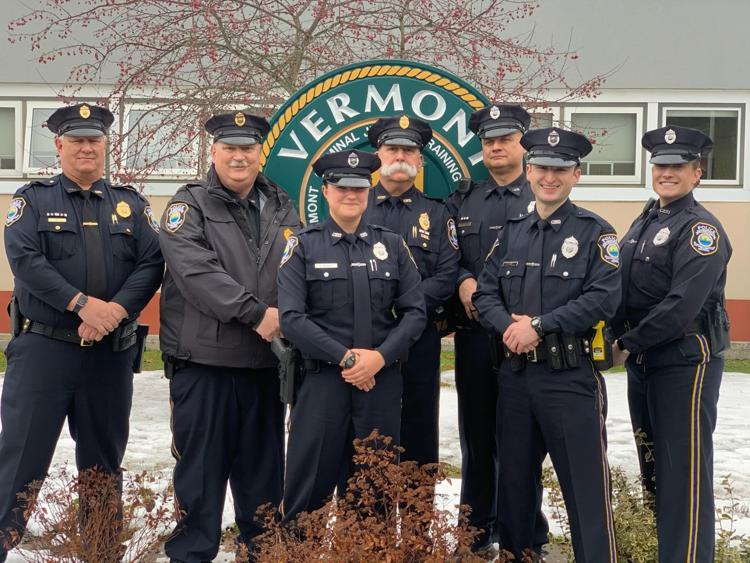 While all three officers felt a clear pull to law enforcement, Allen said that one difficulty in recruiting today is the bad wrap sometimes attached to the job. "It's not a profession that young people are attracted to at the moment," he said. "It is a very difficult profession. We ask an awful lot of our people. There is a lot of scrutiny for what some people may see as not a lot of reward."
According to Allen, part of what makes Colchester unique is its emphasis on support. "Because it's such a hard profession and we are a paramilitary organization, there are departments that give a lot of emphasis to the paramilitary feeling. There are some police traditions that are generally falling by the wayside but some departments hold onto that," he said. "We would much rather instill discipline in our people through support."
Neither Dengler or Fitzpatrick feel like they've ever encountered barriers due to their gender in the realm of emergency services. "That's not specific to policing," said Fitzpatrick. "Some traditions are important and there's reasons that we have them. We should not forget them. But there's always areas for improvement."
Talcott thinks, if a gender bias does exist, it's part of a general mindset and not necessarily attached to the police profession. She recalled times when she's responded to calls and people have been more likely to respond to a male officer's voice. "I'm not what they picture when they think of a police officer," she said. "I don't think it's intentional. I think it's more of a learning curve."
She also recalled an instance when she was touring other agencies, before choosing Colchester, when she felt singled out. "I had an instance where I had an application put in front me and they said, 'You're a female, you should apply here.' And I said, 'Are you asking because you think I'd be a good candidate or because I'm female and you want more females?'"
Dengler and Fitzpatrick agreed that a stigma might still be attached in terms of the general population. "But I think Vermont is better than a lot of other states, as far as being progressive," said Fitzpatrick. And for all three officers, the Colchester community plays a large role in breaking down implicit bias.
"The community has an amazing part to play in that," said Dengler. "The community loves the department and [CPD] does an amazing job of community outreach—being involved, being present, being a positive example in the general public. They're interfacing with everyone on a daily basis whether that may be in the elementary school, in the high school or doing welfare checks."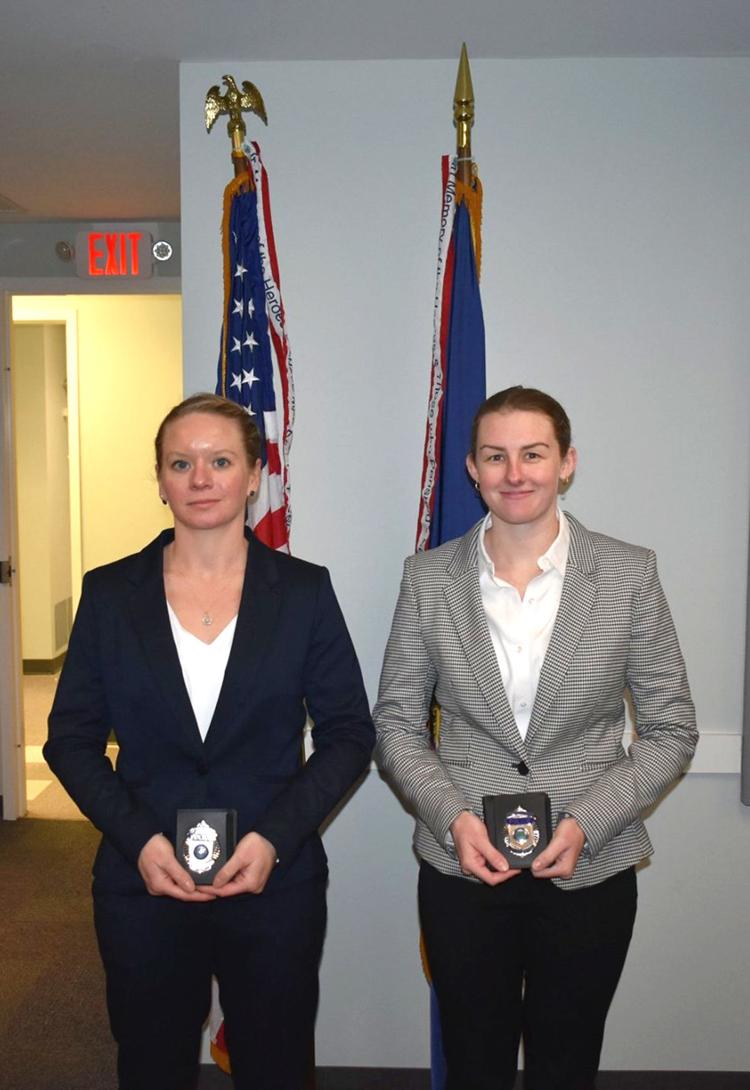 The officers also point to the changing nature of a police officer's job description as one of the contributing factors to Colchester's success. "I think you're more than just stopping the bad guys. You have that, but there's also a mental health aspect," said Fitzpatrick.
School Resource Officers and outreach programs like "Hello, how are you?" which conducts welfare checks, allow officers to work proactively in the community, building social credit and relationships.
"It's far more proactive policing than reactive," said Dengler.
Talcott agreed—she keeps a stack of Howard Center and First Call business cards next to her own cards at all times. "I hand out multiple of those cards a day. Whether it's referring someone to our community outreach team, or a different officer who has more experience in that field, we're expected to have an understanding of everything and provide those avenues when needed," she said.
All three officers cited community and officer support as their main reasons for choosing Colchester. "There's something about the people, not just in the community but also the officers who go out of their way to help you understand what's going on, answer your questions, and then afterwards follow up with you," said Talcott. "There's just something about this community that draws a certain personality. Clearly it's been working. I can't say enough good things about this department."
After their swearing in ceremony, Dengler and Fitzpatrick started the 16-week long police academy on Feb. 3.