Carol Reichard has conducted the Colchester Community Chorus for almost half of her life. Nearly 35 years ago, when she played piano accompaniment for the Colchester High School choir, Reichard decided to form a group available to anyone in the community who wanted to sing—no matter the amount of experience.
Today, the chorus has become a staple of the community, hosting 42 singers from all over Chittenden County.
"It's a good group of people who are not professional musicians and that's the joy of it for me," said Reichard. "We can make really good music with people who just have a desire to sing and work hard at it."
This year's winter concert, on Dec. 13 at 7:30 p.m., features holiday classics and a little bit of humor, according to Reichard.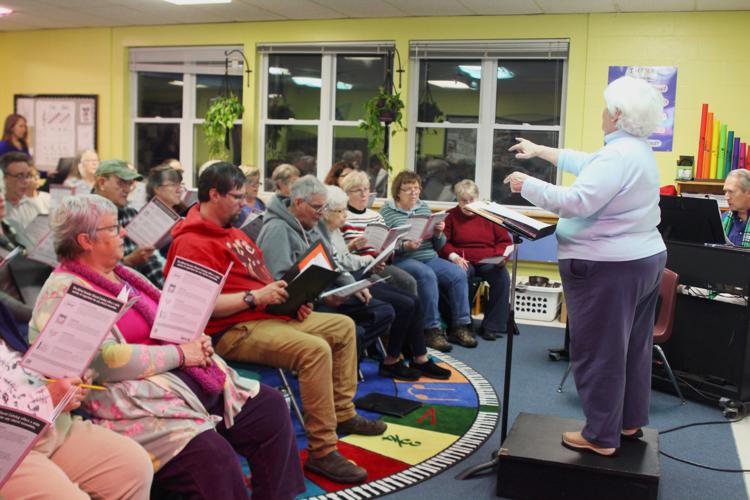 "I like humor. There's always a little bit of that going on, either from the chorus themselves or something I've interjected into the programming," she said, chuckling.
Reichard has been playing piano and organ for at least 70 years. Her father and uncles were instrumental in building the Allentown Symphony in Pennsylvania, and proved to be an early influence.
"In those days we didn't have a TV so I listened to string quartet music in my home," recalled Reichard. "You kind of absorb some of that into your being. When I started playing, it was just natural for me to want to be a music teacher."
Later, when she moved to Colchester and her children were in school, she began to play accompaniment for the high school. She also has played church organ for over 50 years.
But while Reichard comes from a musical background, most of the chorus members are not professional musicians. This was part of her mission when she set out to create a community choir 35 years ago.
"I'd come out of concerts and I remember parents saying, 'I remember singing that when I was in school!' So I got to thinking, why couldn't you still be singing?" she said.
Reichard's idea got its start in the Colchester Parks and Recreation department programming to see how many people might be interested.
Now the choir runs anywhere from 40 to 50 people. This year, the group has 42 members.
Reichard described music as food for the soul, a breath of fresh air to awaken your body.
"You can be tired all day long and you come and you start singing," she said. "It's refreshing to your being and to your psyche, every part of your body."
Another aspect of the choir that Reichard considers unique is the live nature of performance.
"When you give a concert of this nature, it's a once and done thing," she said. "A moment in time. Sometimes it's marvelous."
The group has been through a lot together as well—birthdays, graduations, sickness, even loss. But the camaraderie keeps each other whole and supports members through more than just the music.
"They get to care about each other," said Reichard.
When one member died unexpectedly a few years ago, the group commissioned a musical piece from a local Vermont composer and organized a concert in their fellow member's honor.
"They love each other. They come in all full of piss and vinegar," said Reichard, laughing. "They're so anxious to be with one another and sing. That's the fun part for me: music-making with people who really want to be here. There's a comradeship between the singers that enables them to produce very fine music—not just sing notes. Music is good for the soul and communicating in ways that you can't always otherwise."
As far as a set list goes, the winter concert consists of holiday-themed music, with classical works in the first part of the program and some lighter songs later on.
"The fun comes in the second half," Reichard teased. "People in the community and surrounding area attend our [shows] because they're going to get a wonderful music night some entertainment thrown in that's maybe not expected at a choral concert. People aren't quite sure what to expect."
The Colchester Community Chorus winter concert premieres at Colchester High School on Dec. 13 at 7:30 p.m.