From rising mental health needs to social distancing birthday celebrations, Colchester Police Department (CPD) Chief Douglas Allen discussed how policing has changed due to the COVID-19 outbreak and subsequent "Stay Home, Stay Safe" order.
Like other essential workers across the state, Colchester police officers are still doing their jobs to protect the community, but at the same time, have taken precautions to keep themselves and the community healthy. According to Allen, early-on in the outbreak, CPD developed a Continuity of Service plan with the town to preserve their ability to provide public safety services while following safety guidelines.
Some CPD services have been temporarily suspended including applicant fingerprinting, VIN verifications, car seat inspections and delivery for Meals on Wheels, among other things. Officers have also taken social distancing precautions, standing six feet apart from fellow officers and community members as much as possible.
"Like all of us, it's taken some getting used to. We enter this profession to help and serve the community," said Allen. "When you have to stay six feet away from those who serve with you, as well as the community members we are there to help, it's not easy."
Another change from the usual day-to-day is that the Community Outreach team—members of the Howard Center who work together with the police department—is largely working remotely unless requested in the field.
"The Community Outreach Workers are still working with us but practicing social distancing by primarily working from home," said Allen. In a past article about the Community Outreach Team, Allen told the Sun that the team helps the department refer folks into the system faster and produces better results in meeting social and mental health needs.
In terms of numbers, overall calls for police services have been down by as much as 30 percent, according to Allen. "In the past week, we have seen an increase in disturbance-related calls as well as people in drug and mental health related crises," he said.
Colchester is not alone in this trend, as communities globally have reported a rise in domestic violence following COVID-19-related lockdowns. On April 5, the United Nations called for governments to prioritize women's safety as they respond to the pandemic.
On March 24, in a joint statement from the State Department of Public Safety and the Vermont Network Against Domestic and Sexual Violence, Attorney General T.J. Donovan said, "Self-isolation does not mean that you are alone. Local programs and law enforcement agencies are here to help. I encourage all Vermonters who are worried about having to self-isolate in a dangerous home situation to reach out."
But despite the growing list of concerns and side effects to the pandemic, Allen is grateful for some rays of light. He sees examples of community engagement and cooperation everywhere and noted his gratitude for a flexible town government which has risen to the occasion.
"The town's leadership has been incredibly supportive and responsive to not only our first responder needs but the needs of everyone in the community. Acknowledgement that people-need outlets was met with Parks and Recreation paths remaining open to the public. Colchester School District's response to providing meals to the youth in the community is incredible. Our department's efforts to educate and help everyone meet the governor's Stay Home order has been met with cooperation and understanding," he said. "We are all learning as we go day to day through this uncharted path."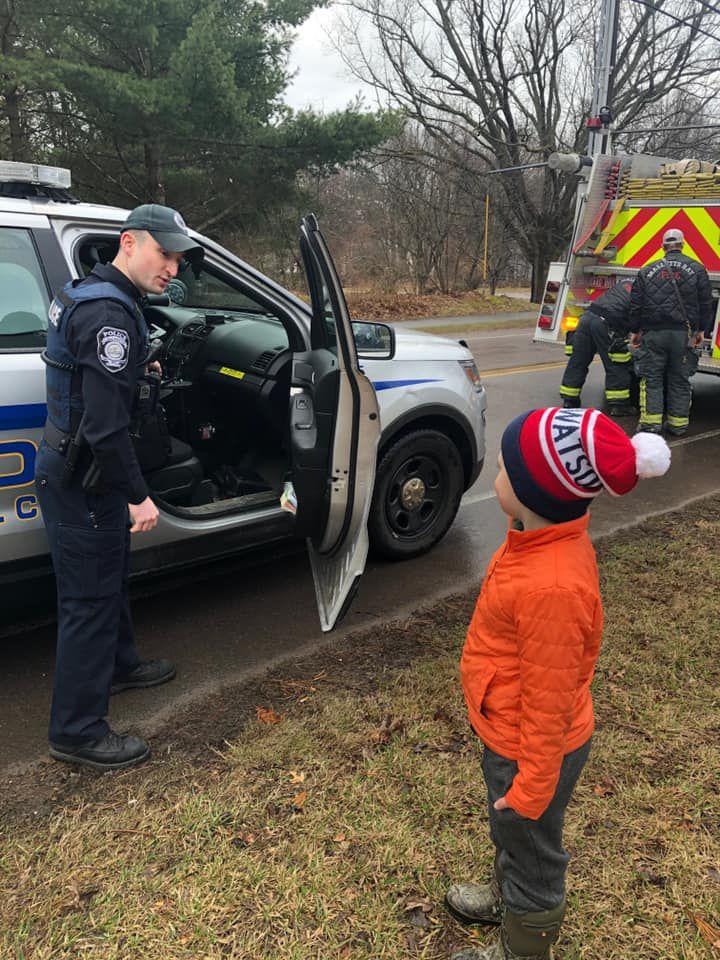 Another ray of light came in the form of a young Colchester resident's fifth birthday. "He has been looking forward to his birthday since Christmas and didn't understand why he couldn't have a party with his friends, so his family reached out to us to see if a police vehicle could drive past his residence for his birthday," recalled Allen.
With some help from the Malletts Bay Fire Department, the birthday boy got a social-distance approved look at police vehicles, a fire truck and a demo from one of the scruffier members of the department—K-9 Jagger.
"His smile was all we needed to see to make this small effort worthwhile," said Allen.
As far as advice goes for folks in the community amid the COVID-19 outbreak, Allen reinforced the need to stay the course: continue physical and social distancing to alleviate strain on the health care system.
"If we continue to practice this new norm...and abide by the Stay Home order, we can be past the peak of the curve without overwhelming the health care system," he said. "It's vitally important that we reach the peak in such a manner that we are able to care for those who need it most." 
For people in need of essential care or services, call 211 or register for the town's community help team, Colchester Helping Colchester. The nonemergent number for the Colchester Police Department is (802) 264-5556.